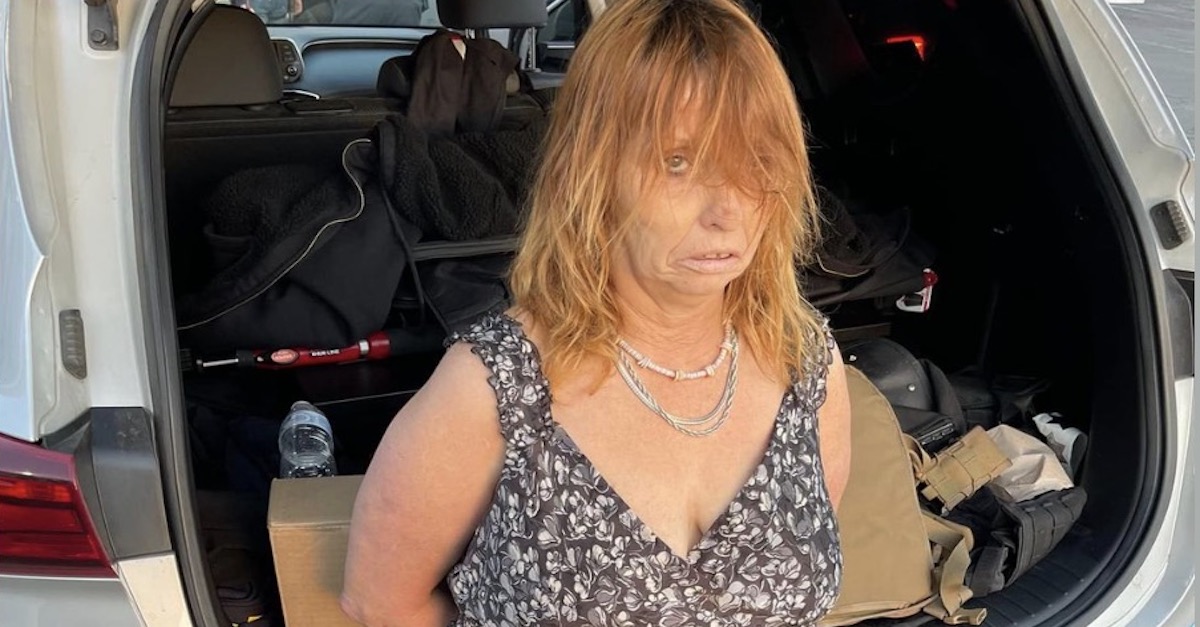 Pennie Henson Ince (Tulare County (Calif.) Sheriff's Office)
A 54-year-old woman in California will likely spend the rest of her life behind bars for the cold-blooded execution of her 65-year-old husband, whom she ambushed and killed with a shotgun last year. A 12-person jury in Tulare County on Thursday found Pennie Henson Ince guilty on one count of first-degree murder with the special circumstance of lying in wait and using a firearm in causing a death for the slaying of Randal Waine Ince, authorities announced.
According to a press release from the Tulare County District Attorney's Office, Pennie Ince at about 1:19 p.m. on March 6, 2022 called her stepdaughter and told her that Randal Ince "needed an ambulance" and then abruptly hung up on her. The daughter was unable to get back in touch with Pennie Ince or her father on the phone, so she drove to his house located in the 22400 block of Rd 130 east Tulare, about 200 miles northwest of Los Angeles.
When she arrived at the residence, the daughter found that her father's truck was missing, and she assumed that Pennie Ince and her father had gone to the hospital. She called hospitals in the region to locate her father but was unsuccessful.
Randal Ince's daughter then went back to her father's home with a family friend who was able to pick the lock on the front door. Inside she found a grisly scene: her father's body was in the entryway of the home and he had been shot at least once with a shotgun. The shotgun believed to be the murder weapon was found in the living room.
"Surveillance video captured by a neighbor revealed that the victim's tan colored truck arrived at the residence at 1:08 PM," prosecutors said in the release. "Another camera from the same residence captured an audible gunshot at 1:10 PM. The first camera then captured the victim's truck leaving at 1:17 PM. Blood spatter in the doorway and pellet impacts indicated that the shot was fired from close range."
Investigators say that after fleeing the scene in her husband's truck, Pennie Ince used her husband's debit card to withdraw $900 from an ATM.
Police pinged her cellphone and were able to locate Pennie Ince at a bar in Fresno. Authorities said that the license plate on her vehicle, which was parked outside of the bar, had been switched with a plate she stole from another vehicle.
Fresno police attempted to arrest the suspect at the bar, but she was tipped off about their presence through the bar's surveillance system and was able to evade them and escape out the back door. Police pinged her phone again and converged on the location, but by that point she had discarded the device.
On the afternoon of March 8, 2022, detectives with the Tulare County Sheriff's Office received an anonymous tip from Crime Stoppers stating that Pennie Ince had been spotted at the Motel 6 on Blackstone Avenue. Tulare deputies and Fresno police surrounded the motel and ordered her to surrender. She eventually complied and was taken into custody.
The investigation into Pennie Ince revealed that she had "made statements about harming her husband on the day of the murder," prosecutors said.
Ince is scheduled to appear for her sentencing hearing on Nov. 15.
Have a tip we should know? [email protected]