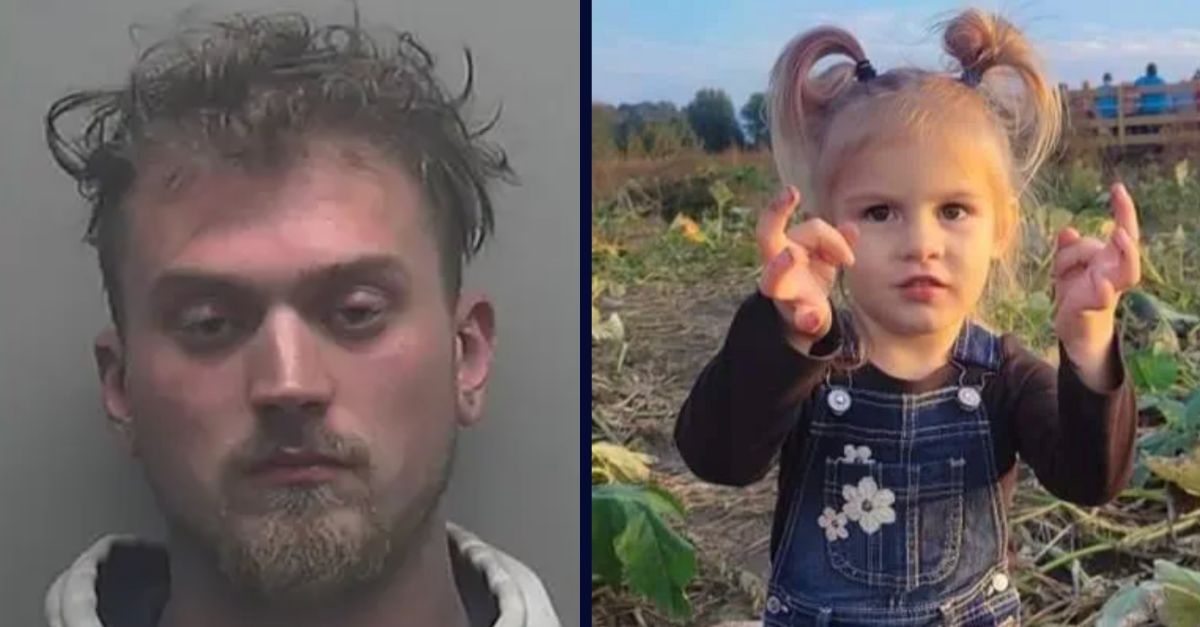 Left: Nathan Heitzmann (Sheboygan County Sheriff's Office) Right: and Cordelia Kuether (GoFundMe)
A Wisconsin man previously facing two felony homicide charges for killing a 4-year-old girl with his car is now facing a misdemeanor theft charge for stealing a cross from the child's memorial.
In May, Nathan Heitzmann, 24, was charged on one count each of knowingly operating a vehicle with a suspended license and causing death and homicide-by-vehicle while using a controlled substance.
The homicide charges, which are distinct from counts of murder, carry a maximum sentence of 31 years – with a mandatory portion of any potential sentence to be served on "extended supervision" or probation – and a six-month suspension from driving in the Badger State. According to court records reviewed by Law&Crime, Heitzmann has also been charged with a bail jumping felony. Now, he faces an additional six years and nine months in prison if convicted as charged.
On April 12, Cordelia Kuether, 4, was killed in a two-car collision as she stopped to pet a dog. The incident occurred at the intersection of North 21st Street and Saemann Avenue in Sheboygan.
In a GoFundMe that has since ended, the little girl's great aunt advised against hate and anger – and asked for drivers to be more aware.
"Our families wishes and simply asks that people be more aware and focused while driving," the fundraiser reads. "Pay attention to your speeds, pay attention to other cars, pay attention to stop signs and actually stop at them, pay attention to others on or around the roads, don't look at your phones while operating your vehicles, don't drive while intoxicated or under the influence of anything. It only takes one missed step in driver awareness for tragedy to result."
According to the criminal complaint obtained by Milwaukee-based ABC affiliate WISN, Heitzmann quickly accepted responsibility for the fatal accident that also wounded two other children.
"This is my fault," the defendant allegedly said.
"I looked, I stopped at the stop sign OK, looked back and forth, saw them playing on the corner, when I looked to the right, I did only look once, I'm not gonna lie, and it was kind of quick, and I did not see any car, but I am assuming they were behind my A-pillar, that was just perfect out of my view, it's my fault," the complaint reads.
Prosecutors, however, contest that account, alleging that data from Heitzmann's own truck suggests he did not actually stop at the stop sign.
When Heitzmann failed to stop at the intersection, his truck collided with a minivan, authorities allege. The minivan then jumped the curb and struck Kuether – who was standing by a wagon at the time.
Later, the defendant offered an investigator more of an admission, according to law enforcement. He allegedly added: "Let's just go with that I was suspended, and I'm still driving, and I shouldn't be."
When it came to the matter of the child's stolen cross, on the other hand, Heitzmann was allegedly far from forthcoming or contrite.
At least not at first.
"Are you sure my little brother didn't take the sign officer, the other day he told me he was really sick of looking at it," the defendant allegedly told an officer when questioned about the missing cross in late August, according to a criminal complaint obtained by Milwaukee-based NBC affiliate WTMJ.
The complaint also alleges Heitzmann mocked the notion of the cross being stolen by asking: "Did it get picked up and grow legs?"
The memorial cross was stolen sometime earlier that month. Officers were called to investigate the theft on Aug. 17 when a witness told authorities that Heitzmann showed him a white cross in a backpack, according to the complaint.
The cross was purchased by Cordelia's family and was in a private yard when it was stolen, police say.
Heitzmann allegedly told the man he "needed it for himself."
The defendant has a bond hearing this afternoon. A status conference for his case is currently slated for Nov. 22.
Have a tip we should know? [email protected]