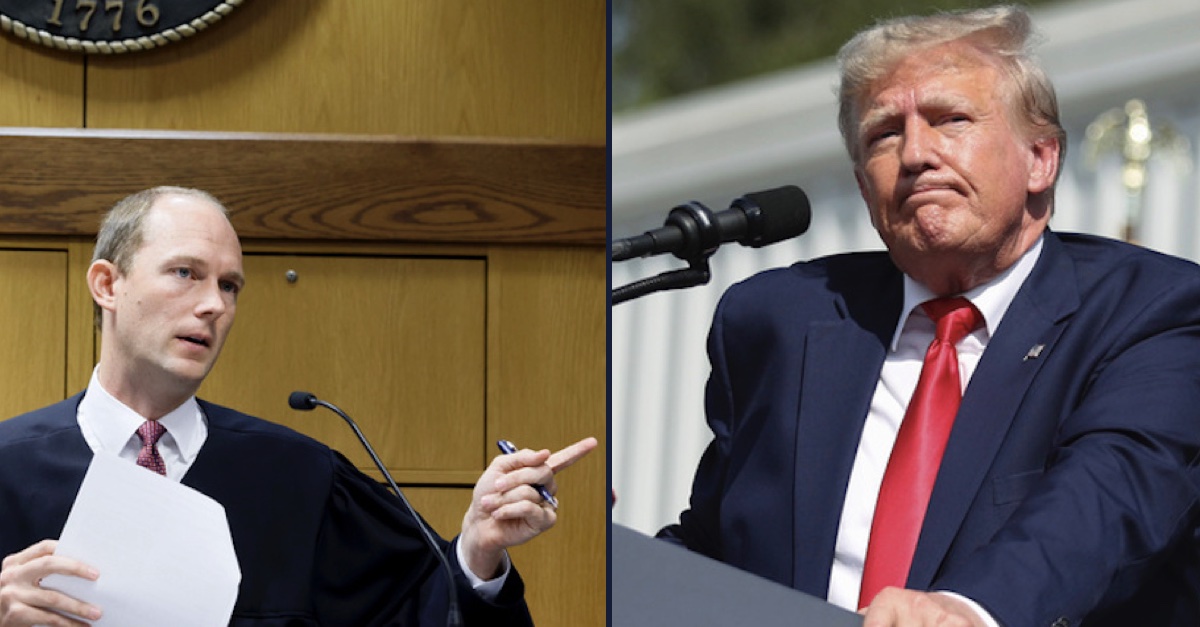 Judge Scott McAfee (Miguel Martinez/Atlanta Journal-Constitution via AP, Pool, File), Donald Trump (AP Photo/Artie Walker Jr.)
The Georgia judge overseeing the racketeering (RICO) criminal prosecutions of former President Donald Trump and 18 co-defendants issued an order Monday to protect the identities of jurors.
Fulton County Superior Court Judge Scott McAfee partially granted a motion filed by the office of Fulton County District Attorney Fani Willis (D).
"No person shall videotape, photograph, draw in a realistic or otherwise identifiable manner, or otherwise record images, statements, or conversations of jurors/prospective jurors in any manner that would violate Uniform Superior Court Rule 22(J)(2), except that the jury foreperson's announcement of the verdict or questions to the judge may be audio recorded," McAfee began.
The cited rule says recording devices "must be placed to avoid recording images of jurors or prospective jurors in any manner" and that audio recordings of "jurors' or prospective jurors' statements or conversations are also prohibited," except for the foreperson-related circumstances Judge McAfee described.
The second part of the judge's order barred parties to case from outing jurors' names, addresses, phone numbers, or places of work.
"Jurors/prospective jurors shall be identified by number only in court filings or in open court during the pendency of trial," McAfee's order continued. "No party shall disclose during the pendency of the trial any juror/prospective juror information that would reveal a juror's/prospective juror's identity, including names, addresses, telephone numbers, or identifying employment information."
Thirdly, the judge prohibited parties to the case from disclosing juror questionnaire responses — and more.
"Further, no party shall disclose during the pendency of the trial any list of jurors/prospective jurors or responses to juror questionnaires provided to the parties, juror strike sheets, or any notes containing identifying information of jurors/prospective jurors, unless permitted by the Court to disclose such information," McAfee added.
The Fulton County DA's motion was filed in early September, to the dismay of the Reporters Committee for Freedom of the Press.
The group warned that DA Willis sought "a classic prior restraint" on the "publication of information — whether obtained in open court or elsewhere — by members of the press and public […]":
Members of the press are not insensitive to concerns that may arise with respect to juror safety and, in their editorial discretion, very well may take steps to shield the identities of jurors and prospective jurors in this matter. Indeed, it is not uncommon for news organizations to withhold the names of individuals, such as minors or crime victims, in certain circumstances as a matter of editorial policy. However, this Court cannot — consistent with the First Amendment — enter an order prohibiting members of the press from publishing such lawfully obtained information.
Willis filed the motion weeks after the names and addresses of grand jurors who indicted Trump et al. were posted online, leading to threats.
In August, special counsel Jack Smith separately sought — and partially received — a protective order concerning "the improper dissemination or use of discovery materials." Smith's move to have certain discovery materials (i.e, witness interviews and recordings) designated as "sensitive" (and prohibited from being disclosed) was a response to the former president's social media attacks on potential witnesses in the Washington, D.C.-based federal Jan. 6 prosecution.
Specifically, the motion for the protective order was filed after Trump posted on Truth Social, "IF YOU GO AFTER ME, I'M COMING AFTER YOU!"
U.S. District Judge Tanya Chutkan subsequently warned Trump against making "inflammatory statements" and noted that his First Amendment rights are "not absolute."
Trump's lawyers are now challenging a proposed gag order, calling Smith's mid-September motion "nothing more than an obvious attempt by the Biden Administration to unlawfully silence its most prominent political opponent, who has now taken a commanding lead in the polls."
Have a tip we should know? [email protected]