Darrell Brooks stares down Judge Jennifer Dorow in court on Oct. 21, 2022. (Law&Crime Network)
A family of four is suing convicted killer Darrell Brooks over the "extreme emotional distress" and trauma he caused by murdering six people and injuring dozens more right in front of their eyes at the Waukesha Christmas parade in 2021. The Wisconsin lawsuit is an effort to make the plaintiffs' auto insurer pay up larger sums as the survivors continue to suffer from witnessing fellow parade goers run over at an event that was supposed to be joyful.
Waukesha County Circuit Court records viewed by Law&Crime show that the civil complaint was filed on Sept. 14 by attorney Jay McDivitt on behalf of plaintiffs Alma V. Garcia Ramirez and Lucio Hernandez Rubio, and their two children. The defendants are Darrell Brooks, 41, and Progressive Universal Insurance Company, better known only as Progressive.
The plaintiffs said that they were watching the parade with members of their church on Nov. 21, 2021, when Brooks, in a red SUV, sped down a crowded street and murdered Jackson Sparks, 8, Jane Kulich, 52, "Dancing Grannies" group members Tamara Durand, 52, Leanna "Lee" Owen, 71, and Virginia Sorenson, 79, and Wilhelm Hospel, the 81-year-old husband of a group member who was helping out that day. Brooks also injured more than 60 people.
Reminder of what this trial is really about:
VICTIMS
(top row)
Jane Kulich, 52
Jackson Sparks, 8
Wilhelm Hospel, 81
(bottom row)
Tamara Durand, 52
Leanna Owen, 71
Virginia Sorenson, 79#WaukeshaParadeTragedy #DarrellBrooks pic.twitter.com/h5AdXCADAJ

— Cathy Russon (@cathyrusson) October 17, 2022
The "child-killing sex offender" infamously represented himself at trial by making countless pseudolegal arguments, belligerently tearing into the prosecution to his detriment, laughing during witness testimony, and even menacing trial judge Jennifer Dorow with his glares.
The month after Brooks' October 2022 convictions, Judge Dorow rejected Brooks' mental illness claims and sentenced him to life in prison six times over.
"Mr. Brooks talked about at times this being the 'will of God' or that 'all things happen for a reason.' I'm here to tell you, Mr. Brooks: you are not an instrumentality of God," the judge said. "Death might be inevitable to all of us, but you cut the lives of six individuals short. You — you alone, Mr. Brooks, cut the lives of these six, innocent people short."
"The community is not safe from your violent and criminal conduct unless you are in custody," the judge went on.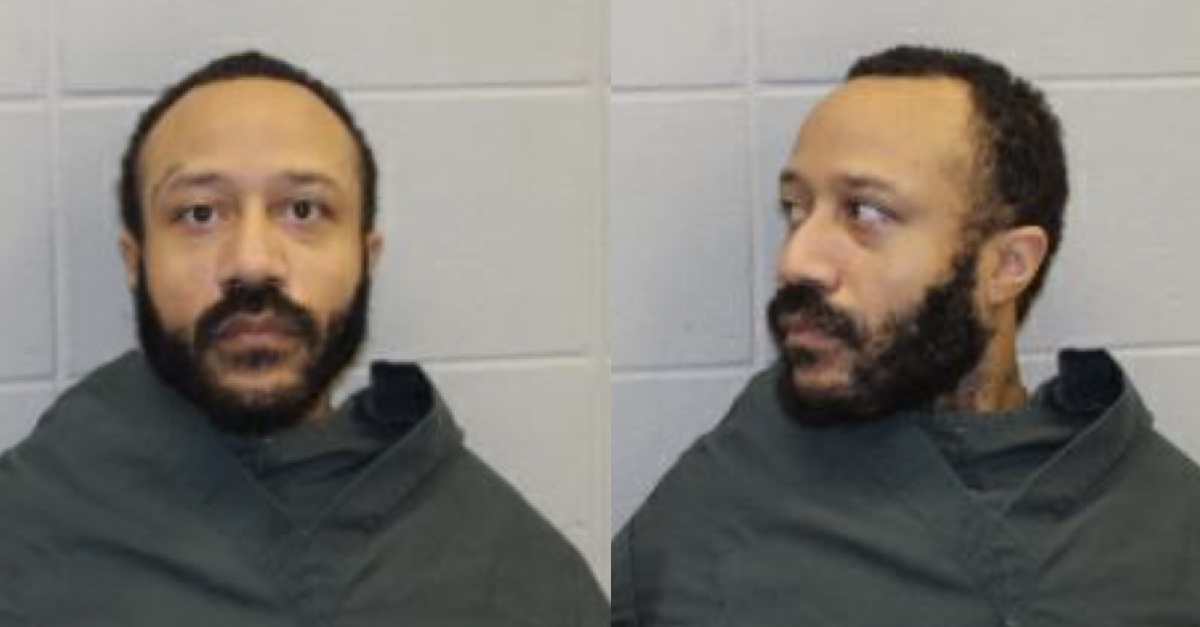 Darrell Brooks pictured in Dec. 2022 mug shots (Wisconsin Department of Corrections)
Now the Garcia Ramirez family is suing the inmate over the lasting impact of seeing "bodies and band instruments flying in the air" and having to pull their kids to safety from Brooks' murderous path.
"The plaintiffs directly witnessed the shocking carnage as Brooks terrorized the crowd, including witnessing a child being run over," the complaint reportedly said, alleging that the resulting trauma included "extreme emotional distress, panic attacks, sleep deprivation, post-traumatic stress disorder, anxiety, depression and other damages."
The suit focuses on Progressive, arguing that the insurance company "has not been willing to pay what we believe the family is entitled to under the law," as the family's attorney Jay McDivitt reportedly told local Fox affiliate WITI. Plaintiffs reportedly claimed that their auto insurance policy's coverage protected them in the event that they were harmed by uninsured and underinsured drivers.
McDivitt reportedly claimed Progressive has only paid out a fraction — one-quarter — of possible funds (up to $50,000 in compensation per person and as much as $100,000 in compensation per incident). The lawyer reportedly argued in the filing that the insurance company "has no legal right to reduce the uninsured or underinsured motorists benefits."
The lawyer reportedly described the harms his clients experienced as ongoing and their fears constant.
"Any time they are in a large group of people, any time they hear a loud noise – they are constantly scared looking around wondering what is going to happen," McDivitt said, according to WITI.
Law&Crime reached out to both McDivitt and Progressive for comment.
Have a tip we should know? [email protected]