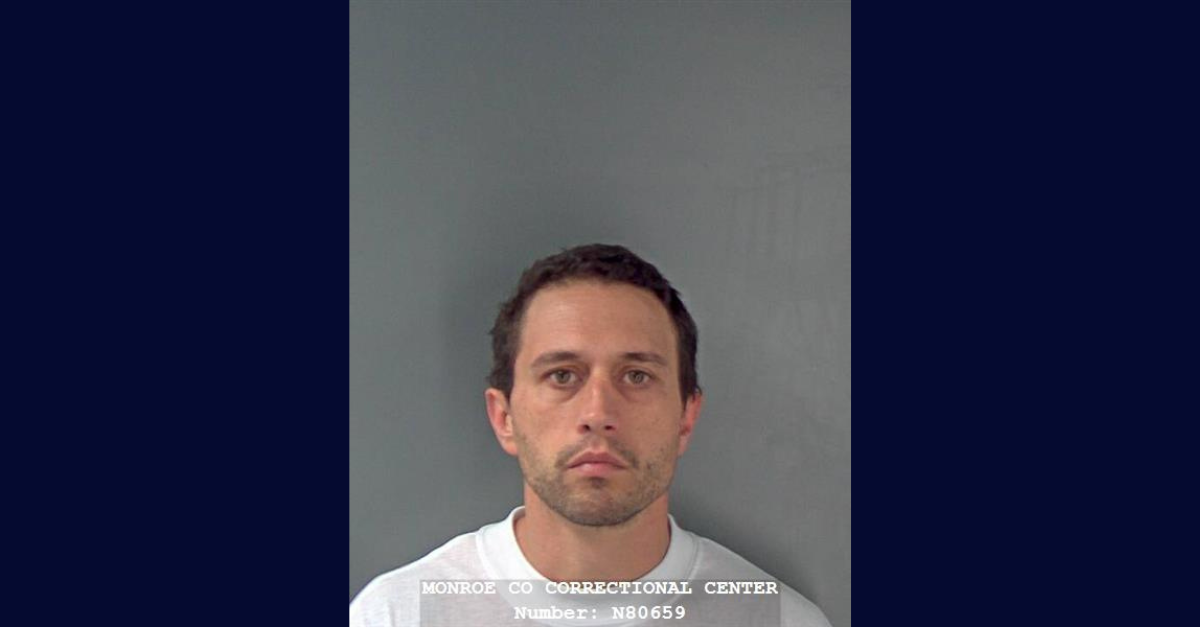 Richard Allen White Jr. kidnapped his girlfriend's 5-year-old daughter and the child's babysitters, police said. (Mug shot: Monroe County Detention Center)
An Indiana woman's boyfriend abducted her 5-year-old girl, the babysitter, and the babysitter's boyfriend under a ruse that the mother was having an emergency, but in truth, he was in the middle of pestering the mom over the money she made stripping, according to cops in Bloomington.
Richard Allen White Jr., 36, is facing charges including kidnapping a victim less than 14 years of age, two counts of kidnapping by using a vehicle, three counts of intimidation with a deadly weapon, one count of intimidation involving a threat to commit a forcible felony, and theft where the defendant has a prior conviction for robbery or burglary.
According to cops, the babysitter and her boyfriend said that White entered the apartment at 2:49 a.m. on Oct. 19 using the mother's key. The defendant allegedly claimed they had to pick up the mother from work because of an emergency, and that the mother wanted him, the babysitter, and the babysitter's boyfriend to get her.
The babysitter thought White was acting erratic. He allegedly took her phone and refused to give it back when asked and also demanded the boyfriend's jacket.
"[The boyfriend] stated he gave Ricky his jacket in an attempt to avoid any further incident," officers wrote.
In truth, White was in the middle of a money-related spat with the mother, police said. She told cops that White — her on-and-off boyfriend — took her daughter and the couple in a fit of anger.
The child's mother said that White had called her after she arrived at her workplace, a strip club, to discuss her earnings for the night. The mother shut him down and would not discuss it because she was around the other dancers, documents stated.
"[The mother] said Ricky would not stop harassing her about how much she had earned and insisted she count her money," police wrote.
She hung up on him and went back to work, and White went "all crazy" and called back at her workplace's phone.
The mother checked the security cameras in her daughter's bedroom. The girl was sleeping, but the woman soon got a front door motion alert and realized the child was no longer in her bedroom.
White then used the babysitter's phone to text hostile messages to the mother, police said. For example:
"Man f— u how I'm omw up there b—- don't be ready watch how I act a mf fool b—-."
"U think u can do whatever and disrespect me well see."
"U better be outside waiting [your kid is] here so don't play with me b—-."
"U done disrespecting me b—-."
"Bet we don't do this no more and im gonna teach u to respect me frfr."
He allegedly sent several audio messages. For example.
"Don't be outside and see what happens, n—a. Call the police, tell anybody anything, and I swear to God, n—a. It's gonna be all bad, n—a. Imm hav this whole motherf—a house surrounded, n—a, and I'll hold everybody hostage in this b—-, n—a, play with me if you want to shorty better have your b—- ass outside n—-, I ain't playing with you either."
"See what happens," he allegedly told the mother after telling her he took the daughter.
White demanded in texts and audio messages for her not to call the cops, police wrote.
Through texts and attempted calls, he kept trying to reach her for an actual phone call, and though she refused to pick up, she wrote him to return her daughter home.
"U don't want me taking the cops on a high speed chase with ur kid do u," he allegedly wrote. "I'm trying to be grown about it and frfr talk to u."
White allegedly continued threatening and harassing the mother through the babysitter's phone, demanding she not call the police — though little did he apparently know, the affiant on the police documents was already there during one such call.
Authorities eventually managed to find the kidnapped victims safe in the mother's car and arrested White.
After being read his Miranda rights, he allegedly said he had been staying with the mother — his girlfriend of four months — because he was wanted in a different county.
In his alleged version of events, the babysitter gave him her phone, and he used it to call the mother. He believed activity at the club was slow and that the mother should return home to him and the daughter.
He allegedly asserted that he had to bring everyone for his plan to work because the club had a policy of not allowing boyfriends into the club.
"Ricky told me that everyone went willingly and he never made claims of an 'emergency,'" the affiant wrote. "I asked him about the texts specifically about him threatening to get into a pursuit, which he stated he was just upset and says things when he's angry."
He asserted he fled in the first place on seeing officers because of his warrant, documents stated.
Have a tip we should know? [email protected]