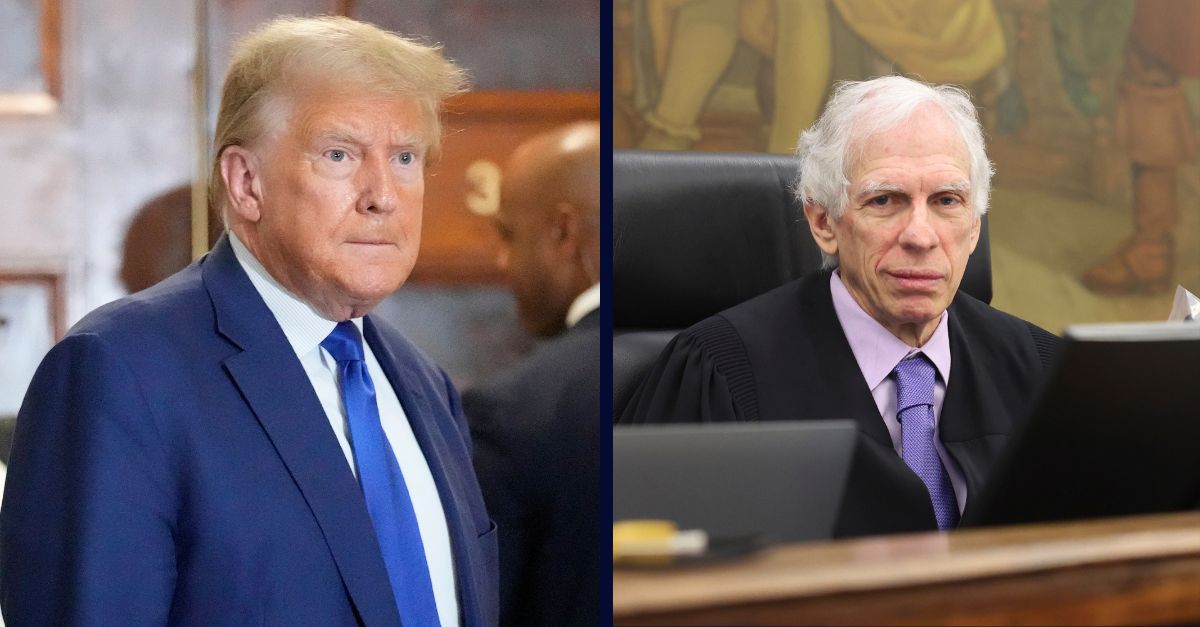 Left: Former President Donald Trump speaks during a break in his civil business fraud trial at New York Supreme Court, Wednesday, Oct. 25, 2023, in New York. (AP Photo/Seth Wenig). Right: Judge Arthur Engoron presides over former President Donald Trump's civil business fraud trial at New York Supreme Court, Wednesday, Oct. 25, 2023, in New York. (Spencer Platt/Pool Photo via AP)
For the second time in less than a week, the New York judge overseeing Donald Trump's civil fraud case has fined the former president for violating the court's gag order prohibiting Trump from speaking publicly about his courtroom staff.
New York State Supreme Court Justice Arthur Engoron issued a $10,000 sanction against Trump on Wednesday after hearing testimony from him about comments the ex-president made outside of court. Trump was under a gag order barring him from speaking publicly about courtroom workers after making disparaging remarks about the judge's law clerk, but the judge found that his comments to the press on Wednesday violated that order.
"This judge is a very partisan judge with a person who is very partisan sitting alongside him — perhaps even much more partisan than he is," Trump told reporters during a break from testimony in his civil fraud case on Wednesday, CNN reported.
Trump reportedly insisted to Engoron that those comments were not about Engoron's clerk but that he was talking about his former "fixer" Michael Cohen, whose testimony has offered potentially damaging testimony from his time working for Trump. Cohen had spent the day on the witness stand, adjacent to Engoron's perch on the bench.
Engoron didn't believe him.
"As the trier of fact, I find that the witness is not credible," the judge said after hearing Trump's testimony, according to CNN.
The judge reportedly issued a warning during the last-minute hearing that Engoron scheduled in response to Trump's out-of-court comments.
"Don't do it again or it'll be worse," the judge reportedly said, according to Axios.
Days ago, the judge issued a $5,000 fine against Trump after learning that the post about the courtroom clerk had not been removed from the Trump campaign's website, despite the judge having ordered that all the posts be taken down.
Trump is defending himself in a $250 million civil fraud case brought by New York Attorney General Letitia James. Engoron has already ruled that Trump and his company inflated his net worth and overvalued their assets on years' worth of financial paperwork.
Have a tip we should know? [email protected]