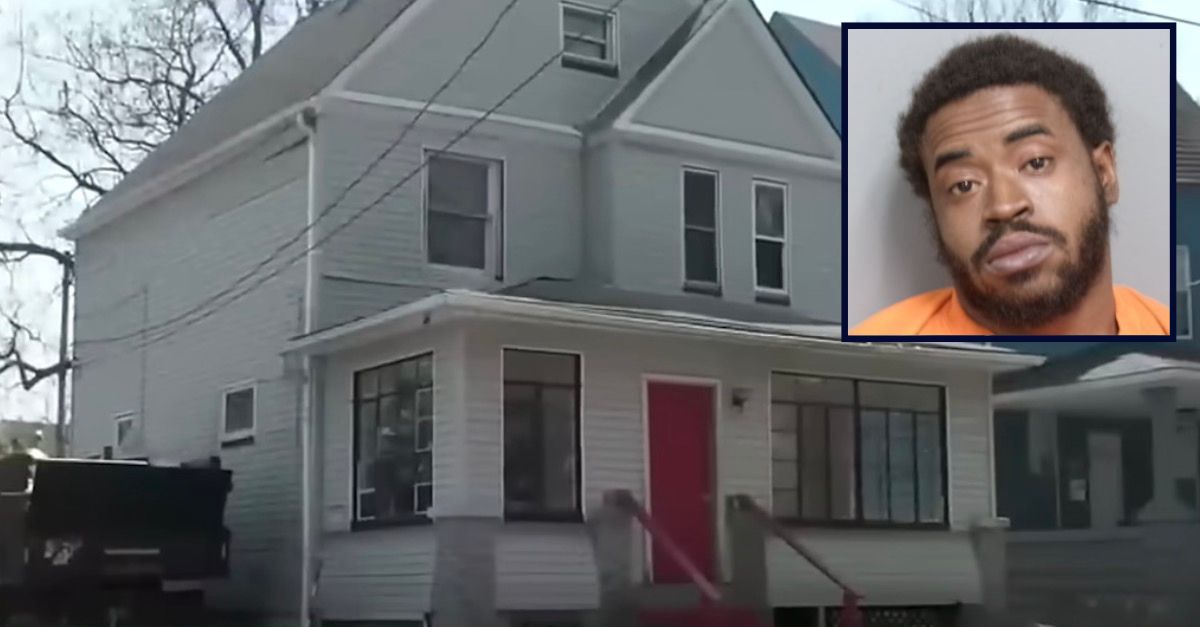 Dalontay R. Edmond-Geiger (Cuyahoga County Detention Center) and the home where he kidnapped and stabbed a 60-year-old woman (WOIO screenshot)
A 31-year-old man in Ohio will likely be spending years behind bars after admitting that he held a 60-year-old woman against her will and tortured her, severely beating and stabbing the victim before sealing her into a small plastic storage container, from which she miraculously survived.
Dalontay R. Edmond-Geiger appeared before Cuyahoga County Common Pleas Court Judge Hollie Lauren Gallagher on Monday where he formally pleaded guilty to one count each of kidnapping, felonious assault, tampering with evidence, and having weapons while under disability, court records show.
"I have seen a lot of truly terrible cases over the years, and this one is one of the most horrific I've seen," Cuyahoga County Prosecutor Michael O'Malley said in a news release. "Thankfully, law enforcement found her alive."
According to an affidavit of probable cause obtained by Law&Crime, officers with the Cleveland Police Department on the night of May 2 found a woman inside a residence in the 3100 block of West 97th Street who was allegedly being held against her will by Edmond-Geiger.
Court records state that Edmond-Geiger's home address is the West 97th Street residence.
"Edmond-Geiger admitted to physically assaulting [the] victim, ziptying [sic] her hands to a chair, and moving her body from room to room to deceive police," the affidavit states. "Geiger then forcefully stuffs [the] victim's body into a 3 ft x 3 ft plastic container and traps her motionless body inside and seals the lid, restricting air to victim before police finds victim."
Police said the victim, whose identity has not been disclosed, was unconscious and required the use of a ventilator to assist with breathing. She also suffered "multiple fractures to the rear of her head," the document states.
The events leading police to the disturbing discovery began earlier in the day on May 2, at around 3:30 p.m., when authorities received a call from a concerned woman at a corner store, reporting that another woman was tied up in the basement of a nearby home.
Responding to the call, officers encountered Edmond-Geiger at the residence. After a 30-minute delay, Edmond-Geiger allegedly allowed the officers to search his basement, where they found only an air mattress but no victim.
It was during this initial visit that Edmond-Geiger was allegedly moving the victim from room to room to prevent police from finding her.
Later that evening, police spoke with a woman familiar with the area who claimed she knew that Edmond-Geiger had assaulted a woman and was holding her in the basement of his residence.  She told police that Edmond-Geiger even showed her photos of the alleged assault and claimed the victim was a "snitch," providing investigators with additional evidence of potential criminal activity.
In the early hours of May 3, officers returned to the residence to speak with Edmond-Geiger again.
While inside the living room, an officer reportedly heard moaning sounds from an unknown location.
However, each time the moaning occurred, Edmond-Geiger allegedly amplified the volume of the radio playing on his phone. Suspicions grew, prompting the officer to question Edmond-Geiger further.
Eventually, police say Edmond-Geiger confessed that a woman was beneath the porch, hidden in a tiny storage container. Police said they found her "stuffed and folded into a small black tote."
She was hospitalized with life-threatening injuries. A relative of the victim reportedly told Shaker Heights CBS affiliate WOIO that the victim has been in a coma since the incident, which broke her back and spine, leaving her paralyzed.
Edmond-Geiger is currently scheduled to appear before Judge Gallagher on Nov. 29 for his sentencing hearing.
Have a tip we should know? [email protected]