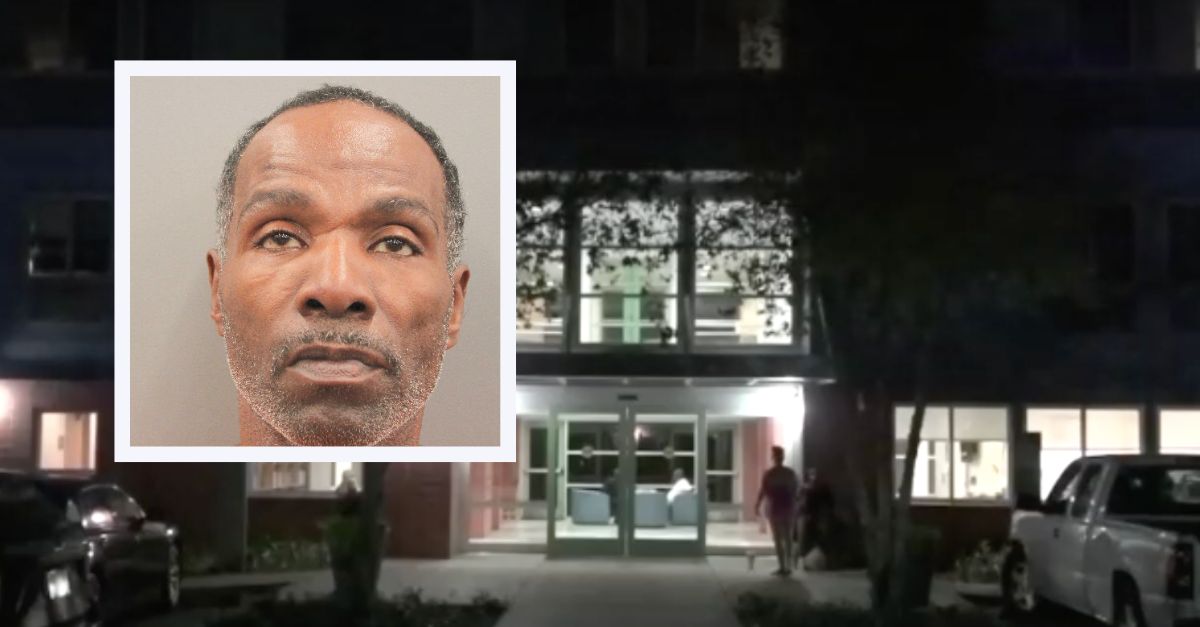 Marques Potts, inset, appears against an image of the apartment complex where he allegedly stabbed his girlfriend, and her puppy, to death on July 29 in Houston, Tex. (Harris County Jail; Screengrab via KPRC)
A Texas man stabbed his girlfriend to death, and also did away with her puppy in the same fashion, police in Houston say.
Marques Kelvin Potts, 58, stands accused of one count of murder over the July 29 slaying of Melissa Fowler, 43, at her apartment on Sakowitz Street, according to a criminal complaint obtained by Law&Crime.
According to Harris County court records, the defendant has admittedly stabbed a woman before – and was on probation for that crime when the second, this time fatal, stabbing occurred.
Late Saturday night, a patrol officer called in a "stabbing murder" at apartment unit A202, the complaint says. Responding officers found Fowler dead "with multiple apparent stab wounds all over her body."
At the complex, the apartment manager retrieved security footage and eventually found "a portion of the murder," the criminal complaint says. The apartment manager identified Potts as the killer.
A detective consulted additional segments of security footage and saw that Potts had, around 6:30 p.m. that night, forced his way into the victim's apartment "using some sort of hand tool," the complaint alleges. Some 20 minutes passed until Fowler got home.
A few moments later, the woman can be seen in the footage falling out of her front door "and into the hallway with multiple apparent injuries to her chest," a detective writes in the complaint. The woman is then allegedly pulled back by Potts as she frantically tries "to hold onto the door jamb to keep from being dragged back inside."
Another apartment employee cited in the complaint says they heard a woman screaming for help coming from unit A202 and went to check. After knocking and receiving no answer, the witness told police, she left and later returned to find an older man cleaning up what looked like blood. Then she asked him what happened.
"I just whooped her a––," the man allegedly replied.
The employee then left again to go call 911.
One neighbor told local media they overheard the fatal violence.
"I heard two screams," neighbor Stephen Caldwell told local NBC affiliate KPRC. "It wasn't as loud as you would think. I remember that I wanted to get up and see what was going on but I figured it was none of my business. I feel real bad that I didn't."
The victim was found lying face down in a pool of blood, police said. She had multiple stab wounds in her back and chest.
"Fowler's puppy was found in her bathtub stabbed to death," the criminal complaint reads. "Bloody knives were recovered from inside the apartment near Complainant Fowler's body."
Paramedics pronounced the woman dead at the scene.
"At this time, it's believed to be domestic violence," Houston Police Department Lt. T. Davis told local ABC affiliate KTRK on Wednesday. "The female (was) pronounced deceased at the scene. The person of interest at this time is believed to be the boyfriend."
Both the victim and the defendant lived at the New Hope Housing complex location where the murder occurred.
"We deeply regret the horrific murder of one of New Hope's residents due to intimate partner violence," the organization that owns the building said in a statement obtained by KTRK. "Our thoughts are with her friends and family as they grieve this loss. We are working closely with Houston Area Women's Center to strengthen our ability to ensure any resident who might be in an abusive situation has access to life-saving services."
Court records show that the woman Potts stabbed in March 2021 was a family member. That case was dismissed in June of that year.
Potts was arrested without incident on Tuesday, the HPD said in a press release.
He is currently being detained in the Harris County Jail on $125,000 bail. On Thursday, his case was transferred to another court in order to account for his alleged probation violation, the public docket shows.
Have a tip we should know? [email protected]