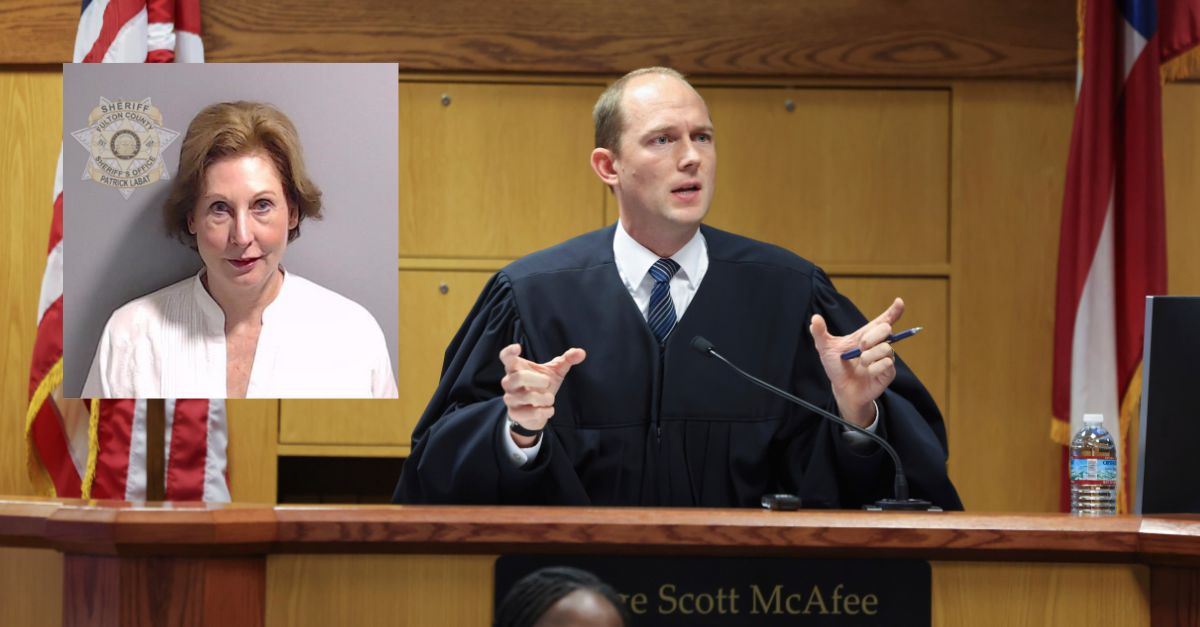 Fulton County Superior Judge Scott McAfee hears motions from attorneys representing Ken Chesebro and Sidney Powell in Atlanta on Wednesday, Sept. 6, 2023. Powell appears in a booking photo, inset on the left. (Jason Getz/Atlanta Journal-Constitution via AP, Pool; Fulton County Sheriff's Office)
The Georgia judge presiding over the 2020 election RICO case against former President Donald Trump and co-defendants who have yet to plead guilty has reversed himself on the issue of sealing the criminal case dockets of attorneys Sidney Powell, Ken Chesebro, and Jenna Ellis, and bail bondsman Scott Hall.
Fulton County Superior Court Judge Scott McAfee began his unsealing order by noting that Powell, Chesebro, Ellis, and Hall each invoked their first-time offender status under Georgia's First Offender Act to immediately seal their dockets following guilty pleas to lesser charges that did not include a RICO offense.
Scott Hall was the first defendant to plead guilty, admitting on Sept. 29 to five misdemeanor counts of conspiracy to commit intentional interference with election administration.
Then, on Oct. 19, the day before Powell and Chesebro were set to stand trial together, Powell pleaded guilty to six misdemeanor counts of conspiracy to commit intentional interference with election administration. The next day, Chesebro pleaded guilty to a felony for conspiracy to commit filing false documents. Four days later, Ellis pleaded guilty to aiding and abetting false statements and writings, also a felony.
Judge McAfee said that although prosecutors with the Fulton County District Attorney's Office "did not oppose the requests" to seal, and although the judge orally granted the requests at the change of plea hearings, the sealing statute demanded more analysis from the jurist on the balance between "public's interest" in accessing the records and the defendants' "privacy" concerns.
"The Court did not, until now, issue any written findings of fact, nor specifically address the public interest," McAfee said. "While all parties have maintained their position that the records be sealed, none have particularized how sealing would satisfy this balancing requirement."
The judge noted that the "exact conditions and circumstances of each plea have been widely covered by the media" and that the coverage is likely to exist online "in perpetuity."
"On the other hand," McAfee continued, "it is hard to conceive of a subject matter more pertinent to the public interest than a criminal case addressing the circumstances of a presidential election."
Calling the public interest "considerable and reasonable," McAfee ruled that the public interest in the "criminal record information and docket being publicly available" outweighed any potential "harm" to the defendants' "privacy."
The judge did add, however, that Powell, Chesebro, Ellis, and Hall can "renew their sealing request" upon the "successful completion and discharge of their sentences."
The order to unseal, signed and dated Oct. 27, was filed in court on Halloween afternoon.
Have a tip we should know? [email protected]