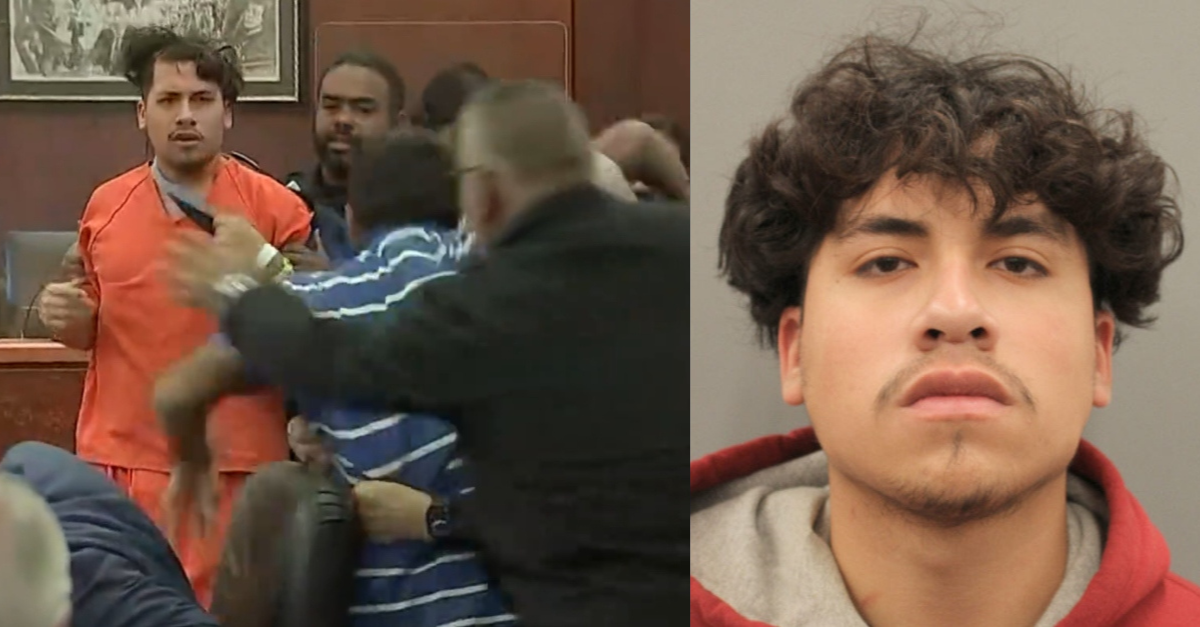 Diamond Alvarez's uncle (wearing a blue and white shirt) rushed Frank Deleon (in jail orange) after Deleon pleaded guilty to murdering Alvarez. (Screenshot: KTRK; mugshot of Deleon: Houston Police Department)
A man who gunned down his ex-girlfriend to silence her about his cheating ways and who was attacked by the victim's family in courtroom chaos seen on video after the guilty plea was formally sentenced on Thursday to 45 years in prison, records show.
Frank Deleon received the punishment as part of a plea bargain reached on Tuesday in the killing of Diamond Alvarez. The court broke down in chaos after he admitted guilt.
First, Alvarez's mother, Anna Machado, stepped down from the stand after her victim impact statement and started walking toward Deleon. A bailiff got in her way. Alvarez's uncle rushed Deleon from behind.
The situation escalated to Machado and Deleon's mother getting into a brief scuffle.
The defendant's trial was supposed to begin on Monday, but he did not show up in court at the time because he got into an accident, according to his attorney.
Machado apologized after court on Tuesday but maintained her disdain for Deleon.
"All this time, he's been laughing," she said in a press conference covered by Houston ABC affiliate KTRK. "Laughing, making fun, 'it's a joke.' A life is not a joke. My daughter is not a joke."
As he now admits, Deleon gunned down Alvarez at a park near her family's home while she was walking her dog in January 2022.
Deleon, then 17 and now 19, had cheated on her. Prosecutors have said that he wanted to silence Alvarez about the truth.
"Don't ruin this for me," he allegedly texted multiple times.
Deleon lured her out to the park for a private conversation. And he used the opportunity to shoot her 22 times. Authorities have said many of the shots were consistent with Diamond being on her back when struck.
"My son found her," Machado told Houston Fox affiliate KTBC. "I tried CPR, and I couldn't bring her back. I tried so hard to keep her alive. I couldn't."
Have a tip we should know? [email protected]