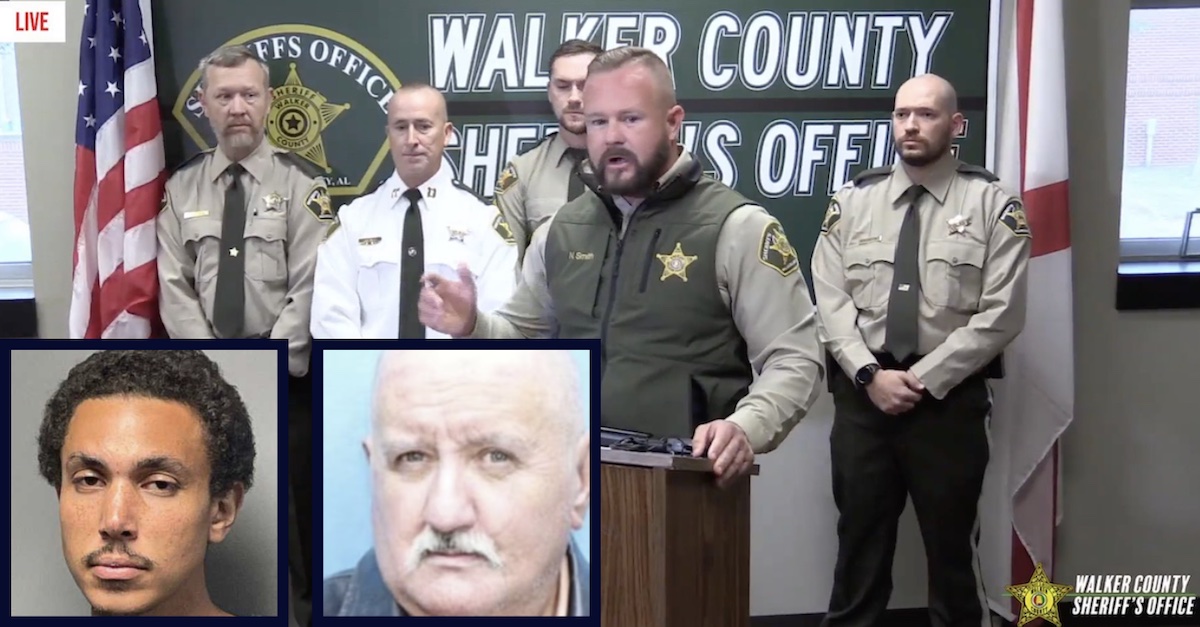 Kevin McLemore, Terry Drummond (inset left and right, via Walker County Sheriff's Office); Sheriff Nick Smith addresses the media on Oct. 13, 2023.
A convicted sex offender found buried and dismembered in a four-foot shallow grave was reported missing one week ago, and Alabama authorities suspect that the roommate who filed that report is the person responsible for the grisly slaying.
The Walker County Sheriff's Office on Thursday said that they found human remains in a shallow makeshift grave that day before near the Walker County and Cullman County line and took one individual in custody in connection with the investigation. On Friday morning, Walker County Sheriff Nick Smith and Captain Darrell Mote addressed the case in detail for the first time at a press conference.
"We're here today in regards to a missing persons report that was filed on October the 7th. The missing person was from the Harvey Drummond Rd. area," the sheriff began. "The missing person was a Terry Drummond. We did recover Mr. Drummond this week. He was recovered in a four-foot shallow grave at his residence after a search warrant was obtained by the investigative division."
The sheriff then handed the microphone over to Capt. Mote, who identified 30-year-old Kevin Chad McLemore as the roommate who filed the missing person report. In that report, McLemore  allegedly claimed that he last saw 62-year-old Terry Linden Drummond alive before work around 6:30 a.m. on Oct. 4.
More Law&Crime coverage: Argument over dirty dishes allegedly preceded pickax and shooting deaths of grandparents, brother and friend in Alabama
After the missing person report was filed on Oct. 7, investigators began to follow up on leads and eventually obtained a search warrant for Drummond's property, Mote said. During the execution of the search warrant of the residence and the surrounding area on Oct. 11, investigators found a "makeshift grave" covered in "concrete blocks."
"Once we disassembled the blocks, conducted some more interviews — a makeshift grave was basically uncovered with dismembered human remains," Mote said.
Thereafter, an arrest warrant was issued in Walker County and McLemore was hauled in on suspicion of murdering Drummond.
The sheriff returned to the podium and credited his deputies — and their K-9s — for working the scene despite the "gruesome" nature of the crime scene those investigators witnessed.
"I've been in law enforcement almost 20 years. I've never seen anything quite like it. It was a very gruesome, detailed-out murder. Thanks to these guys and their swift action we were able to make the arrest and hopefully bring closure to this case," Sheriff Smith said, ending the press conference on that note.
Alabama sex offender registry shows that Terry Linden Drummond, with the listed alias Rockman Drummond and an address on Harvey Drummond Rd., was convicted in June 2015 of second-degree sodomy, enticing a child for immoral purposes, and traveling to meet a child for an unlawful sex act.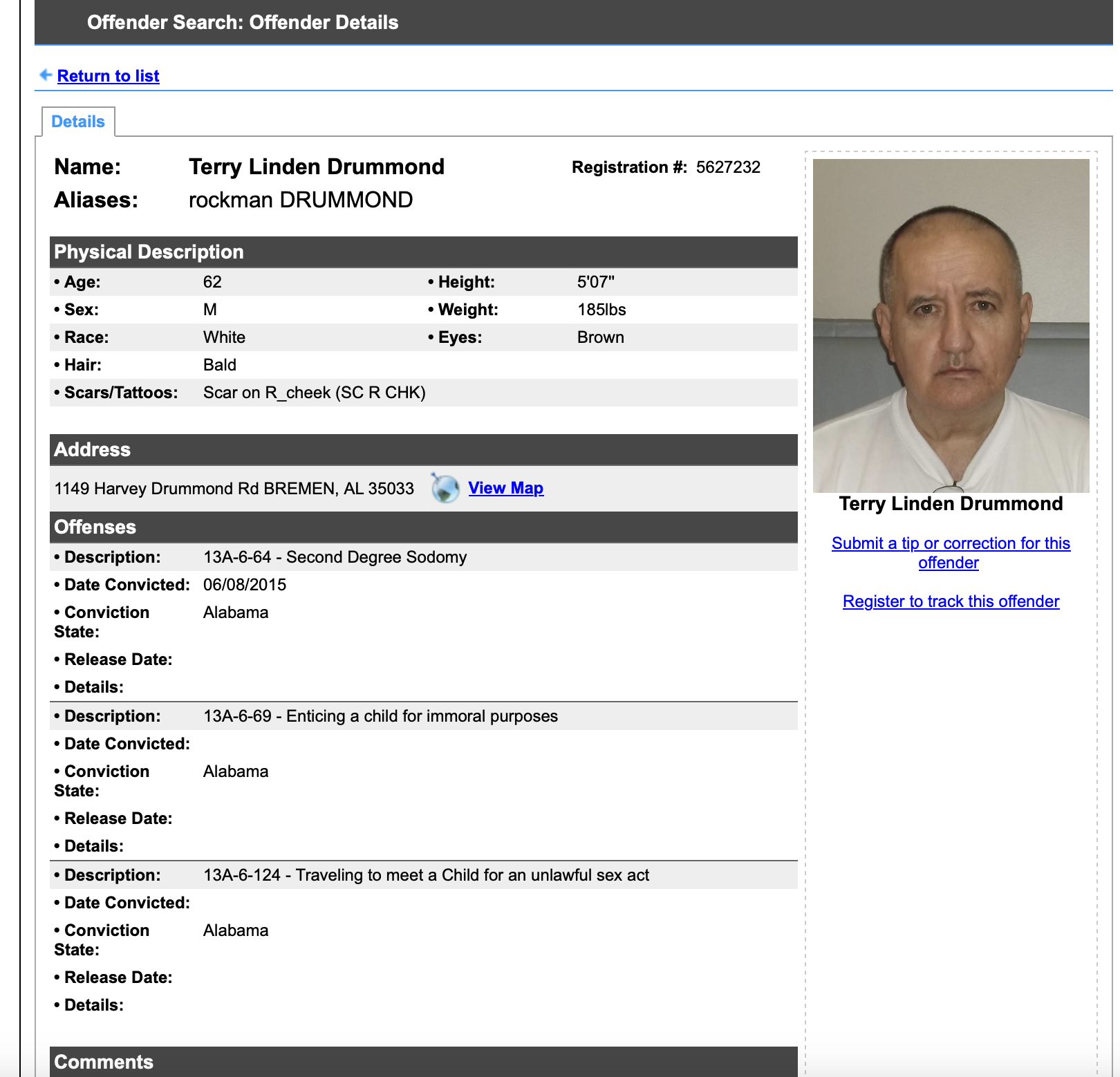 Terry Linden Drummond sex offender registry
The Alabama Department of Forensic Sciences is in possession of the human remains evidence for further analysis, Captain Mote said at the press conference. It's not yet clear how Drummond was killed or what motivated the killing.
Have a tip we should know? [email protected]