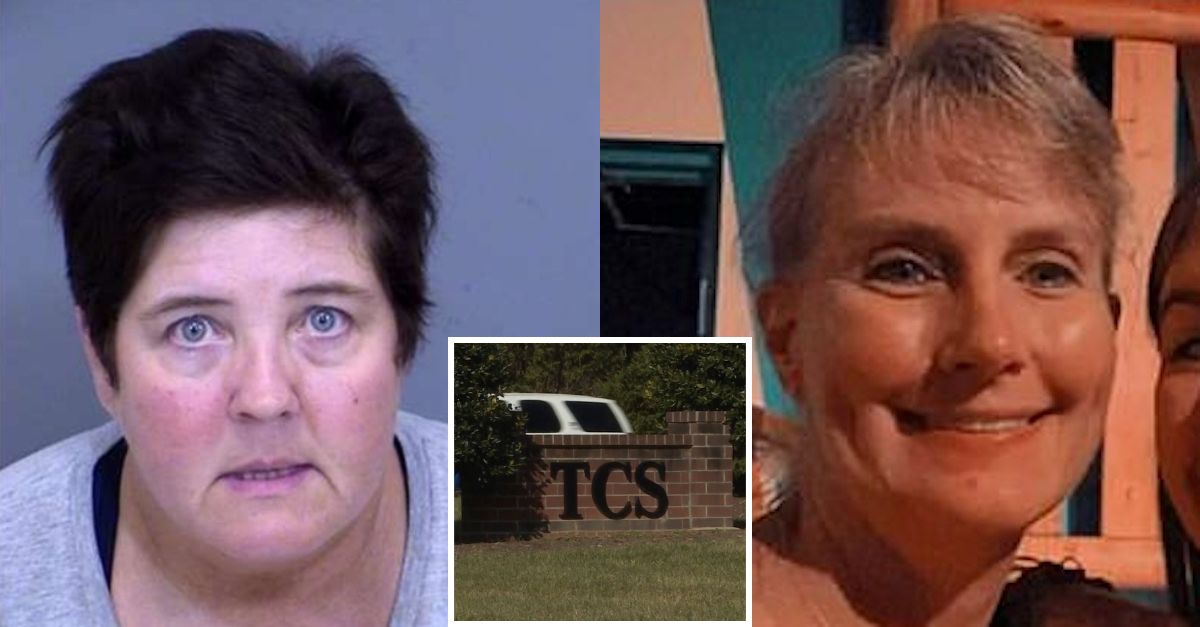 Tangela Louise Parker (Maricopa County Sheriff's Office) and Phelifia Michelle Marlow (YouTube: WBTV screenshot)
A 52-year-old woman in North Carolina will spend at least two decades in prison after admitting to killing her former colleague over a petty workplace squabble and then going on the lam for six months.
Tangela Louise Parker on Thursday formally pleaded guilty to one count of second-degree murder in the fatal 2021 shooting of 51-year-old Phelifia Michelle Marlow, authorities announced.
Haywood County Superior Court Judge Bradley B. Letts ordered Parker to serve a sentence of 20 to 25 years in a state correctional facility.
According to a press release from the Catawba County District Attorney's Office, Chief Assistant District Attorney Tim Gould spoke during Thursday's proceedings and specifically addressed the cold-blooded manner in which Parker killed Marlow.
"The way (Parker) used (the revolver) gave this victim no chance," Gould told the court. "It's not just a murder, it's an execution. You see the hurt she has caused this family, this community."
After handing down the sentence, Judge Letts spoke directly to "a large contingent" of the victim's family and friends who had come to the courthouse to see justice served several years after the mother of two was gunned down.
"Michelle [Marlow] did nothing wrong. It's with a heavy heart I tell you that bad things, unspeakable things, happen to good people. I wish that were not the case. Nothing that happened was deserved by Michelle [Marlow]," he said. "There's nothing I can say today to assuage you of your loss. I cannot fill the holes in your hearts. Seeing you here today lets me know one thing: She knew only love and support from you for 51 years. Many folks don't have that. She did, and that's because of you."
The victim's husband, Justin Marlow, told investigators that his wife and Parker had a silly argument the week she was murdered. The two were said to have quarreled over moving tables in the work area at furniture company TCS Designs, resulting in Tangela Parker being sent home for three days without pay. Before the shooting, witnesses said Parker was screaming and cussing at Marlow.
Several employees reported Parker to the plant manager, saying she had "instigated the confrontation" and that Marlow "hardly responded to the outbursts," prosecutors said.
"The deadly shooting occurred during the workday in front of numerous eyewitnesses at TCS Design in Hickory, where both women were employed," prosecutors wrote in the release. "The defendant went to the area where the victim was working and shot her in the chest with a .357 Magnum revolver. Marlow turned and tried to run, but Parker shot her in the back of the head."
Officers from Hickory Police Department and Catawba County Emergency Medical Services responded to the scene, where they found Marlow lying on the floor in a pool of blood. Marlow died at a hospital.
Parker's husband, Eric Parker, also worked at TCS and was at the plant when his wife killed Marlow.
Following the fatal shooting, the Parkers fled the state for six months. They used fictitious names — Jason and Elizabeth Reardon — and a stolen license plate to elude law enforcement. They were taken into custody in July 2021 on fugitive warrants in Arizona. The murder weapon, found in the vehicle the Parkers were using while on the run, was shown to the Court during Thursday's plea hearing.
Ten people read victim impact statements about how Marlow's murder affected their lives, including her daughter, Makayla Marlow.
"There's not enough time in the world for me to express who she was," Makayla said of her mother. "January 13, 2021, was the day I lost my best friend, my rock, my certified support system. She was the human form of goodness and peace. Her life was violently ripped from her. While I'm grateful for every second I got with her, I'm angry she was taken away. The time I spent with her was nowhere long enough."
Eric Parker is in detention and faces one count of accessory to murder after the fact. He has pleaded not guilty and is awaiting trial.
Have a tip we should know? [email protected]