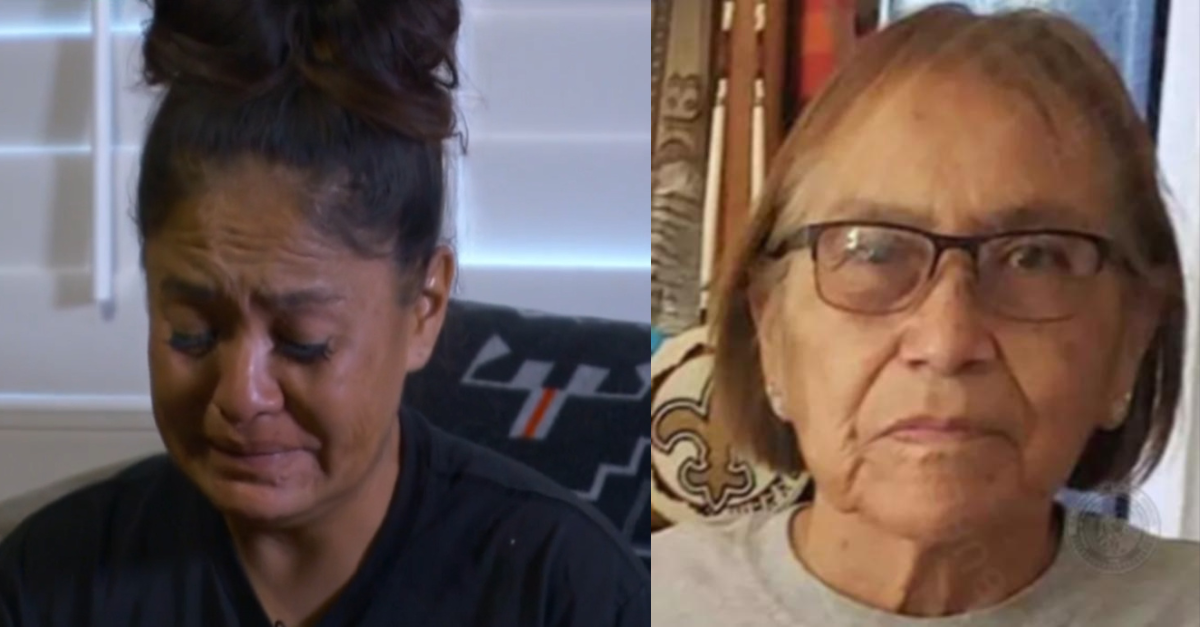 Seraphine Warren-Begay (left) once walked the country to get attention for her missing aunt, Ella Mae Begay. Now she's charged in a kidnapping. (Screenshot of a tearful Warren-Begay in a September 2021 interview with KSTU; image of Ella Mae Begay: FBI)
In October 2022, Seraphine Warren-Begay finished her almost 2,400-mile prayer walk from Sweetwater, Arizona, to Washington D.C., in order to bring awareness to her missing aunt, Ella Mae Begay, and other missing or murdered Indigenous people. Now, a year later, she and three relatives are charged in an ostensibly unrelated kidnapping.
The federal indictment, made on Oct. 4 and unsealed Tuesday, said she played a key role in abducting a man identified in documents only as John Doe.
She allegedly used Facebook to research him. From there, she and her husband, Orlando Begay, 36, traveled to Arizona to find him, documents said. Her sister, Josephine Bekay, 46, and the sister's husband, Nelton Alex Bekay, 48, arrived there with handcuffs, pepper spray, a metal baton, and a Glock handgun, according to authorities.
They all allegedly made it to the man's home and entered, but it is unclear if they forced their way inside or if the victim let them in.
Once inside, Warren-Begay struck John Doe on the top of his head with a blunt force object, officials said. Then she, her husband, and her sister shot him with paintball guns, according to documents. The four defendants then allegedly handcuffed Doe, and put him in the back of a vehicle, driving him away to Shiprock, New Mexico. Then they released him that same day in the city of Farmington, investigators said.
All four are charged with kidnapping and conspiracy to commit kidnapping. That alleged incident was back on April 1, 2021, just months before Ella Mae Begay's disappearance. Relatives of the missing woman, who was 62 at the time and would be 65 now, reported her disappearance on June 15, 2021, from her home near Sweetwater, Arizona, says the FBI.
According to authorities, her 2005 Ford F-150 was seen leaving the residence.
"It was believed that the truck may have been driven toward Thoreau, New Mexico, and may have proceeded in the direction of Albuquerque, New Mexico," the FBI wrote.
In April, Nearly two years after Begay vanished, Preston Tolth was indicted for carjacking, and assault resulting in serious bodily injury related to her disappearance. Federal investigators claimed he assaulted Begay, "resulting in serious bodily injury."
"Some of those facts included that he admitted in interviews to have battered and left Ella Mae for dead," Begay family attorney Darlene Gomez said in an April 10, 2023, report from AZ Central. "And that he did steal her pickup truck and did eventually sell it in Albuquerque for drugs and $200. This has been a long time coming and he's been a person of interest since very early on in the case."
Neither Tolth nor anyone else has been charged with any further crime in this matter, including homicide. He has pleaded not guilty to the carjacking and assault charges.
The FBI describes the missing woman as Native American, with brown hair and brown eyes. She weighed 125 pounds at the time of her disappearance and stood 5 feet. She spoke both English and Navajo.
Ella Mae Begay and her now-charged relatives are all members of the Navajo Nation. Authorities have released no information as to whether her disappearance and Doe's April 2021 alleged kidnapping are linked beyond Begay's relatives.
Warren-Begay had crossed the country, chronicling her journey on social media, in order to bring attention to missing and endangered Indigenous people, especially women, according to The Washington Post in a 2022 report. She reportedly voiced frustration from the lack of law enforcement support and media attention on such cases.
"We need search and rescue teams," she told the outlet. "We need equipment like ATVs, drones, helicopters, sonar for water. We have families on foot searching. We need cadaver dogs. We need funding for billboards and rewards. We need our own medical examiners. Our tradition calls for burying our loved ones within four days and we can't."
She reportedly remembered her aunt as "a very talented" master rug weaver, and as someone who is "sweet, soft-spoken, and reserved." Elle Mae Begay, she told the outlet, used a piece of plywood to barricade the door and would not have let anyone into the house, particularly at night.
Alexander Ramos, an attorney assigned to Warren-Begay for just her initial appearance and detention, declined to comment when Law&Crime reached out.
Marc H. Robert, an attorney for Josephine Bekay, declined to comment. Tolth's attorney, Jane McClellan, also declined to comment.
An attorney for Nelton Alex Bekay did not immediately respond to a Law&Crime request for comment. Orlando Begay has no attorney of record in this matter.
Note: We added responses from Warren-Begay's and Tolth's attorneys.
Have a tip we should know? [email protected]