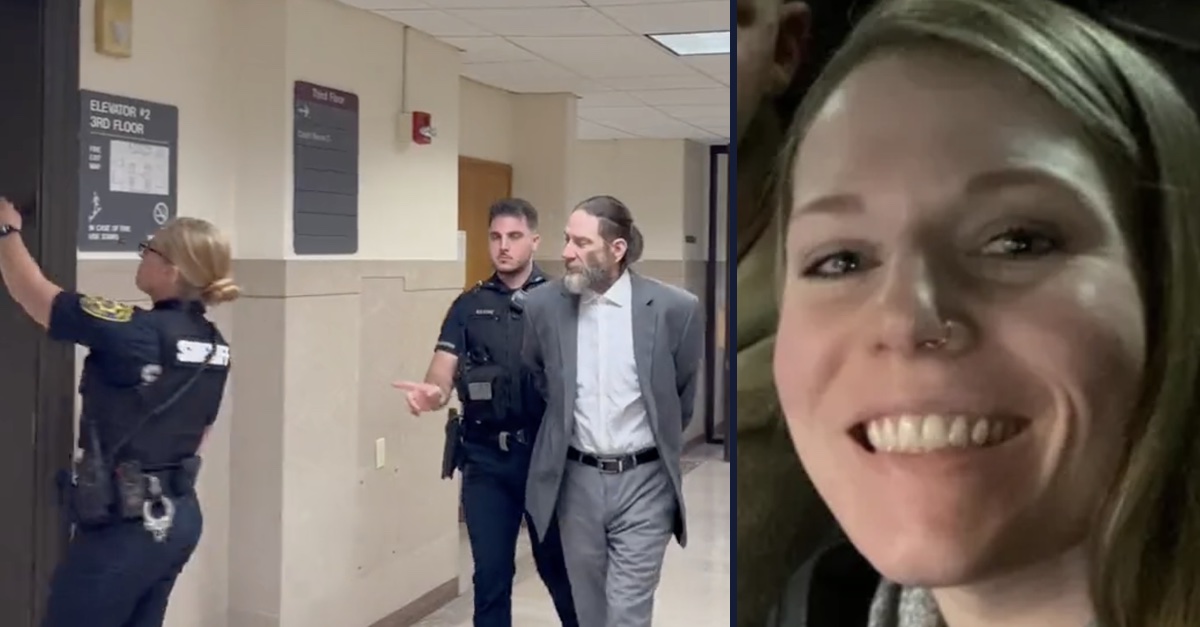 Officers escort a handcuffed Everett Clayton into an elevator (@KYWNewsradio/X screengrab), Kellie Adams (Upper Providence Township Fire & Emergency Services)
Pennsylvania jurors convicted the driver of a 9-ton dump truck for murder in the deaths of pregnant teacher and her unborn child in a head-on collision that occurred at the end of the summer of 2022.
Prosecutors said that Everett James Clayton, a 57-year-old from Charleston, W.Va., was behind the wheel of an unregistered 2003 Ford F650 XLT Super Duty dump truck in Montgomery County, Pa., when he sped around a curve on the afternoon of Aug. 25, 2022, crossed the center line on Park Avenue in Lower Providence Township, and smashed into the front driver side of 31-year-old Kellie Adams' 2021 Chevrolet Tahoe.
Tragically, Kellie Adams, a mother of two boys and the wife of firefighter Jason Adams, died at the scene and her unborn baby Emersyn Grace was later delivered stillborn, an obituary said. Adams was eight months pregnant.
After the deadly crash, Montgomery County DA Kevin Steele said that the dump truck was in an "unsafe and unregistered condition," after it was purchased just over a month earlier by now-24-year-old Patrick Doran of Maryland under the fake name "Jacob Fury" through a fake New York driver's license.
"Doran never titled the vehicle in any state, did not have it inspected, registered or insured as required under state law, and operated the vehicle without complying with proper federal laws for this size vehicle," the DA's office said in its press statement on the case.
Officials said that Everett Clayton was not legally drunk at the time of the crash, but he did admit he had consumed Sly Fox IPAs.
"The driver of the dump truck was not injured and admitted to police following the crash that he had been drinking Sly Fox IPA beers. Blood testing found that Clayton had a blood alcohol content of .076, just under the legal limit to drive," the press release added.
Authorities said a reconstruction of the crash concluded that Clayton was driving faster than the 25 mph speed limit around a curve, causing him to lose control of the wheel, cross the center line, and hit into Kellie Adams' vehicle with such force that the collision "immediately stopped all forward momentum of the Tahoe and caused the dump body portion of the dump truck to fully separate from the chassis, sending the chassis rolling."
More Law&Crime coverage: Revealing bodycam video after unbuckled 7-year-old girl's crash death shows mom screaming, admitting drug use
DA Steele said that the dump truck "should never have been on the road where it became a lethal weapon"; Patrick Doran pleaded guilty for his role in the crash in June. Steele vowed to pursue justice for the "beloved young mother," Emersyn Grace, and their heartbroken family and friends.
"We are saddened by their loss and have charged as the law has allowed," Steele said when charges were announced.
On Wednesday, Clayton was convicted of two third-degree murder counts, the DA's Office announced.
After the guilty verdicts, Clayton was led out of court in handcuffs. He did not respond when asked by a reporter on scene if he had anything to say to the victims' family.
Dump truck driver Everett Clayton declines to comment after #MontcoPa jury convicted him of third-degree murder in crash deaths of Kellie Adams, who was 8 months pregnant, & her unborn child. Clayton, 57, will be sentenced later this year pic.twitter.com/n6N7I5F2I2

— Carl Hessler Jr. (@MontcoCourtNews) October 25, 2023
Jason Adams reportedly reacted to the guilty verdicts by saying justice arrived on what would have been Emersyn's first birthday.
"They're both here. There's a significance behind that. Today would have been Emersyn's first birthday. I think that's important […] because while she never got a chance to breathe this air, she will live on and there will be positive things to come," Jason said, according to the The Pottstown Mercury. "Nothing is going to bring them back however, the appropriate level of justice for Kellie and Emersyn we feel was served today."
Kellie Adams was a woman of faith, a military wife, a loving mother to her two young sons, a "dedicated and beloved" middle school and high school teacher at Cottage Seven Academy, a "member of the Towamencin Fire Company Auxiliary," and a "registered member of the Daughters of the American Revolution," her obituary said.
"She'll be remembered for her forgiving spirit, positive outlook, her love of the beach, her beautiful nails, Starbucks, Target and Taco Tuesday," the obit said.
When Clayton is set to be sentenced later this year, he'll face decades behind bars.
Under Pennsylvania law, "a person who has been convicted of murder of the third degree or of third degree murder of an unborn child shall be sentenced to a term which shall be fixed by the court at not more than 40 years."
Clayton's defense lawyer Ben Cooper reportedly said that though his client was plainly at fault for lesser charges, the case did not rise to the level of murder — and he signaled an appeal is on the horizon.
Have a tip we should know? [email protected]