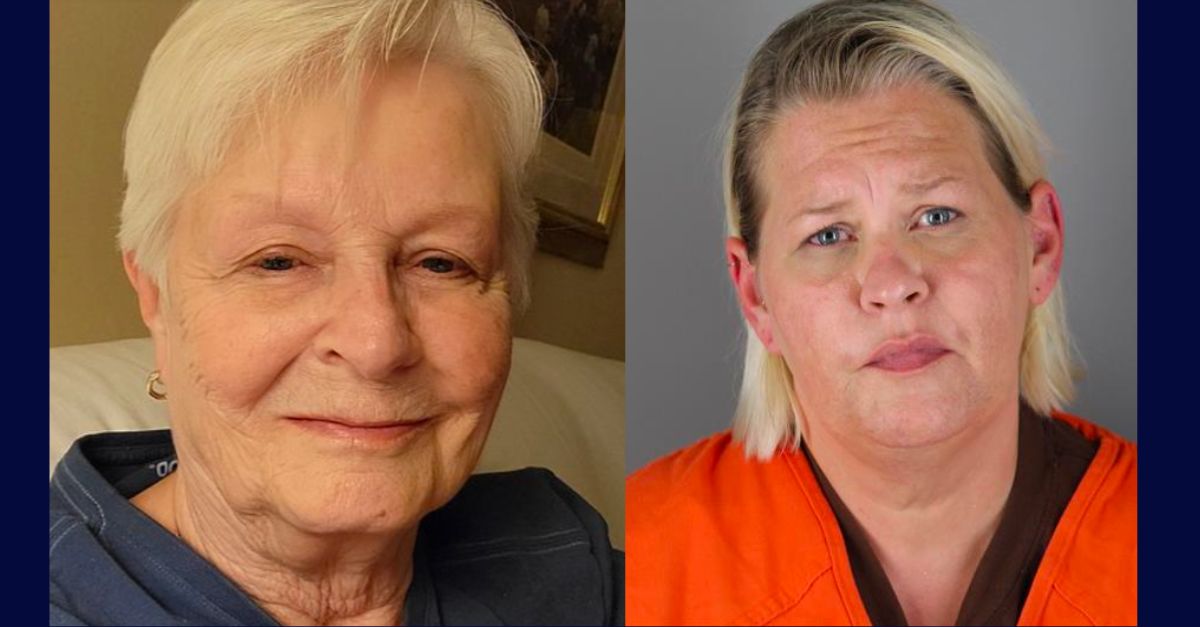 Sheila Wobbeking, on the left, and Nicole Wobbeking, on the right. (Selfie via Facebook; Hennepin County Jail)
A Minnesota daughter attacked her mother in a fight about unpaid rent by pushing her down the stairs and then using a jar of pasta sauce to mete out a beating from which the victim did not survive, police in the North Star State said.
Nicole Mari Wobbeking, 49, was originally arrested on July 29 for one charge of misdemeanor domestic assault in the fifth degree, over the incident at her home in Maple Grove, a large suburban community in the Minneapolis-Saint Paul metropolitan area, according to the Maple Grove Police Department. Those charges were quickly upgraded to include assault in the third degree because detectives later learned that the victim, Sheila May Wobbeking, 78, suffered a broken bone.
The defendant was initially released on the first charge but has been detained in the Hennepin County Jail since the second arrest.
The elder Wobbeking passed away at her own home in nearby Plymouth on July 5. Law enforcement there went on to alert police in Maple Grove. Now, detectives are requesting homicide charges.
On June 27, Sheila Wobbeking arrived at the residence "which she owns" to talk to her daughter, who was also her tenant, about "unpaid rent and issues brought up by people nearby," according to the criminal complaint in the domestic violence case obtained by Law&Crime. The victim told police she "knocked on the door" and "did not get an answer" so she went inside – which she had done before.
After calling out to her daughter, the mother told police, she still got no answer, so she walked upstairs toward the bedroom door. The defendant eventually opened the door "and began to scream obscenities at her" mother, the complaint alleges. Then, Nicole Wobbeking slapped her mother "on the right side of the face with an open hand," according to the complaint, and then continued the attack.
Next came the shove down "several" stairs, police allege. Then, the 49-year-old woman used "a can of unopened pasta sauce" to beat her 78-year-old mother in her "ribs and hips," the complaint says.
The battered woman was later able to stand up on her own, the complaint says. Then, she left the house with her granddaughter and waited for police to arrive. Later, at a hospital in Maple Grove, it was determined that Sheila Wobbeking had a broken ankle.
When questioned, Nicole Wobbeking allegedly "made several statements about her mother being her landlord and coming into the residence without permission," the complaint alleges. She also admitted to pushing the victim and her "falling a little bit down the stairs."
Days later, the matriarch would be dead.
The deceased woman's obituary remembers her as "a beautiful soul who will always be remembered for her dry wit, unconditional love and unwavering support to her family and friends."
"She was so giving to others, even to those she didn't know as she was an active volunteer for her community and church, in which Sharing and Caring Hands and Meals on Wheels being her particular favorites," the eulogy goes on. "She loved traveling, reading, cooking (we could always expect a tray full of cookies at Christmas) and absolutely adored her dog, Sasha."
On Aug. 1, the Hennepin County Medical Examiner determined that Sheila Wobbeking's death was a homicide – she died from a pulmonary embolism that directly resulted from the broken ankle suffered in the attack, a press release says.
"Before she passed, a Cardinal was by her front window," her granddaughter, Olivia Wobbeking, wrote in her obituary. "She would always say it was Zack (her grandson who passed away in 2008) saying hello. Once she passed on, the cardinal began singing for the first time since it has visited us."
Maple Grove Police Commander Jon Wetternach told Law&Crime a decision on the homicide charge is currently pending.
Have a tip we should know? [email protected]