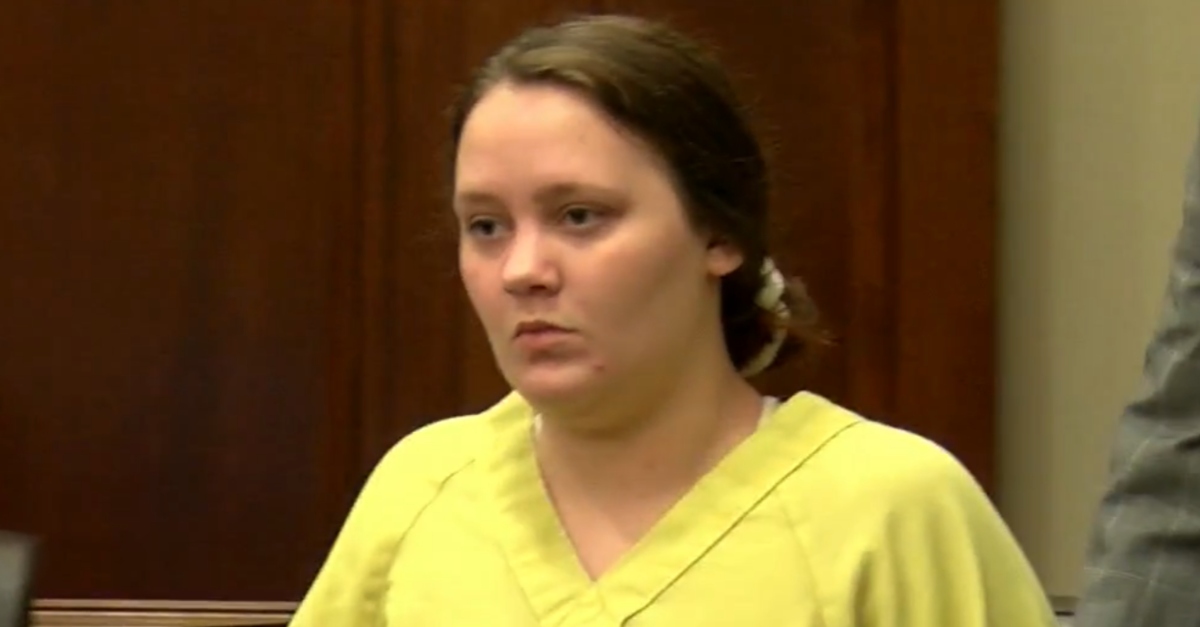 Makaylia Shaylynn Jolley pleaded guilty on Nov. 6, 2023, to murdering her infant daughter, Khalysie Lashay Jolley. (Screenshot: WJTV)
A mother has pleaded guilty to repeatedly slamming her infant daughter on concrete. In exchange for her acquiescence, Makaylia Shaylynn Jolley, 21, received a sentence of life without the possibility of parole in Rankin County, Mississippi, according to local outlets like WAPT.
As Law&Crime previously reported, cops in the city of Peal said that witnesses saw the defendant "repeatedly and forcibly" throw eight-week-old Khalysie Lashay Jolley on the road. Officers received several 911 calls.
They arrived to find another woman holding the badly injured baby, they said. First responders applied first aid immediately and took Khalysie to the Children's Hospital of Mississippi in the city of Jackson. The baby was initially in critical condition but eventually succumbed to her injuries.
Authorities said that defendant Jolley fled into nearby woods upon police arrival. Officers arrested her.
A neighbor voiced shock to WAPT at the time about the murder case.
"I don't understand," said the woman, who did not want to be identified. "Something had to go wrong. Postpartum, or something. Because she really is a very good mother. I don't understand what happened."
"This is an unexplainable and heinous crime against an innocent child," said Bubba Bramlett, district attorney of Madison and Rankin counties, on Monday, according to the outlet. "My office thanks the witnesses, the EMTs, the medical providers at Blair E. Batson and the Mississippi Children's Safe Center, the Pearl Police Department and the Pearl Fire Department for their work on this case. Those men and women will forever be affected by what they saw on May 12, 2022. The very woman who was supposed to love and support Khlaysie is the one who chose drugs over her children and caused Khlaysie's death. Makaylia Jolley will die in prison where she belongs for committing these crimes against her daughter."
Have a tip we should know? [email protected]