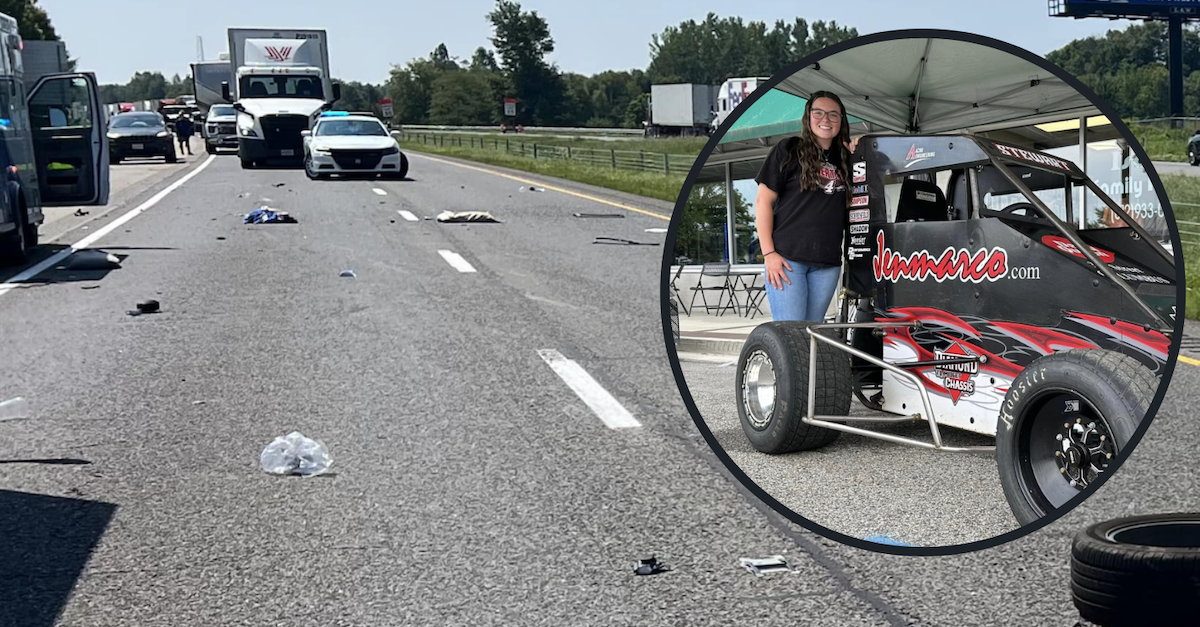 Crash scene on I-65 (L) (via Indiana State Police), Ashlea Albertson (inset, via Facebook/Ashlea Albertson Racing)
A race car driver with her whole career ahead of her was ejected from the vehicle she was traveling in as a passenger and lost her life in what authorities are calling a senseless road rage incident.
Ashlea Albertson, a 24-year-old dirt racer from Indiana on NASCAR legend Tony Stewart's team in his All-Star Circuit of Champions TQ Midget Series, was on her way home from a vacation and less than a year away from her wedding when she died tragically late last week. According to state authorities, the crash investigation is ongoing, but when the probe is complete the case "will be presented to the Jackson County Prosecutor's Office for review for possible charges."
Before we get into what those "possible charges" could look like, here's what we know so far.
What police say happened
Just before noon last Friday, Indiana State Police troopers responded to a two-car crash on I-65 in Jackson County, near Seymour, authorities said.
Investigators said video recorded by a witness in another vehicle helped them establish that 22-year-old Austin Cooper, in a 2016 Chevrolet Malibu with a child passenger, and 31-year-old Jacob Kelly, in a 2018 GMC Terrain with Albertson as a passenger, crashed into one another after "accelerating rapidly and refus[ing] to allow the other vehicle to pass" in an alleged road rage incident.
After Cooper's car veered into Kelly's lane, Kelly and Albertson spun out and hit into Cooper — ejecting Albertson from the GMC Terrain and fatally wounding her in a roll-over crash, cops said. Meanwhile, Cooper's Chevy Malibu went off the interstate into a field.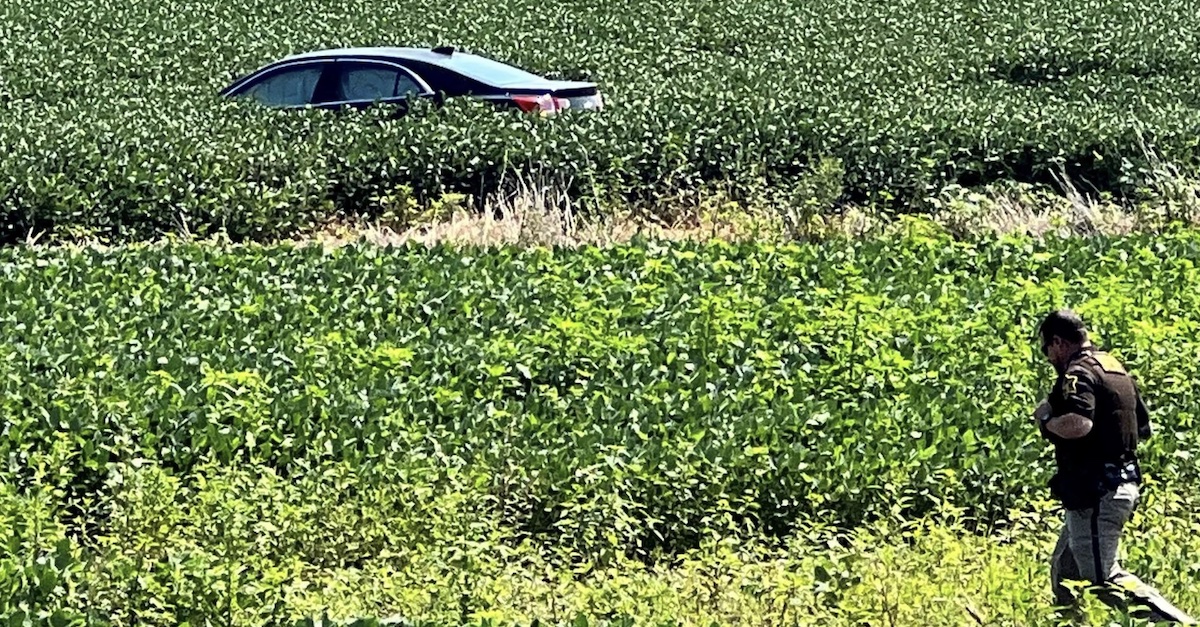 Ashlea Albertson death: Austin Cooper's car in a field after the road rage crash. (Indiana State Police)
"Kelly and Albertson were both flown from the scene to University of Louisville Hospital for treatment. After arriving at the hospital, Albertson was pronounced deceased. Kelly was being treated for non-life-threatening injuries," state police said. "Cooper and a juvenile passenger were transported to Schneck Medical Center in Seymour, Indiana where they were both treated for non-life-threatening injuries."
What happens next?
Both male drivers submitted to blood draws and toxicology reports are pending at this time, cops said. Cases where intoxication played a role in a deadly road rage crash have led to charges as serious as operating a vehicle while intoxicated causing death and operating a vehicle while intoxicated causing serious bodily injury.
If the factual findings are that intoxication wasn't a factor in this case, Indiana prosecutors may consider charging reckless homicide or criminal recklessness, as they have in other deadly road rage crash cases. Those prosecutions haven't always been successful, however.
If warranted, lesser misdemeanor charges like reckless driving or aggressive driving could apply. Aggressive driving occurs, for example, when a person
"with the intent to harass or intimidate a person in another vehicle, knowingly or intentionally engages in aggressive driving" in at least three of these nine ways [bolding ours for possible applicability to the present case]:
(1) Following a vehicle too closely in violation of IC 9-21-8-14.

(2) Unsafe operation of a vehicle in violation of IC 9-21-8-24.

(3) Overtaking another vehicle on the right by driving off the roadway in violation of IC 9-21-8-6.

(4) Unsafe stopping or slowing a vehicle in violation of IC 9-21-8-26.

(5) Unnecessary sounding of the horn in violation of IC 9-19-5-2.

(6) Failure to yield in violation of IC 9-21-8-29 through IC 9-21-8-34.

(7) Failure to obey a traffic control device in violation of IC 9-21-8-41.

(8) Driving at an unsafe speed in violation of IC 9-21-5.

(9) Repeatedly flashing the vehicle's headlights.
As recently as March, Indiana State Police warned that incidents of road rage violence, many of them shootings, have ticked up significantly in the last several years.
Ashlea Albertson's family and racing peers mourn her loss
Albertson's heartbroken father Todd Albertson revealed the news of his daughter's death in a video posted to her racing page.
"Ashlea was involved in an accident today on the highway and Ashlea has succumbed to her injuries," he said, calling this "one of the hardest posts" he could ever make. "I want to thank you from my family and from myself for making her feel like the best racer out there each and every time she took the track."
"God bless, be safe, enjoy life and every moment that it is. It's precious. We never know when our time is," Todd Albertson said.
Tony Stewart mourned the loss of his "teammate" and encouraged all reading his post to remember how fragile life is the next time they're tempted to get caught up in road rage.
"Today, I lost a teammate. @AshDogRacing had an infectious personality and could light up any room. She was a great race car driver that was involved in a road rage accident and lost her life," Stewart said in a post on X, the social media site formerly known as Twitter. "In the past, I've also gotten caught up in road rage. I hope that we can honor Ashlea by controlling what we can control on the highway. Losing her is a sobering reminder of how precious life is. Please join me in keeping her family and friends in your prayers."
In a follow-up post, Ashlea Albertson Racing said, "We would like to say we are incredibly touched by the tremendous outpouring of love and concern shown to us from so many people. It has become clear that Ashlea will not be forgotten."
Kelly's mother posted that Ashlea was her son's fiancée and that the two were traveling back home after a vacation.
"Jake has many bumps and bruises. Ashlea unfortunately did not survive her injuries. No words can express how very sad and shocked we all are," wrote Joy Dossey, calling Albertson a "beautiful soul."
A wedding website shows Ashlea and Jacob Kelly were going to get married on March 24 in Bloomington.
Have a tip we should know? [email protected]