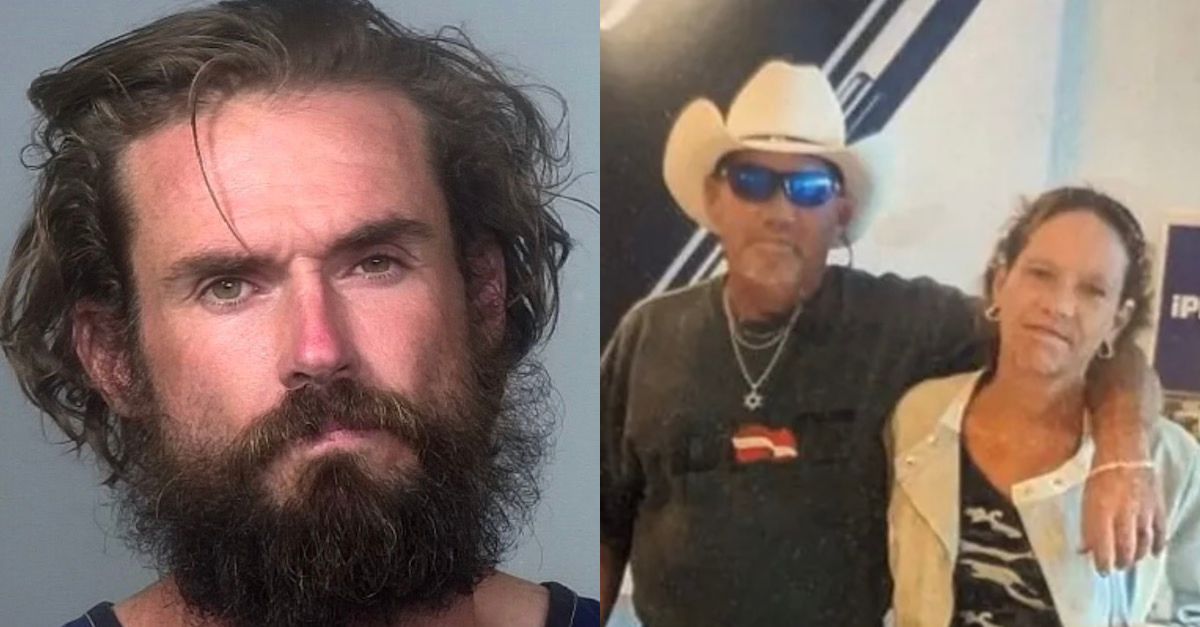 Thomas J. Matejcek (Manatee County Sheriff's Office), Sean Harrison Sr. and Patricia Matejcek (GoFundMe)
A 36-year-old man in Florida was arrested for allegedly killing his mother and her boyfriend in "very gruesome" fashion inside of their recreational vehicle (RV) last week. Thomas J. Matejcek was taken into custody on Friday and charged with two counts of second-degree murder — not premeditated in the dual slayings of Patricia Matejcek, 62, and her boyfriend Sean Harrison Sr., 55, records reviewed by Law&Crime show.
According to a press release from the Manatee County Sheriff's Office, deputies at about 12:06 p.m. on Friday, Oct. 10 responded to a 911 call about a woman in distress at the Arbor Terrace RV Park located in the 200 block of 55th Avenue Terrace West. The caller was a neighbor who told the emergency dispatcher that she heard a woman screaming for help in the lot next door.
Upon arriving at the scene a few minutes later, first responders said they entered the RV and found two adults — later identified as Sean Harrison and Patricia Matejcek — lying on the floor of the mobile home. They were both pronounced dead on the scene. The first deputy to arrive on the scene also reported that as he was pulling up to the RV, he saw an adult male fleeing from the scene on foot.
After a brief search by deputies accompanied by the sheriff's K-9 unit, authorities said they were able to locate the man who fled — later identified as Matejcek — in a shopping center parking lot along 14th Street West. He was taken into custody minutes after law enforcement reached the scene.
"I commend the numerous deputies who converged on this area and quickly apprehended Matejcek for this senseless crime," Manatee County Sheriff Rick Wells said in a statement.
Authorities have been tight-lipped about the circumstances of the alleged double murder and have not speculated about a possible motive for the slayings. However, a spokesperson for the sheriff's office said the scene inside the RV belonging to Pamela Matejcek and Sean Harrison was particularly disturbing.
"This was certainly a horrible scene here," MCSO Public Information Officer Randy Warren said in a statement to Tampa Fox affiliate WTVT. "Two people had been killed. It was a very gruesome type scene."
In a GoFundMe page created to help pay for the victim's funeral services, Patricia Matejcek's sister, Krista Kale, said that Thomas Matejcek had been terrorizing his mother for years and that she had reported him to law enforcement several times.
"She has faced years of physical, mental, and emotional abuse at the hands of this monster with no help from the courts to stop this man," the post states. "Numerous attempts were made to beg for her safety to be met with incompetence, ignorance, and injustice. Our beautiful sister feared and begged for her life only to be told sorry."
Earlier this year, Thomas Matejcek was charged with first-degree burglary of a dwelling with assault or battery and tampering with a witness (preventing communication). According to a probable cause affidavit obtained by Law&Crime, Thomas Matejcek on May 18, 2023, forced his way into the trailer where his mother and Harrison lived and immediately began to punch and kick Harrison. After choking Harrison for several seconds, he allegedly threw his mother to the ground, injuring her hip. Thomas Matejcek then stole the victims' cellphones, saying it was to prevent them from calling the police, per the affidavit.
Thomas Matejcek is currently being held without bond.
Have a tip we should know? [email protected]