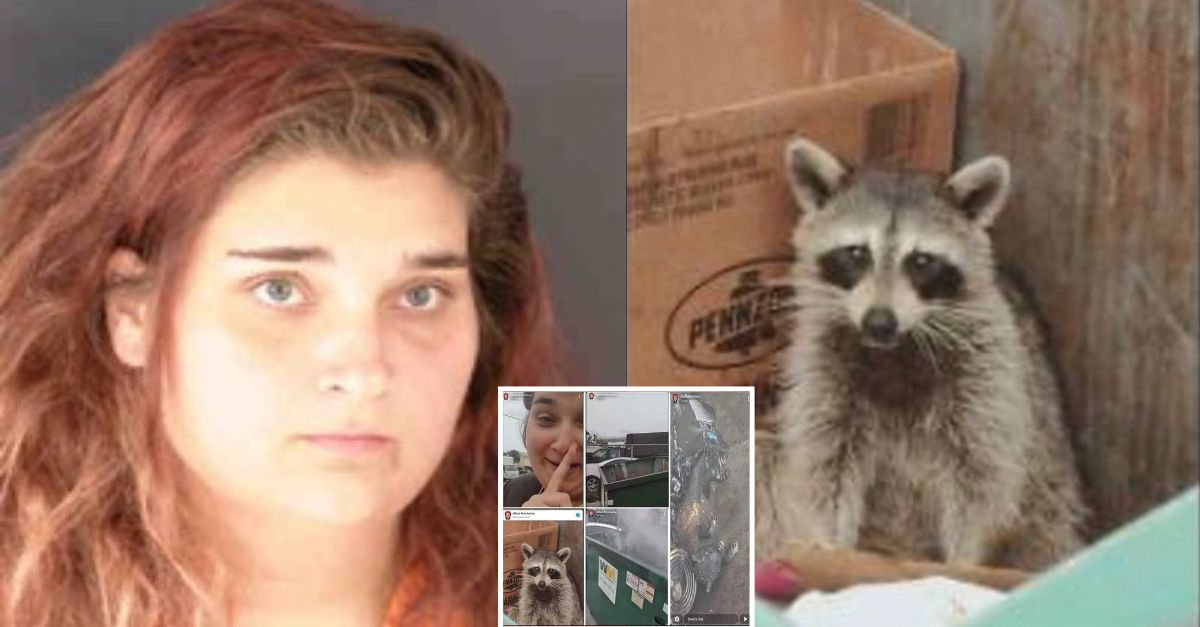 Alicia Kincheloe, the raccoon she burned alive, and screenshots from the video she posted to Snapchat (Sarasota County Sheriff's Office)
A 30-year-old woman in Florida is now facing multiple years in prison for posting a Snapchat video of herself torturing a raccoon to death by dousing the animal in gasoline and lighting it on fire in a restaurant dumpster. A jury in Sarasota County on Thursday found Alicia Kincheloe guilty on one count of aggravated cruelty to animals and one count of tampering with evidence, both of which are felonies, authorities announced.
Kincheloe is currently scheduled to appear before Twelfth Circuit Court Judge Donna M. Pradar on Nov. 2 for her sentencing hearing. She is facing a maximum of five years in a state correctional facility on each of the aforementioned charges.
Kincheloe's father, 63-year-old Roddy Kincheloe, who police say also appeared in the video and was the person who poured the gasoline on the raccoon, was also arrested and is facing one count of aggravated cruelty to animals. His trial date is yet to be scheduled, court records show.
According to a press release from the Sarasota County Sheriff's Office, members of the agency's Agricultural Unit on Aug. 11, 2023, were notified about a series of Snapchat videos that began by showing a small raccoon in a dumpster.
The videos, which were posted to Snapchat and narrated by Kincheloe, show a live raccoon in a dumpster behind a restaurant located in the 5700 block of Sarah Avenue. Despite "not showing any assertive or aggressive movements," Kincheloe can be heard in the first video saying that the raccoon is "mean" as it simply sits and looks at her.
In the second video, her father is seen "hosing down the dumpster, which is smoking and appears to have been set ablaze," a probable cause affidavit states. Kincheloe is then heard saying, "Some people say [to] throw an apple with bleach in there [to kill a raccoon], We just toasted his ass, who's hungry."
"She then used her phone to film inside the dumpster and the charred burnt remains of the now-deceased raccoon can be seen," the affidavit states. "During this time, Roddy Kincheloe can be seen pouring water from a hose into the dumpster to extinguish the fire."
In her initial interview with police, Kincheloe admitted to making and posting the video online, but claimed that when she and her father were returning from lunch, they saw the dumpster "smoldering" and grabbed a gas can — which she claimed was filled with water in case her radiator overheats — and tried to put out the flames, only to have the dumpster "flare up." She said her father then put out the fire with a nearby hose.
When she allowed police to examine the gas can from her car, investigators said they could "immediately smell a strong odor of gasoline and testing confirmed the inside of the can was filled with a flammable liquid.
Police obtained surveillance footage from the dumpster which showed another female went to the dumpster after the videos were posted online. That woman told police she called Kincheloe after seeing the videos and went to the dumpster when Kincheloe told her what happened.
"Upon arrival, Alicia told [the woman] she and Roddy [Kincheloe] saw the raccoon in the dumpster. Roddy [Kincheloe] used a pitchfork to stab it. They left for lunch and when they returned the raccoon was still alive," the affidavit states.
"Roddy [Kincheloe] instructed Alicia to retrieve the gas can from under the driver's seat of the truck. According to [the woman], Alicia admitted to pouring gasoline onto the still-alive raccoon and Roddy [Kincheloe] set it ablaze. They later used a hose to put out the fire. [the woman] further said the dead raccoon was removed with the intent to hide it from law enforcement."
Have a tip we should know? [email protected]