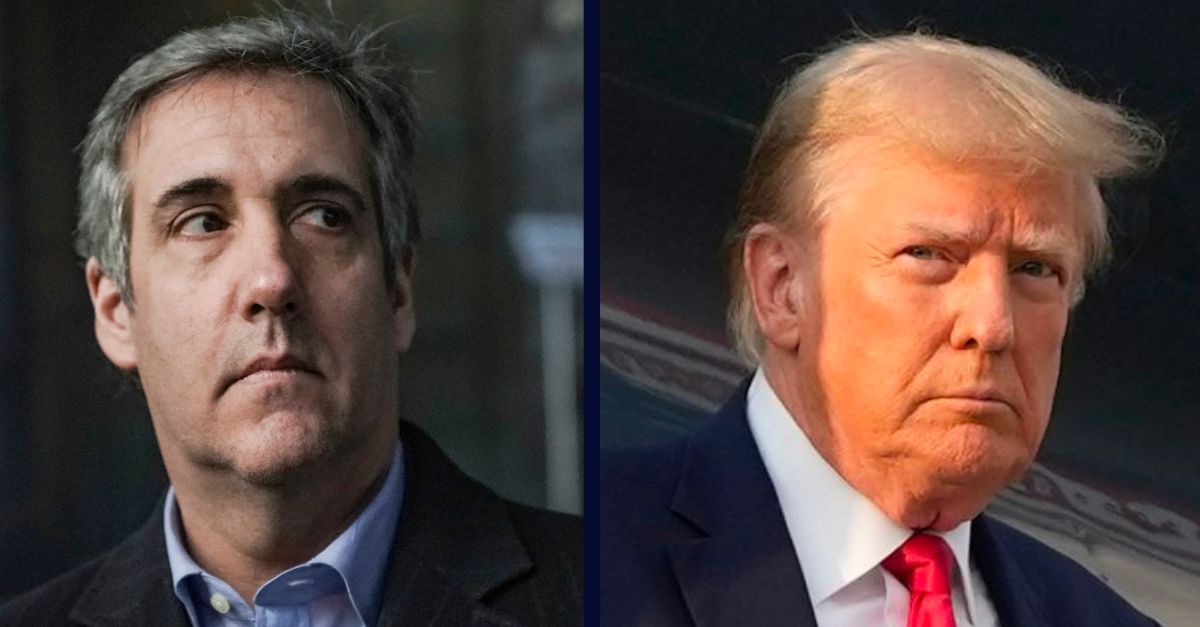 Left: FILE – Michael Cohen leaves state offices after meeting with Manhattan prosecutors, Wednesday, Feb. 8, 2023, in New York. (AP Photo/Bebeto Matthews, File). Right: FILE – Former President Donald Trump steps off his plane as he arrives at Hartsfield-Jackson Atlanta International Airport, Thursday, Aug. 24, 2023, in Atlanta. (AP Photo/Alex Brandon, File)
The former president has dropped a $500 million breach of contract lawsuit against his former fixer — but says he may revive the claim later.
As Law&Crime reported at the time, Donald Trump sued Michael Cohen in April, alleging that Cohen had violated his legal obligations to his former client when he spoke publicly about the former president and his business practices. Cohen criticized the lawsuit as an attempt to intimidate him, but Trump, through his lawyers, insisted that his claims were meritorious and pledged to pursue the case.
Trump's priorities, it seems, have changed.
"Plaintiff, President Donald J. Trump, by and through undersigned counsel, hereby gives notice that pursuant to Rule 41(1)(A)(i) he is voluntarily dismissing this action without prejudice," a one-sentence notice filed Thursday said.
Trump has reportedly said that the dismissal is actually not a dismissal, but only a temporary pause to the case in light of the multiple criminal charges he is currently facing.
"President Trump has decided to temporarily pause his meritorious claims against Michael Cohen," a Trump spokesperson said in a statement emailed to Law&Crime. "Once President Trump has prevailed in dealing with the witch hunts against him, he will continue to pursue his claims against Michael Cohen, who rightfully deserves to, and will be held accountable for his unlawful words and actions just as the Southern District of New York held him accountable for numerous non – Trump related acts and crimes, making Cohen a very 'proud' felon."
The spokesperson noted that Trump "is required to sit for deposition in a civil matter on Columbus Day," when he is also scheduled to be in New Hampshire, and that he continues to campaign for president even while facing criminal charges in four separate jurisdictions.
Cohen's attorneys, meanwhile, declared victory,.
"This was a baseless lawsuit solely brought to retaliate against our client for his willingness to testify truthfully against Trump, including before Congress, in the NY Attorney General's fraud suit, and in the NY District Attorney's criminal case related to Trump's hush money payments," attorney E. Danya Perry said in a statement. "We stood up to Mr. Trump's threats, and last night he ran scared to avoid me deposing him on Monday."
As to Trump's pledge to pursue the case down the line, Perry was skeptical.
"We do not anticipate Mr. Trump following through on his latest baseless threat to refile and are instead turning our attention to holding Trump accountable for his harassing litigation," she said in the statement.
Trump's lawsuit, which was filed days after his first criminal indictment for allegedly falsifying business records, sought $500 million from his former lawyer Cohen. Since pleading guilty in connection with alleged hush money payments to Stormy Daniels, Cohen has become a key player in the New York criminal case.
Cohen, Trump's complaint said, "breached the contractual terms of the confidentiality agreement he signed as a condition of employment," revealed the former president's "confidences," and spread "falsehoods" about him "with malicious intent and to wholly self-serving ends." This campaign, Trump claimed, caused him "vast reputational harm." Trump also claimed that Cohen "unlawfully converted" his "business property when he fraudulently misrepresented a business expenditure, and stated that he was owed an extra $74,000 over the true amount of the expenditure."
On X, the social media network formerly known as Twitter, Cohen said that Trump dropped the case just days ahead of a planned deposition.
"Great news out of the Southern District of Florida tonight: Rather than be deposed by me on Monday, Donald J. Trump voluntarily dismissed his $500 million lawsuit against our client Michael Cohen," Cohen wrote in a re-post of a statement from his lawyer E. Danya Perry.
From: @Edanyaperry Esq.
Perry Law
Great news out of the Southern District of Florida tonight: Rather than be deposed by me on Monday, Donald J. Trump voluntarily dismissed his $500 million lawsuit against our client Michael Cohen. https://t.co/rFRaAsgiqS

— Michael Cohen (@MichaelCohen212) October 6, 2023
You can read the filing, below.
This story has been updated with statements from representatives of Trump and Cohen.
Have a tip we should know? [email protected]