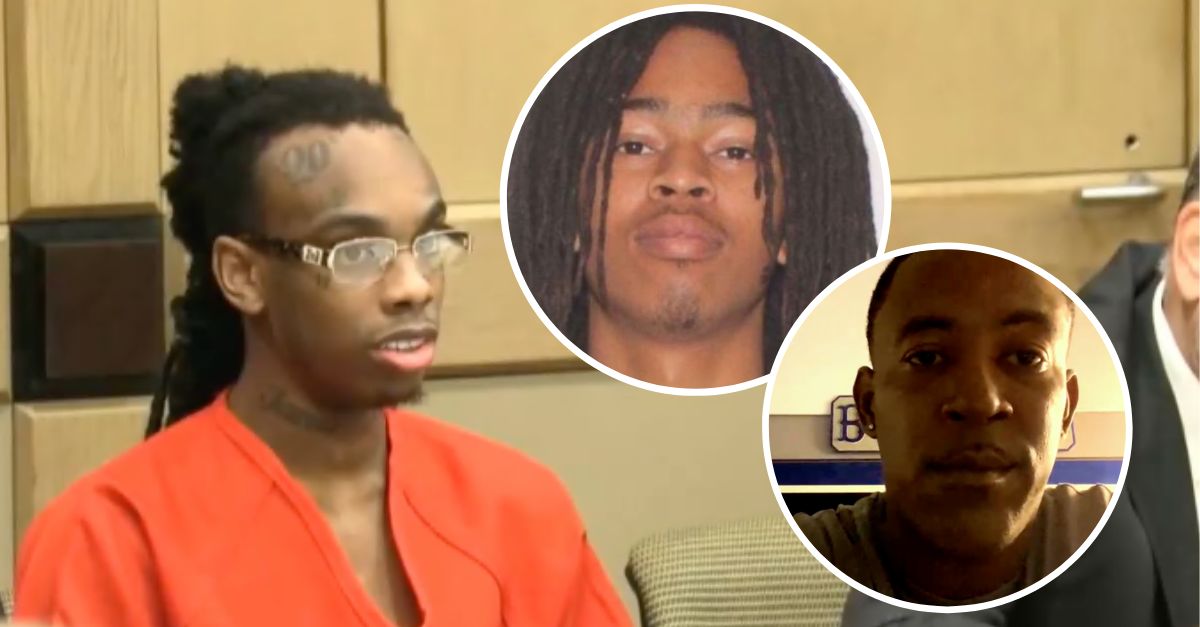 Jamell Demons appears in court on October 6, 2023 for a pretrial hearing. (via Law&Crime Network) Inset left: Photo of Christopher Thomas Jr., also known as YNW Juvy. Inset right: Photo of Christopher Thomas Sr., father of victim Christopher Thomas Jr.
Christopher Thomas Sr., father to one of the victims in a Florida double murder trial, says regardless of what comes out in court, he knows what happened to his son.
Jamell Demons, known by his stage name YNW Melly, is accused of gunning down two of his best friends in 2018 after a recording session in the Fort Lauderdale area.
Demons now faces additional accusations as he prepares for his retrial on double murder charges. Prosecutors allege Demons tampered with a witness when he allegedly had his co-defendant relay messages to Demons' ex-girlfriend.
This comes as 17th Judicial Circuit Judge John Murphy considers whether to replace the current prosecutors on the case. Demons' defense team claims the prosecution did not report an a possible violation of court rules.
Investigators say Demons was a backseat passenger in an SUV driven by co-defendant Cortlen Henry. The other passengers were Anthony Williams, known as YNW Sakchaser, and Christopher Thomas Jr., known as YNW Juvy. Prosecutors say Demons shot both Williams and Thomas in the head, then tried to stage the scene to make it look like a drive-by shooting.
Forensic analysts testified at Demons' first trial that the evidence points to someone inside the SUV being the shooter.
A jury couldn't reach a unanimous verdict and Murphy declared a mistrial.
As Demons' defense team prepares for a second trial, Demons learned he faces new charges of witness tampering. Prosecutors say they have jailhouse phone calls that show Demons' co-defendant Henry kept Demons' ex-girlfriend, Mariah Hamilton, from testifying at a deposition earlier this year. She also did not testify at trial, although her mother, Felicia Holmes, did take the stand. Investigators believe Hamilton has information about what happened the night Thomas and Williams were killed.
During the first trial, lead prosecutor Kristine Bradley treated Holmes as a hostile witness. Holmes' story appeared to change between the time she spoke to detectives after the murders and the trial.
In Instagram messages between Henry and Holmes recently entered into the court record, Holmes says Henry needs to leave her daughter alone. She says Hamilton does not need Demons' money and calls him evil.
Henry also faces charges of witness tampering. His trial is supposed to begin in early 2024.
Angenette Levy spoke with Christopher Thomas Sr., father of YNW Juvy, for Law&Crime's podcast Sidebar.
"They are going to extreme measures to try to cover up or convince people not to testify," Thomas told Levy. He said the Instagram messages between Holmes and Henry show the defendants don't care about the victims in this case.
"All I'm thinking [is] they don't care nothing about my son. They [don't] care about Chris."
"Everybody in the world knows who [the evidence] points to," Thomas continued. "But the people that is lying and covering up, they need to do something about them people, too. In my mind, they're just as guilty."
Jury selection was expected to begin this week for Demons' second trial, but was delayed after the defense accused the state of obstruction of justice.
Assistant State Attorney Michelle Boutrous works in the Broward County District Attorney's Office. She testified during an Oct. 6 pretrial hearing that she was in a conference room with the lead detective in the case, Miramar Police Department Detective Mark Moretti, and Jamie King, mother of Jamell Demons. Moretti reportedly wanted to seize King's phone as part of the investigation into witness tampering.
At the time, Moretti wasn't in his jurisdiction, but took the phone away from King anyway, according to Boutrous.
Boutrous testified she overheard Moretti ask a Broward County deputy, Adam Gorel, to lie about being in the room when he served the search warrant.
"I'm like in the Twilight Zone, like this can't really be happening," Boutrous testified. "It was just a very awkward moment after Detective Moretti said that. I vividly remember what he said."
Prosecutors allegedly said the whole exchange was a joke and irrelevant to the trial. Bradley testified that the actual wording of what happened has gotten jumbled.
"What was intended to be conveyed was that Deputy Gorel's response was flippant in nature. That was the joking aspect of it," Bradley testified.
When the defense found out about the alleged joke, they said it was a Brady violation. A Brady violation occurs when a prosecutor fails to turn over evidence that could help a person defend themselves.
Murphy said he would rule on the motion to remove the Broward County office from the case at a later date.
Angenette Levy contributed to this report.
Have a tip we should know? [email protected]