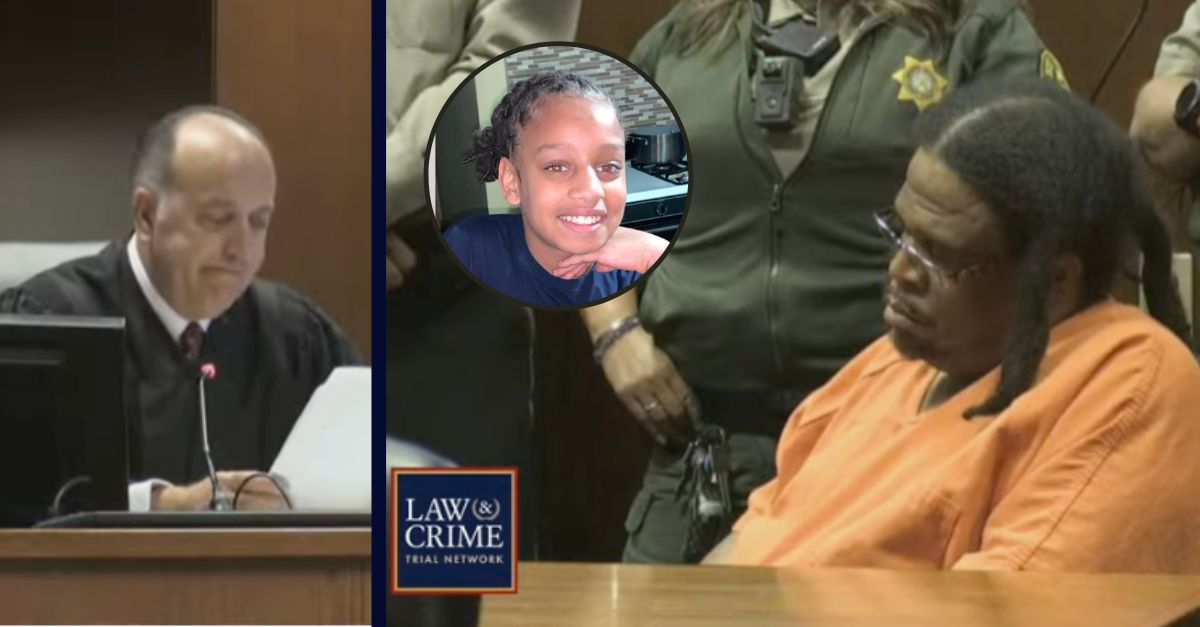 Henry Dinkins, right, listens as Judge Henry Latham, left, reads his verdict in Dinkins' murder and kidnapping trial (via Law&Crime Network). Inset: Breasia Terrell (via Davenport (Iowa) Police Department).
A 51-year-old man in Iowa will spend the rest of his days behind bars for abducting and killing a 10-year-old girl, fatally shooting her before tossing her body in a remote, tree-lined pond.
Scott County District Court Judge Henry W. Latham ordered Henry Earl Dinkins on Wednesday to serve two consecutive sentences of life in a state correctional facility without the possibility for parole for the 2020 slaying of young Breasia Terrell, court records reviewed by Law&Crime show.
The sentences are to be served consecutively, which is largely symbolic when one of the sentences is life without parole.
In addition to his incarceration, Latham also ordered Dinkins to pay $150,000 in restitution to Breasia's mother, Aishia Lankford. Dinkins is the father of Lankford's son, 11, referred to in court documents as "D.L."
Dinkins, the father of Breasia's half-brother, was found guilty on one count of first-degree murder and one count of first-degree kidnapping following a bench trial that concluded on Sept. 15.
Prosecutors presented evidence at trial showing he took the girl during an overnight stay at his apartment in Davenport, Iowa, on July 10, 2020, and fatally shot her before disposing of the body. Her remains were found on March 22, 2021, by fishermen near DeWitt, some 23 miles north of Davenport.
Before the sentencing, Lankford addressed the court and read from a victim impact statement.
"Closure doesn't exist in this case. Justice doesn't exist in this case," she said, according to a report from the Quad-City Times. "You took everything away."
After thanking the court officers and law enforcement, Lankford reportedly posed a series of questions to Dinkins about how Breasia's life ended.
"Was she scared? Did she ask for me? Did she know those gunshots were coming? Did she beg you to stop? What were her last words? Did you watch my baby die?" she reportedly asked, adding that she spent nearly every day doubting herself as a mother since her daughter's disappearance.
Dinkins also spoke at the hearing, maintaining his innocence and blaming his attorneys and the "non-stop negative media coverage" of his case for his conviction, Quad-City reported. He also reportedly claimed he had been "bamboozled" and "never had a chance to win from the beginning."
Prosecutors reportedly praised Dinkins' girlfriend and the son he shares with Lankford, who they said provided key testimony that led to the conviction. The girlfriend helped authorities identify Dinkins as the last person seen with Breasia while the child was alive. The boy said that on the morning his sister went missing, he went to a Walmart with Dinkins, who purchased bleach instead of looking for his daughter.
As Law&Crime previously reported, Dinkins had been granted parole months before Breasia was killed, having been released from prison ahead of schedule in March 2020.
In August 1990, when he was 17, Dinkins pleaded guilty to third-degree sexual abuse of a 5-year-old. At the time of his arrest for Breasia's murder, he was in police custody, having been arrested for failing to register as a sex offender the same month Breasia disappeared.
Marisa Sarnoff contributed to this report.
Have a tip we should know? [email protected]