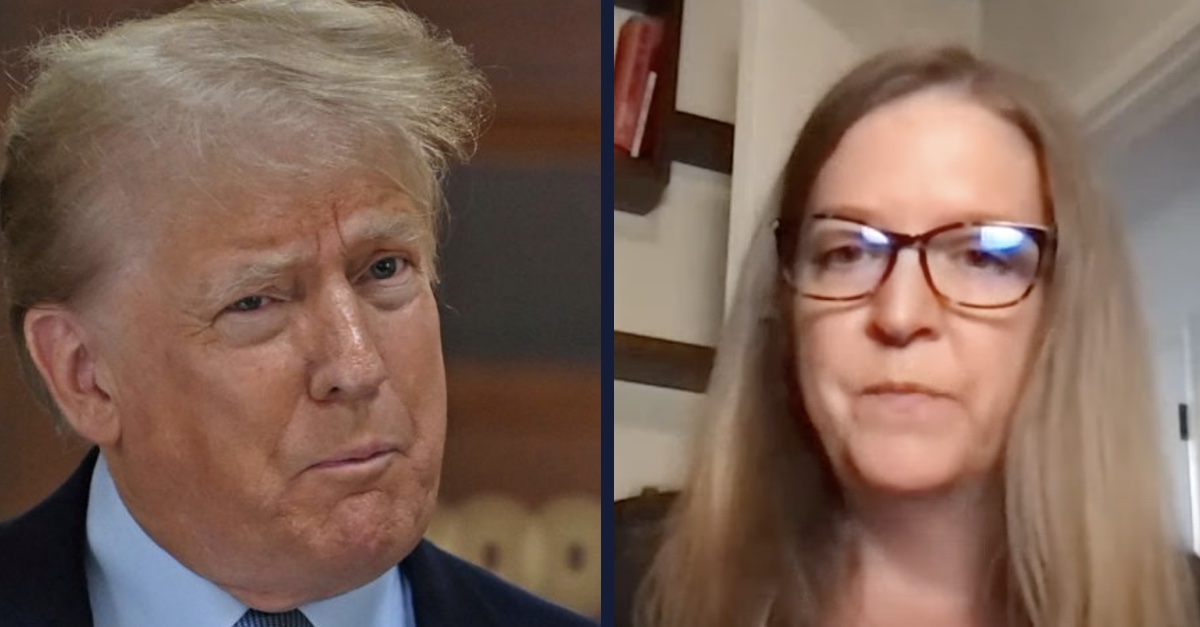 Former President Donald Trump (Photo by Andrea Renault/STAR MAX/IPX), Allison Gill pictured during a 2021 Books & Books YouTube video, appearing alongside Mary Trump. (Books & Books/YouTube screengrab)
On a day when Donald Trump testified and sparred with the judge presiding over his New York civil fraud trial, a civil lawsuit accusing him of conspiring to smoke out and fire the Mueller, She Wrote podcast host who worked in the U.S. Department of Veterans Affairs during his presidency was confirmed as served on a federal California docket.
The lawsuit, filed by Allison Gill in the U.S. District Court for the Southern District Court of California on Oct. 16, was served on Trump through a security director in Palm Beach, Florida, where Mar-a-Lago is located, as recently as Nov. 3, court documents filed on Nov. 6 show.
Many of the core retaliation allegations in the lawsuit were aired years ago. For instance, Politico reported in June 2020, while Trump was still president, on "How a veteran's secret podcast put her in the Trump administration's crosshairs."
The story identified the liberal podcast host and "staunch advocate for the resistance" as a military veteran and "high-level" health systems specialist in the Department of Veterans Affairs with PTSD who, in her words, first joined the VA in 2009 to "help other survivors and veterans."
"[A]s a military sexual trauma survivor I answered Obama's call to serve my country," Gill was quoted in the article.
According to the lawsuit, Gill "provoked the ire" of Trump and his then-Secretary of Veterans Affairs Robert Wilkie by creating the "anti-Trump" Mueller, She Wrote podcast, where she commented under a pseudonym "A.G." on then-special counsel Robert Mueller's Russia probe while she was an employee of the VA.
The plaintiff claimed the "chain of command was instructed to harass Dr. Gill and force her out of the job she had held across multiple administrations" following a "witch hunt" to "find out who this A.G. was," in violation of the First Amendment, her civil rights, and the Rehabilitation Act.
The "witch hunt," Gill claimed, resulted in the agency in 2019 attempting to reassign her to a position she did not want, one that would require her to move to Washington, D.C., "based on the pretextual, alleged need for 'face-to-face' communication."
Months later, when she filed a complaint Equal Employment Opportunity Commission (EEO) claiming "discrimination and a hostile work environment based on disability," the lawsuit said, the unmasking efforts ramped up.
"The timing of talks regarding Plaintiff's termination coincide around the release of the Mueller Report on April 18, 2019. At that time, the Plaintiff had already started a comprehensive 20-part series dissecting the findings of the Mueller Report on her Mueller, She Wrote podcast, something that the Trump's administration has demostrably [sic] and desperately tried to hide," the lawsuit continued. "On information and belief this coordinated effort to find the host of the podcast, A.G., goes all the way to Defendants TRUMP and WILKIE, as what happened was part of a larger conspiracy."
Gill asserted that the "retaliatory measures" described in the lawsuit "unmistakably infringe upon her First Amendment rights" to express "dissenting views critical of the administration" under a pseudonym so as not to violate the Hatch Act:
Plaintiff will demonstrate that the Defendants intended to interfere with her First Amendment rights by taking various actions, such as directed reassignment, the absence of substantially similar job opportunities, and undue delays in processing her reasonable accommodation request. Additionally, they engaged in a retaliatory "fact-finding" mission concerning her personal activities in an effort to establish abuse of her Family and Medical Leave Act ("FMLA") leave. These actions were all taken in direct response to her political podcast, which expressed critical views of the administration. The Plaintiff has also experienced tangible harm as a result of these actions, including the hostile work environment and the obstacles placed in her path within the organization. Crucially, Plaintiff has fulfilled the requirements set by the legal precedent by showing that the Defendants intended to interfere with her First Amendment rights and that she suffered injury as a result, making her First Amendment Retaliation claim viable.
While the first five causes of action name all defendants, the sixth and seventh — retaliation for protected speech and conspiracy — named Wilkie, Trump, and 1-50 Does.
"Plaintiff is informed and believes and thereupon alleges that defendants, and each of them, violated her constitutional rights as described in this Complaint, by retaliating against her, in retaliation for and as prior restraint of protected speech regarding matters of public importance, most notably her involvement in the political podcast 'Mueller, She Wrote' and her Twitter account of the same name," the suit added.
Gill is now seeking a court declaration that named defendants acted unlawfully, attorney's fees and costs, damages, punitive damages, and compensatory damages that include "lost back pay and benefits plus interest."
Read the lawsuit obtained by Law&Crime here.
Have a tip we should know? [email protected]