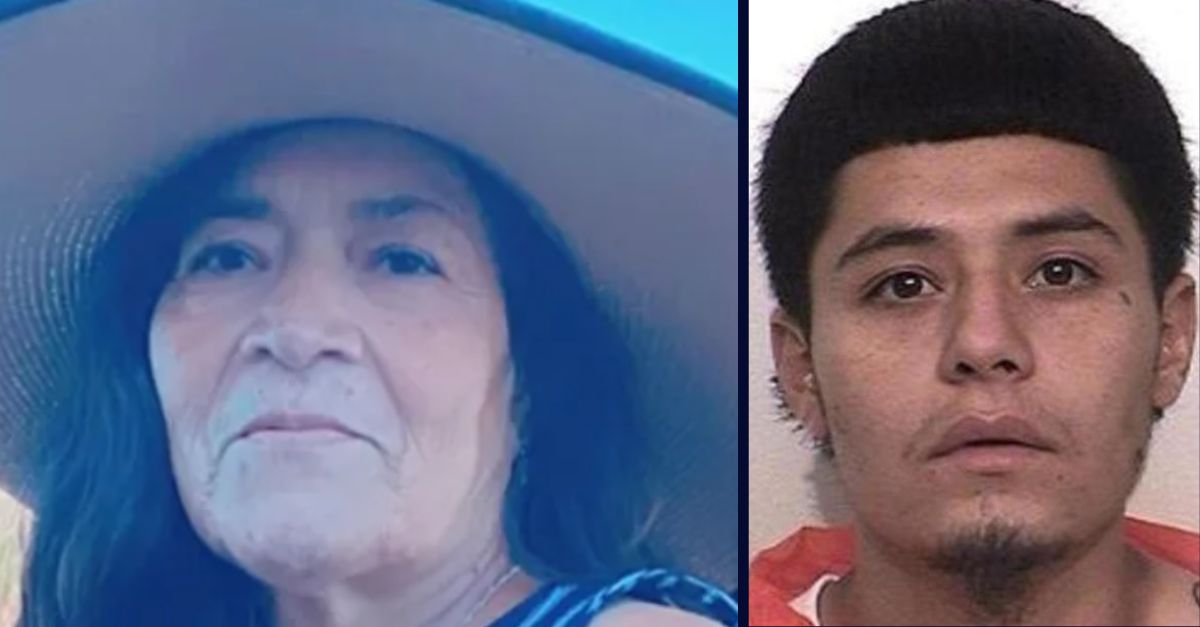 Luis Gustavo Aroyo-Lopez allegedly killed his 64-year-old grandmother, Elvia Lopez-Arroyo, before he decapitated her and left her Santa Rosa, California, home with her head. Officers found her head at a nearby creek. He was arrested in San Francisco. (Aroyo-Lopez: Santa Rosa Police Department; Lopez-Arroyo via GoFundMe)
Cops in California on Monday announced they recovered the head of a 64-year-old woman allegedly decapitated by her grandson.
The Santa Rosa Police Department was first called around 3:40 p.m. Thursday to the 2500 block of Pomo Trail for a possible homicide. When officers arrived, they the found headless body of Elvia Lopez-Arroyo. Her head was nowhere to be found. Investigators determined the victim's 23-year-old grandson, Luis Gustavo Aroyo-Lopez, killed his grandmother in a "targeted attack before leaving with the female victim's head," a press release said.
Police recovered multiple weapons from the home but are still working to determine the ones used in the murder. They have not released a motive for the attack.
Detectives worked with the U.S. Marshals Service to circulate information about Aroyo-Lopez to other law enforcement agencies to bring him into custody. On Saturday, an "alert" San Francisco Police Department patrol officer at the Transbay Transit Center recognized Aroyo-Lopez from the wanted persons bulletin. Aroyo-Lopez certainly stands out: He has a large "420" with a marijuana leaf tattooed on the side of his head. The officer took him into custody without incident.
Santa Rosa police detectives made the roughly 60-mile trip to San Francisco and took him back to the Sonoma County Main Adult Detention Facility on charges of murder and post-release community supervision. He's being held there without bail.
With Aroyo-Lopez in custody, officers had to work to find his grandmother's head. Around 7:30 p.m., police found Lopez-Arroyo's head on the south bank of the Santa Rosa Creek, about a half mile from where she was killed. They took her head to the medical examiner's office for further investigation. Police have not revealed the cause of death.
The grandmother's death has left her family in shock. One of her grandchildren started a GoFundMe to raise money for her funeral costs.
"She was a loving person and she adored so dearly all her grandchildren. She didn't deserve what was done to her. Her death has impacted our family greatly and we are seeking for help during this time of despair," the account said.
As Law&Crime previously reported, Aroyo-Lopez had previously been incarcerated following convictions on assault with a deadly weapon and weapons possession charges. Those charges were not related to the victim in this incident.
One of the victim's neighbors spoke to San Francisco CBS affiliate KPIX about what she saw before and after the victim's gruesome murder. The neighbor, identified only as "Jessica" because she feared for her safety, told the station that she saw Aroyo-Lopez casually walking in the direction of the victim's home at about noon on Thursday.
"He just walked a normal pace and, made an exact turn up the walkway, and knocked on the door. I paused over here with my dog just to make sure my neighbor knew who he was," Jessica told the station. "[The victim] was surprised and happy, and I heard the word 'you.' They were just, you know, talking and then the door closed, and I thought, 'Phew! She knows the guy.'"
But about three hours after she initially saw Aroyo-Lopez, Jessica said she heard a woman run out of the house in a panic after finding the victim's headless body.
"She kept yelling 'No head!' and I wasn't sure what she meant," Jessica said, adding that the woman repeatedly went in and out of the victim's house, apparently looking for the victim's head. The woman who found the victim and was heard yelling was the victim's sister, The Press Democrat reported.
Jerry Lambe contributed to this report
Have a tip we should know? [email protected]