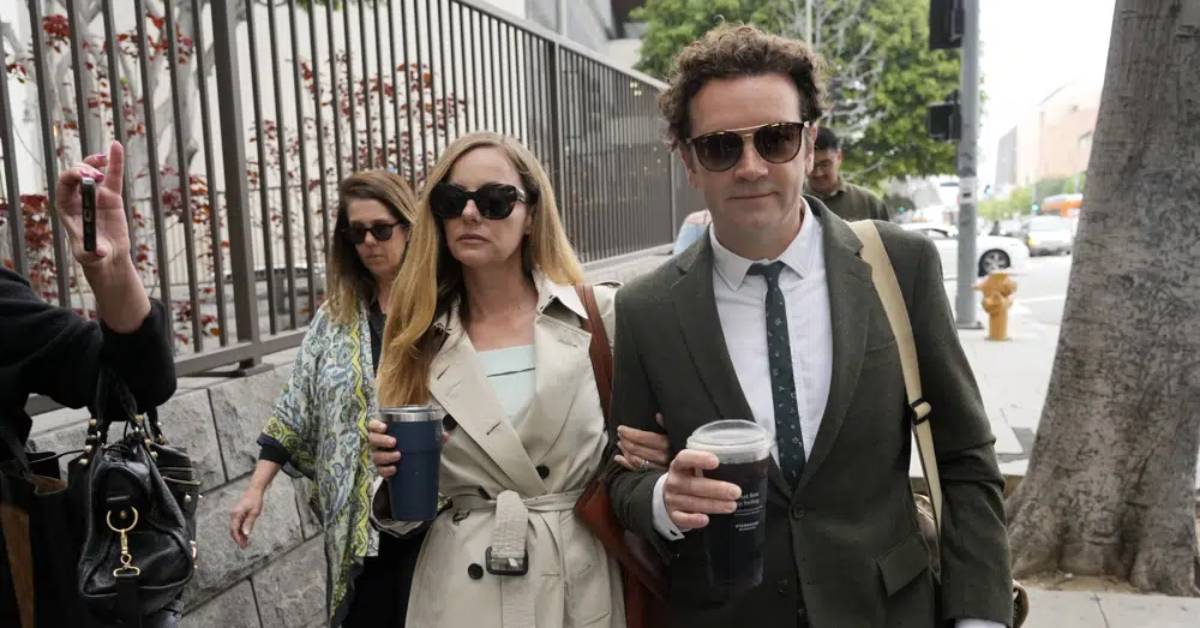 Danny Masterson, right, and his wife, Bijou Phillips, arrive for closing arguments in his second trial, May 16, 2023, in Los Angeles. A jury found "That '70s Show" star Masterson guilty of two counts of rape Wednesday, May 31, in a Los Angeles retrial in which the Church of Scientology played a central role. (AP Photo/Chris Pizzello, File)
The wife of "That '70s Show" actor Danny Masterson has filed for divorce days after he was sentenced to 30 years to life in prison for raping two women.
Bijou Phillips filed the court papers on Monday in Santa Barbara Superior Court, citing "irreconcilable differences," moving to end their divorce after they got married in 2011. They have a 9-year-old daughter.
"Ms. Phillips has decided to file for divorce from her husband during this unfortunate time. Her priority remains with her daughter," Peter Lauzon, Phillips' attorney, said. "This period has been unimaginably hard on the marriage and the family."
An attorney for Masterson did not immediately respond to an email from Law&Crime seeking comment.
Masterson, 47, was sentenced on Sept. 7 in Los Angeles.
His victims spoke out.
"When you raped me, you stole from me," said one woman who Masterson was convicted of raping in 2003, The Associated Press reported. "That's what rape is, a theft of the spirit."
"You are pathetic, disturbed and completely violent," she said. "The world is better off with you in prison."
He sat expressionless during the testimony, the AP reported.
His attorney, Shawn Holley, said in a statement that Masterson did not commit the crimes for which he was convicted and said they are confident the convictions will be overturned.
"For the past several months, a team of the top appellate lawyers in the country has been reviewing the transcripts of the trial," the statement said. "They have identified a number of significant evidentiary and constitutional issues, which they will address in briefs to both state and federal appellate courts. The errors that occurred in this case are substantial and, unfortunately, led to verdicts that were not supported by the evidence.
"And though we have great respect for the jury in this case and for our system of justice overall, sometimes they get it wrong. And that's what happened here."
A jury found him guilty on May 31 of two counts of rape by force or fear.
The jury of seven women and five men reached the verdict after deliberating for seven days over two weeks, the Associated Press reported. The jury could not reach a verdict on a third count that alleged Masterson raped a longtime girlfriend, the wire service reported. Jurors had voted 8-4 in favor of conviction on that charge.
In a statement, Los Angeles County District Attorney George Gascón said his office was disappointed that the jury did not convict on all counts, but he respected the decision.
"The verdicts handed down by the jury in this case were undoubtedly a difficult one to reach, and we thank the jurors for their service," the statement said. "We also recognize that preventing sexual assault is critical, and we will continue to educate the public on the importance of consent, healthy relationships, and bystander intervention. We believe that by working together, we can create a safer and more just society for all."
Phillips, in court then, wept as he was led away after the verdict while other family and friends sat stone-faced, the AP reported.
"I am experiencing a complex array of emotions — relief, exhaustion, strength, sadness — knowing that my abuser, Danny Masterson, will face accountability for his criminal behavior," one of the women, whom Masterson was convicted of raping at his home in 2003, said in a statement after his conviction.
Prosecutors retried Masterson on rape charges after a judge had denied a defense motion to dismiss the charges on which jurors deadlocked last November.
Last year, Superior Court Judge Charlaine F. Olmedo declared a mistrial in the high-profile case after jurors failed to reach an accord on three separate charges of rape involving three women who claimed Masterson raped them in 2001 and 2003 at the actor's Hollywood Hills home. After a four-week trial, jurors largely voted for acquittal but could not agree.
Another Masterson defense attorney, Philip Kent Cohen, sensed momentum with the partial victory. They filed a motion to dismiss, arguing that the jury's final votes – and their earlier unsuccessful efforts to find unanimity – suggested a repeat trial would have the same result.
All three alleged victims said they met Masterson through the Church of Scientology. The actor himself is a lifelong Scientologist.
Church of Scientology had said in a statement at the time of the trial that the prosecution's introduction of religion into this trial was an unprecedented violation of the First Amendment and affected the due process rights of every American.
"The Church was not a party to this case, and religion did not belong in this proceeding as Supreme Court precedent has maintained for centuries," the statement said. "The District Attorney unconscionably centered his prosecution on the defendant's religion and fabrications about the Church to introduce prejudice and inflame bigotry. The DA elicited testimony and descriptions of Scientology beliefs and practices which were uniformly FALSE."
One of the alleged victims claims that she was drugged and went in and out of consciousness, occasionally waking to find the defendant bathing and then raping her. At one point, she claims, she awoke to find herself threatened by a gun Masterson had pulled from a dresser.
Another victim claims she was raped in the home she shared with the actor during a multi-year relationship. When she resisted and tried to break free, Masterson hit her across the face, spit on her, raped her, and called her "white trash," she said.
In the previous trial, the defense often hewed to an argument that jurors did their job and no more could have been asked of them. The prosecutor had reportedly found it "troubling" that jurors said they did not consider various witnesses and forms of evidence when making their decisions.
Law&Crime's Colin Kalmbacher contributed to this report.
Have a tip we should know? [email protected]