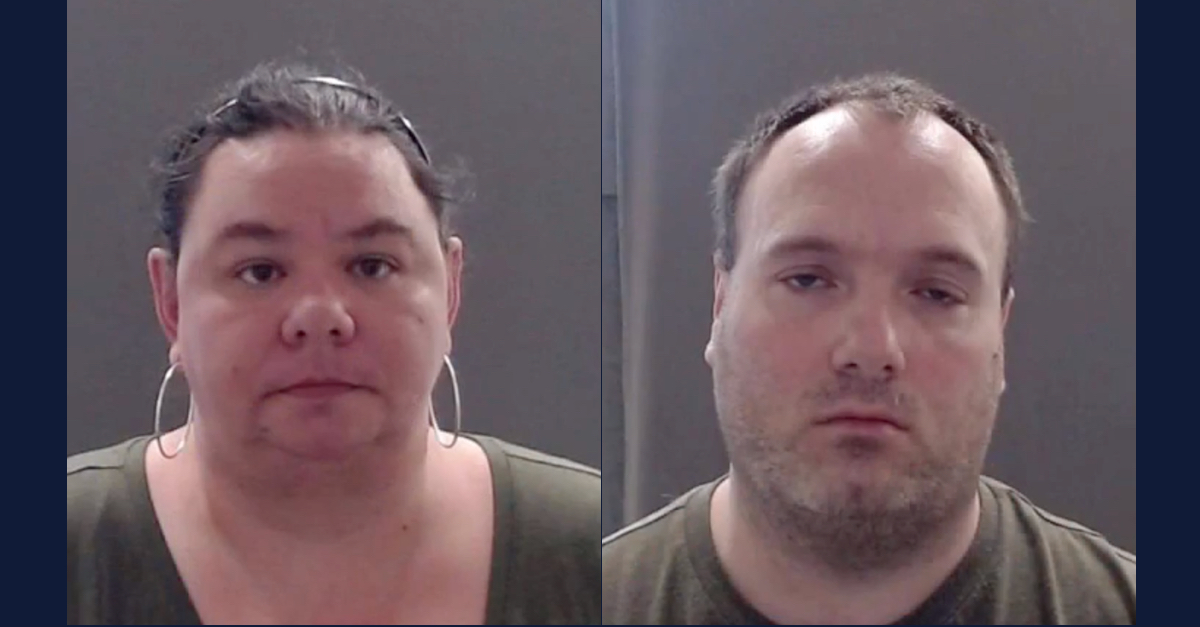 Lisa Marie Waldron (L) and Anthony Michael Waldron (R) (Mug shots: Oswego County Sheriff's Office)
A New York woman who admitted to killing her son through neglect will serve two years in federal prison for using his Social Security benefits — even about a year after he died.
"The defendant slowly killed her own son and then profited from his death," prosecutors in the Northern District of New York wrote about Lisa  Marie Waldron, 44. "It is hard to imagine a crime more heinous or a series of acts more heartless."
A state grand jury in Oswego County, New York, had indicted her and her husband, Anthony Waldron, for charges including second-degree murder after Jordan Brooks, 17, died of horrific neglect while living with cerebral palsy. Anthony Waldron is the boy's stepfather.
According to federal prosecutors in a sentencing memo against the mother, bed sores covered a large area of the teenager's body, and the autopsy photos revealed metal implants protruding from his skin. He would sit for days in soiled diapers, authorities said. At a doctor's appointment on Sept. 1, 2020, he weighed in at 114 pounds, but when he died on May 9, 2021, he was only 55 pounds. He lost more than half his weight in eight months.
Brooks previously revealed that he once spent 11 days in his wheelchair without being put to bed, authorities said.
"In the months following Jordan's death, many who knew him mourned, but the defendant [Lisa Waldron] was not one of them," prosecutors said.
Court documents and a U.S. Justice Department press statement said she misused the Social Security benefits she collected on her son's behalf.
"Throughout her tenure as representative payee, the defendant did not use Jordan's SSI money for his money," prosecutors said. "Instead, bank records demonstrated multiple extraneous and unlawful purchases at places like Victoria's Secret and a Rent-A-Center."
After he died, Lisa Waldron used those funds for fast food purchases and a trip to Myrtle Beach, South Carolina, federal prosecutors said. The Social Security Administration cut off the payments after discovering the theft in April 2022, almost a year after Brooks died.
Waldron pleaded guilty in July to second-degree manslaughter and first-degree assault. Sentencing is set for Sept. 28.
More Law&Crime coverage: Ruby Franke's cousin says child abuse, duct-taping kids goes back generations
U.S. prosecutors expected Waldron's federal sentence would be concurrent with the state one, acknowledging that "the defendant's actions that resulted in the death of her son are relevant conduct to the instant offenses."
But they estimated the normal guidelines to be between 12 and 18 months behind bars. Considering the allegations against Waldron, they sought an upward departure of 51 (four years and three months) to 63 months (five years and three months).
"For the reasons set forth above, however, the sentence here, although largely but not entirely symbolic when run concurrently to any state sentence, should stand on its own and should, therefore, reflect the seriousness and full context of the offenses to which the defendant has pled guilty," prosecutors wrote.
Chief United States District Judge Brenda K. Sannes did not give them exactly what they asked for, but she made the sentence of 11 counts of theft of government property consecutive to the upcoming state punishment, and she gave a half-year upward departure by making the federal prison sentence two years. Waldron must also pay $13,292.76 in restitution — split with $5,948.06 going to the SSA and the remaining $7,344.70 to the Crime Victims Fund.
Defense lawyer Joseph G. Rodak said his client took responsibility for her actions, cared deeply for Brooks, and became overwhelmed after the COVID-19 pandemic shook up her life.
"While the facts surrounding the state matter are extremely distressing, I do believe that Ms. Waldron did care deeply for her son, Jordan, and that Jordan was a child with a number of special needs," he wrote in a sentencing memorandum. "Ms. Waldron received assistance from a variety of individuals and institutions in caring for Jordan and that assistance was abruptly removed with the onset of the COVID pandemic and the restriction that came into place as a result. I believe that Ms. Waldron was overwhelmed in her ability to care for her son and continue with her employment all while receiving very limited and possibly minimal support at home."
Salvatore Lanza, an attorney for Anthony Waldron, has said they are going to trial.
"There will be no plea bargain. None," he told local outlet Oswego County News Now in a July report.
The central question in the case, he said, was going to be about his client's responsibility over Brooks. He argued that Lisa Waldron did not give Anthony Waldron authority regarding Brooks. Anthony Waldron was neither the teenager's biological father nor legal guardian and never adopted him, the lawyer said.
Have a tip we should know? [email protected]