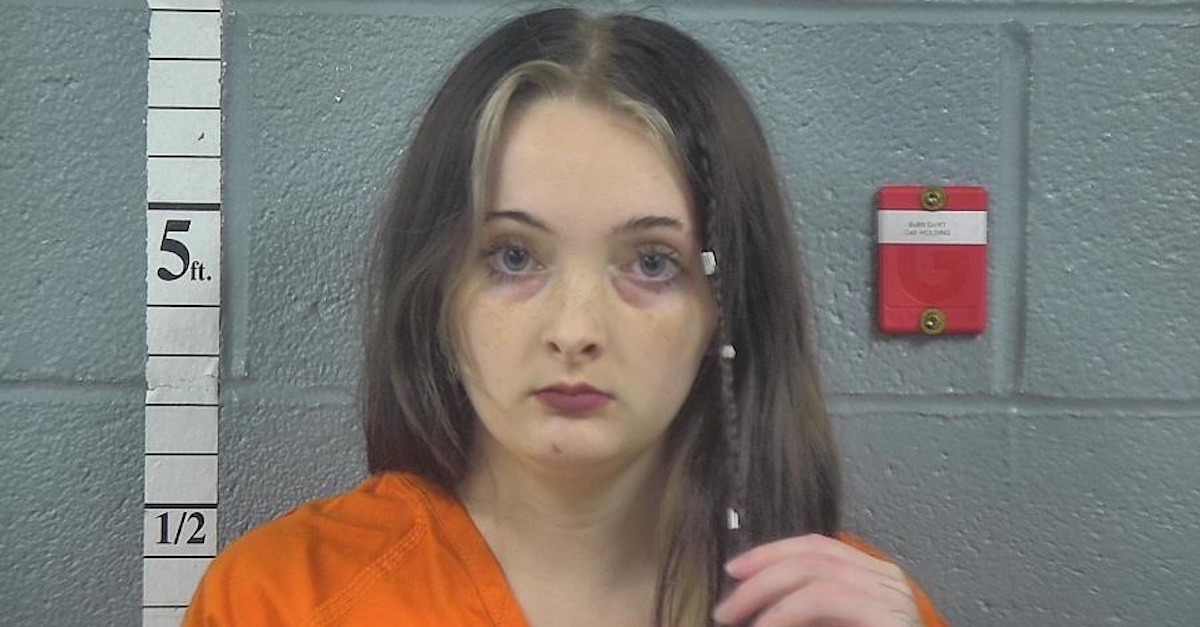 Kenzie Vanarsdale (Bullitt County Detention Center)
An 18-year-old girl in Kentucky is facing extensive time behind bars after being accused of trying to kill a police officer, allegedly using a screwdriver to try and stab the man in his head. Kenzie Vanarsdale was taken into custody on Saturday morning and charged with one count of attempted murder in the attack on Mark Bramer, authorities confirmed to Law&Crime.
According to a probable cause affidavit obtained by Louisville, Kentucky Fox affiliate WDRB, Officer Mark Bramer of the Mount Washington Police Department at about 6:15 a.m. on Nov. 4 was beginning his shift by unlocking the gate to Lindsey Duvall Park, which is located about 20 miles southeast of Louisville. In his report, Bramer said that as he was opening the gates to the public park, he noticed Vanarsdale was already inside the park.
He ordered the teen to come over to his cruiser and she initially complied, Louisville NBC affiliate WAVE reported. Bramer was writing down Vanarsdale's personal information when she suddenly took off and started running on Duane Way and onto Emma Court, police reportedly said.
Bramer reportedly chased Vanarsdale on foot, identifying himself as a police officer multiple times and demanding that she stop running away. Eventually, police say the teen stopped running in front of a residence on Emma Court and put both of her hands in the air.
Bramer then approached Vanarsdale with the intention of placing her under arrest. However, as he was placing her into the handcuffs, Vanarsdale "spun around with a screwdriver in her right hand and struck Officer Bramer approximately 3 inches above his left eye attempting to cause serious physical injury or possibly even death to Officer Bramer," WDRB reported.
It was not immediately clear whether Bramer or other officers responding to the scene apprehended Vanarsdale.
Emergency Medical Services personnel were dispatched to the scene and Bramer was transported to the University of Louisville Hospital where he was treated and released the same day, Louisville CBS affiliate WLKY reported.
Vanarsdale was booked into the Bullitt County Detention Center at about 8:42 Saturday morning. She is currently being held in lieu of $500,000 cash bond. She made her first appearance in court on Monday via video conference where she reportedly entered a plea of not guilty.
Mount Washington Police Sgt. Austin Battcher on Saturday reportedly told Louisville ABC affiliate WHAS that Bramer was doing "OK" following the incident with Vanarsdale.
Have a tip we should know? [email protected]