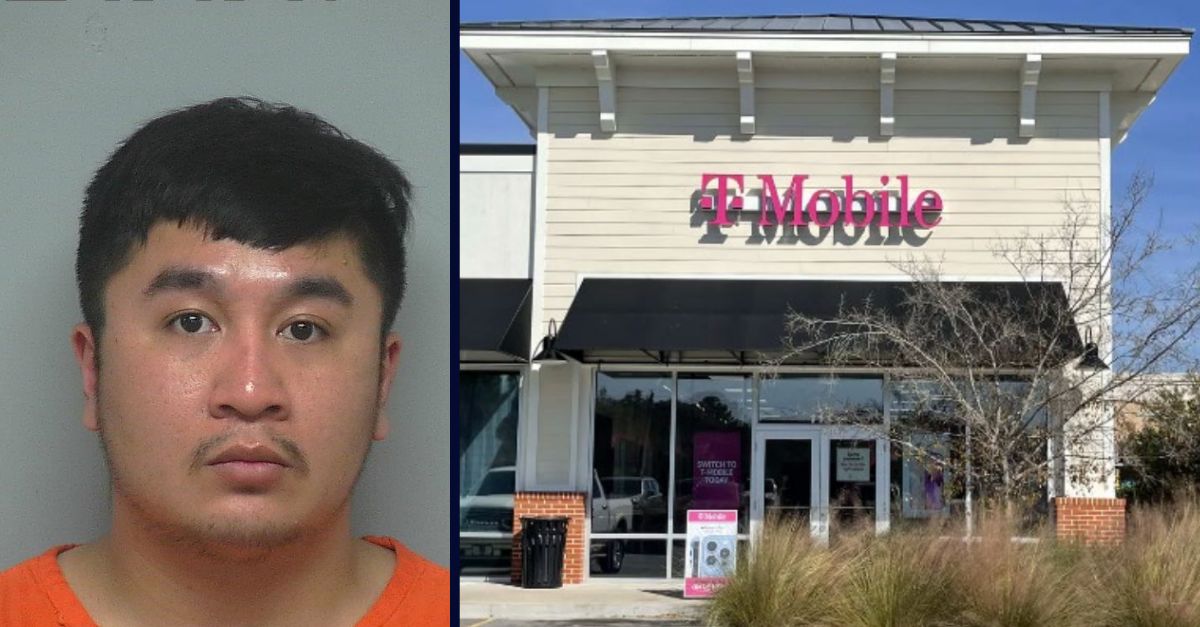 James Tu (Mug shot from Beaufort County (S.C.) Detention Center; T-Mobile storefront from court documents)
A T-Mobile employee in South Carolina already facing criminal charges now also faces a civil lawsuit alleging he shared nude photos on "dark web" chat forums and gaming websites by accessing customers' passcodes and texting himself hundreds of compromising photos.
James Tu, 29, was arrested in 2022 by the Beaufort County Sheriff's Office on computer crime charges. A man and his wife, identified in pleadings as "Jane Doe," filed a lawsuit against Tu last week. Law&Crime is not naming the husband to protect the identity of the wife. The lawsuit also names T-Mobile as a defendant.
"We take this very seriously and moved quickly to address this unacceptable activity," T-Mobile said in a statement. "We worked closely with the Authorized Retailer who has taken action to terminate their employee."
The lawsuit alleges Tu accessed the woman's photos on May 18, 2022, when the couple entered a T-Mobile store in Beaufort to buy a new phone.
Tu told the husband he could leave, and when he returned, he would have the phone ready within an hour. The husband returned to collect his phones and left.
After opening his phone, he noticed a forwarded text message from his phone to a number he didn't recognize. When he realized the messages were forwarding private pictures of his wife and child, he called the forwarding number, and Tu answered while on the job in the T-Mobile store.
The husband returned to the T-Mobile store and approached Tu. He looked through Tu's mobile device and found that he had forwarded multiple messages with photos of his wife, some of which showed her in "various stages of disrobe." There were also photos of her in a bathtub bathing their minor daughter.
Tu had files of "numerous compromising photographs" of other women on his phone. Tu's phone contained a folder called "hidden" photos — hundreds of compromising photographs of other women.
Tu obtained these photos by accessing mobile devices being left in trust with him at the store and after customers provided their passcodes based on "defendants' express and/or implied representations that the devices, and the data contained therein, would be secure and protected, while defendants performed services on the mobile devices," court documents said. "These services, by nature, involve the handling and transferring of private, confidential, and sensitive customer data."
Tu obtained photos of the plaintiff by texting the photographs from her husband's phone to his phone and disseminating them online.
Store security footage shows Tu "openly and casually" scrolling through the mobile device.
"T-Mobile defendants have a duty to its customers and invitees to exercise reasonable care and maintaining said premises in a reasonably safe and non-dangerous condition of which they should be aware of," the lawsuit said. "This includes the prevention of invasion of privacy and theft of private information by its employees of which it had prior actual or constructive knowledge had occurred."
Similar occurrences of invasion of privacy regarding T-Mobile have been reported nationwide before this incident, the lawsuit said.
It alleges T-Mobile took possession of a chip from Tu's phone and "instead of conducting a proper investigation, the T-Mobile Defendants destroyed the chip."
"Tu's conduct was so extreme and outrageous as to exceed all possible bounds of decency and must be regarded as atrocious and utterly intolerable in a civilized society," the lawsuit adds.
The lawsuit alleges negligence and invasion of privacy. It seeks an undisclosed amount for mental anguish, pain and suffering, embarrassment, shame, anxiety, emotional distress and loss of capacity for the enjoyment of life.
Tu's criminal case is pending, online records show. His public defender did not immediately respond to a request for comment from Law&Crime.
Have a tip we should know? [email protected]