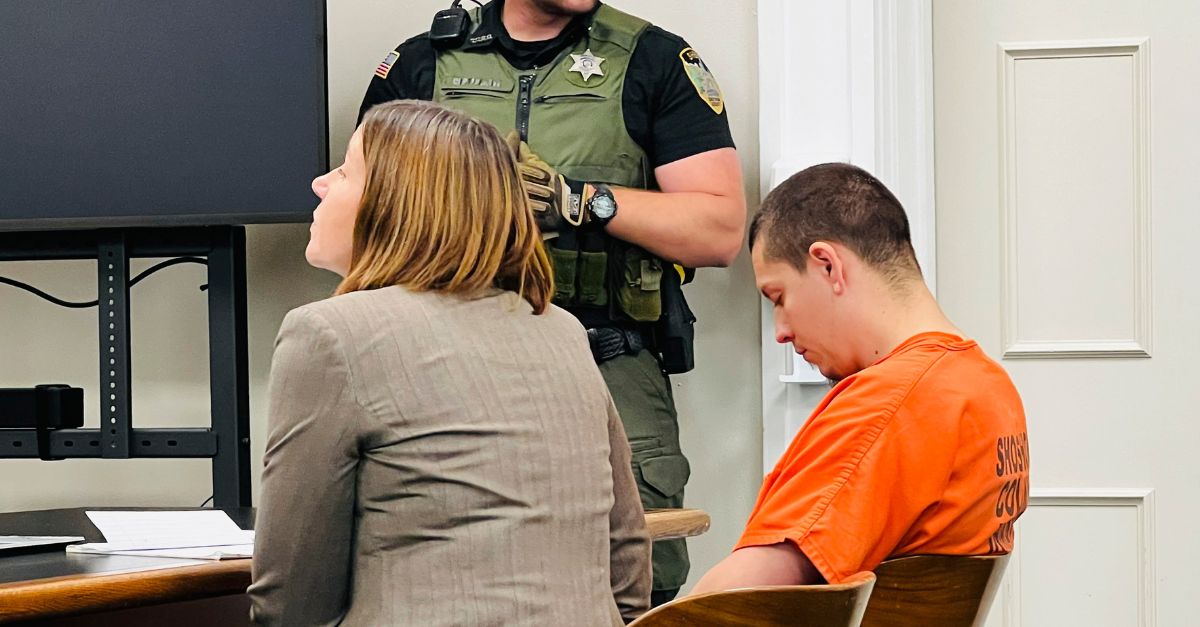 Majorjon Kaylor, 31, right, sits next to defense attorney Lisa Chesebro in a Wallace, Idaho, courtroom on Tuesday, June 20, 2023, during his first appearance on four murder charges. (Josh McDonald/Shoshone News-Press via AP)
A man who claims police failed to read him his Miranda rights after he allegedly "snapped" and massacred four of his neighbors wants a court in Idaho to suppress an alleged confession he made immediately after the quadruple homicides.
In a 13-page motion, Majorjon Allen Kaylor, 31, has asked a court to suppress statements he made to a Shoshone County police sergeant as well as a detective who first responded to the grisly June murders in Kellogg, Idaho.
Kaylor's attorneys say he was found in the street on the night of June 18 standing in front of a duplex shared with the victims. Kaylor was overwrought and highly emotional when Sergeant Jared Bilaski approached, his lawyers said.
"According to Sgt. Bilaski, Mr. Kaylor reported that he had shot his neighbors," the motion states. "'You what?' Sgt. Bilaski asked. Mr. Kaylor repeated that he had shot his neighbors. At that point, Sgt. Bilaski asked if he had the firearm on him, and Mr. Kaylor advised that it was put away."
The Shoshone County Coroner's Office would later identify the victims as Kenneth Guardipee, 65, his daughter, Kenna Guardipee, 41, and her two children, Devin Smith and Aiken Smith, ages 18 and 16, respectively.
Police said Kaylor walked into the backyard of a multi-residence property where Kenneth Guardipee and Kenna Guardipee was watering plants. Shots were fired at point blank range, records indicate. The two teens were both shot at close range once Kaylor stalked inside of the house to find them, the Associated Press reported.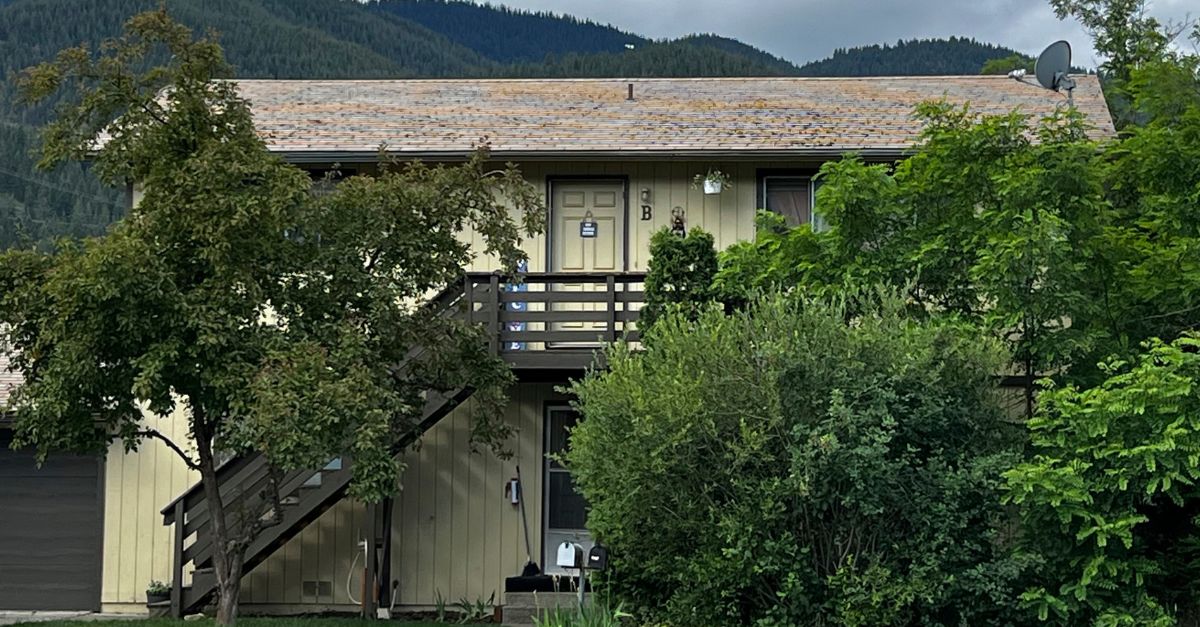 A 31-year-old man who lived in the upstairs unit of this duplex in Kellogg, Idaho, has been charged with four counts of murder after prosecutors said he shot and killed the family that lived in the downstairs unit, including one child, on June 18, 2023. (Josh McDonald/Shoshone News-Press via AP)
Kaylor says when Bilaski came upon him, the officer asked him if he had shot four people and he "acknowledged that he had" before proceeding next to make comments about the now-deceased Devin Smith "being a pedophile, having called the cops and the police refusing to do anything about it."
It was then that Kaylor claim he was told not to move, ordered to put his hands behind his back and handcuffed. Bilaski allegedly told him he was "going to have him come sit in his car" but on the walk over to it, they struck up more conversation and Kaylor again remarked that he had tried "calling the police on the neighbors" and that the neighbors told him "there was nothing he could do about it."
He was hungry, his attorneys wrote in this week's motion, and while he was making the so-called confession, his own wife and children were "mere feet" from him "screaming and huddling under a blanket."
After waiting in a squad car for more than a half-hour, a detective and police captain approached Kaylor next, he claims. Kaylor said he asked to urinate but before being granted permission to do so — while under escort and still in handcuffs, he notes — he heard a police captain ask the detective outright if he had been Mirandized.
The detective said he read Kaylor his rights. But Kaylor claims that never happened.
Instead, he and the detective "immediately began talking about a podcast he'd listened to about 'sex predator bullshit' which had reduced his wife to tears," the motion states.
They commiserated and then, he claims, the detective admitted to previously reading a message Kaylor's wife, Kaylie, had posted to social media accusing the neighbor's son, Devin Smith, of masturbating while fully nude from a ground-level window, exposing himself to her and her young daughter as they played outside.
The motion recounts the alleged conversation between Kaylor and the Detective Justin Klitch:
Kaylor: "That's why this happened. Because no one would do anything about it and I'm not okay with that. I'm not going to let something happen to my f—— kids."

Klitch: "I understand, man."

Kaylor: "And his mother is telling me, 'he can do whatever he wants, there's nothing you can do about it.' So, I'm like, 'you're okay with his behavior?' He's never had any repercussions and the whole town is aware of it, but no one will do anything about it."

Klitch: "Look dude, it's infuriating. I mean, I…"

Kaylor: "I have three kids, I'm not going to allow it, period."

Klitch: "No, I'm … like I said, dude, my wife literally cried for two hours. I mean, when I read that Facebook message from your wife, it just pissed me off. But before we get started, I do want to ask some questions. All I know is that Facebook post, okay? That's all I've seen. But I have to go through some procedural shit here…"
A probable cause affidavit states the accusations against Devin Smith were investigated and that, police had told prosecutors that he should be charged with misdemeanor indecent exposure. But a review for the records by Law&Crime this June did not turn up any pending charges against Smith at the time of the slayings.
In an interview with surviving family members by the Spokesman-Review, Devin Smith was described as a young man who struggled with learning abilities and social cues. He had just graduated high school. Aiken Smith, also allegedly shot by Kaylor, was described by a family friend as a "super good kid" who found community in a junior ROTC program.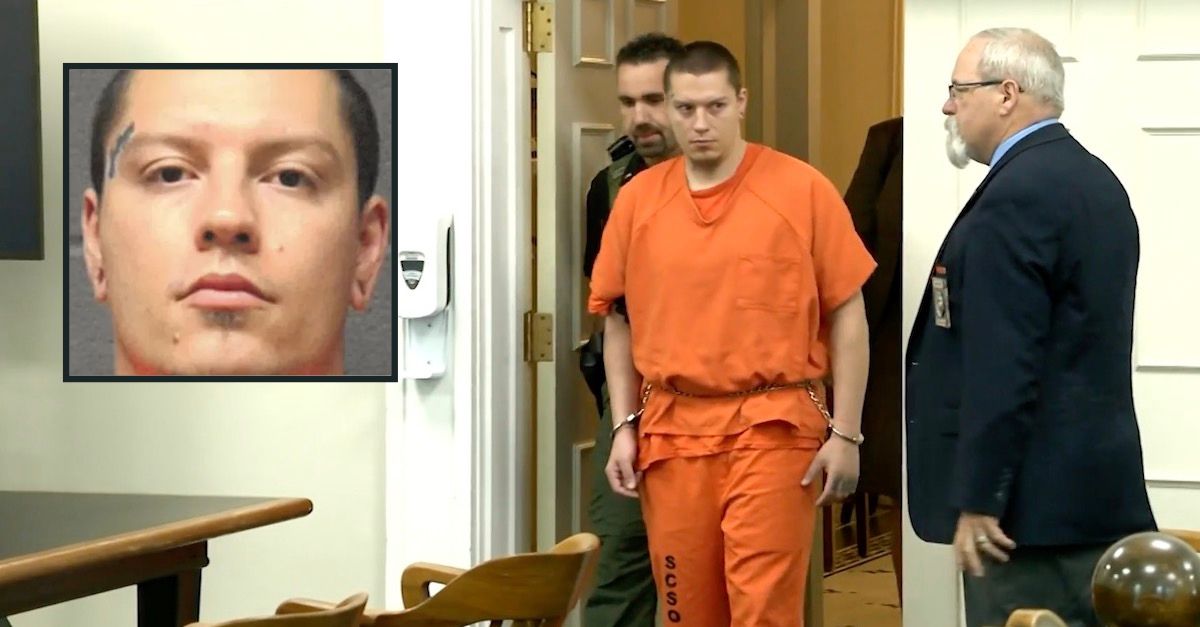 Majorjon Kaylor appearing in court and mugshot (KTVU screenshot and Shoshone County Sheriff's Office)
"In this matter, Mr. Kaylor was expressly questioned by Sgt. Bilaski after he was already ordered to the pavement when Sgt. Bilaski asked him about the shooting, thereby referencing their earlier conversation," the motion states. "Later, after Mr. Kaylor was led in handcuffs into the church, Detective Klitch made impassioned comments about how a podcast about sexual predators brought his wife to tears, knowing that Mr. Kaylor had previously reported one of the alleged victims to law enforcement for masturbating while watching his young children."
"Detective Klitch should have known his comments would elicit an incriminating response," the motion also says. "As Mr. Kaylor was not properly warned before said questioning and comments, his statements were obtained in violation of Miranda,' the motion states."
Kaylor pleaded not guilty to four counts of first-degree murder in September. His trial is slated for January 2024 and according to local NBC affiliate KTVB, the death penalty is not expected to be sought by state prosecutors.
Have a tip we should know? [email protected]