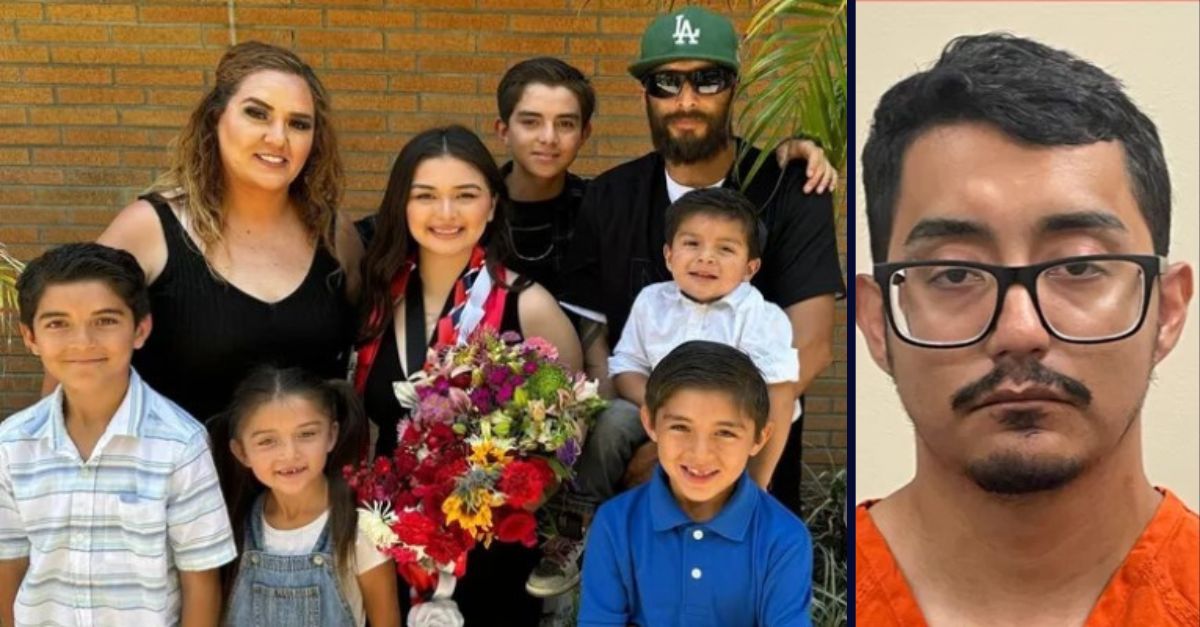 Gilberto Sotelo, wearing sunglasses in a family photo, was killed in a hit and run crash Aug. 7 along a highway in Riverside County, Calif. On Monday, Giovanni Ceja, right, a corporal with the Bexar County (Tex.) Sheriff's Office, was arrested. (Sotelo family picture via GoFundMe; Ceja mugshot from the Bexar County Sheriff's Office)
A Texas sheriff's corporal turned in his deputy uniform for a jail jumpsuit after he was accused of hitting a man on the side of a California highway and leaving him for dead on Aug 7.
Bexar County Sheriff Javier Salazar told reporters on Monday that Cpl. Giovanni Ceja was arrested in connection with a fatal hit-and-run on Interstate 215 in Riverside County, California. Salazar said Ceja was vacationing in California and borrowed a relative's car while intoxicated and struck a man who was putting gas in his car on the side of the road.
Ceja, 31, fled the scene, but pieces of the vehicle were left behind and troopers with the California Highway Patrol were able to identify it, according to Salazar. The Riverside County Sheriff's Office contacted Salazar's agency Monday with an active arrest warrant for Ceja on charges of murder, driving under the influence and hit and run causing death.
CHP said in a press release shortly after the incident that the car was either a Honda SUV or pickup. CHP didn't release the victim's name, but he was identified by Fox 11 in Los Angeles as Gilberto Sotelo, a father of seven children.
Family members told the TV station that Sotelo's Chevrolet Silverado had run out of gas and he was filling it up on the side of the road when he was hit, sending his body over 30 feet into the side of an embankment. Someone then stole his wallet and phone, according to the TV station.
More on Law&Crime: Ex-cop who killed pedestrian, took body home to parents, then brought it back to crash scene again learns his fate
Sotelo was great at fixing cars and was always at a junkyard looking for parts, his brother said.
"He'd be out there in a minute to help somebody out," Jesus Sotelo told the outlet. "That's just the kind of person he was."
According to the Los Angeles Times, Gilberto Sotelo was driving back from visiting his sister's grave. She was killed in a car accident in 2015.
"Ironically, they both died in crashes on the freeway," Jesus Sotelo told the newspaper. "I told our mom. I don't think she could have handled the police knocking on her door a second time."
A GoFundMe page has raised over $40,000 for funeral arrangements and to help the victim's wife raise their children, which range in age from 2 to 18.
The organizer, niece Vernoica Sotelo, said the family was grateful.
"Justice will now be served for my uncle's death," she wrote. "[The] suspect has now been found and is now in custody. Thank you everyone for sharing and spreading the word!! We could not have found him without you."
After the incident, Ceja returned to work as if nothing happened, Salazar said. He was in his uniform on Monday when he was arrested, according to the sheriff. He was taken to a neighboring county's jail where he is awaiting extradition to California.
"To hear that this person took somebody's life that was just putting gas in his car on the side of the road, it's embarrassing, it's disgraceful, it's disgusting to know that this happened," Salazar told reporters.
Ceja joined the department in 2018 and worked in the jail. He was fired after his arrest.
Have a tip we should know? [email protected]