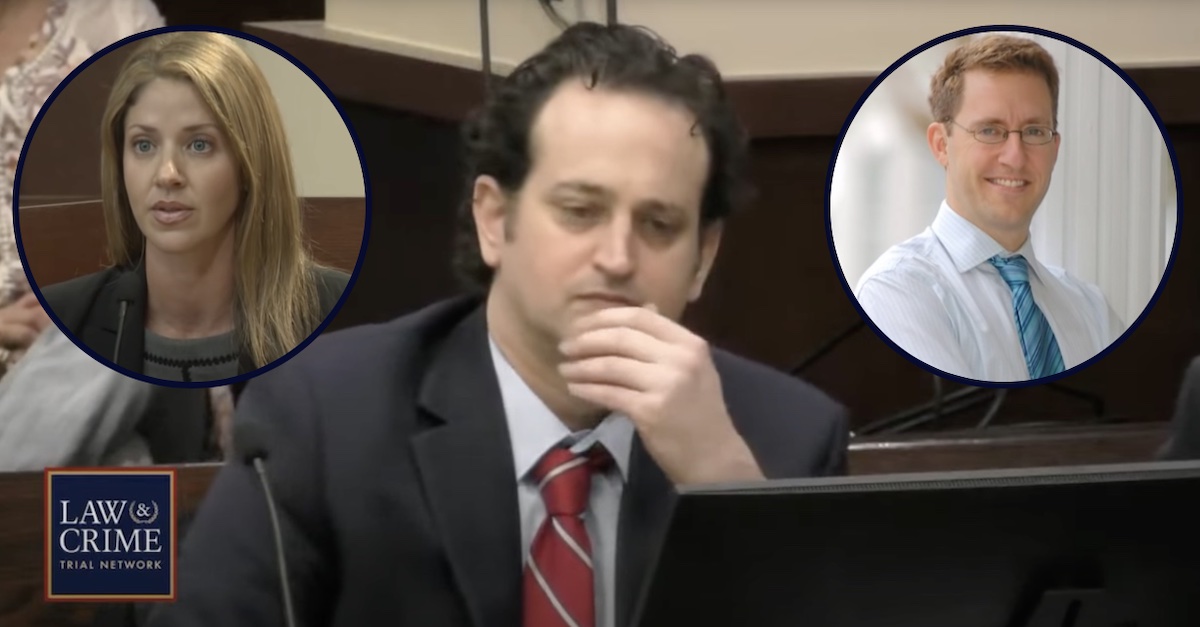 Wendi Adelson (inset left), Charlie Adelson (center) in court on Oct. 26, 2023, (inset right) Dan Markel (images via Law&Crime Network)
Florida prosecutors, seeking justice for the assassination of a prominent law professor amid a "very nasty divorce," kicked off the murder trial of the victim's former brother-in-law Thursday by focusing on how swiftly the defendant's sister "erased" Dan Markel from his sons' lives following his shooting death at 41 on July 18, 2014.
Delivering opening statements for the state before Judge Stephen Everett and a jury of seven women and eight men in the 2nd Judicial Circuit of Florida was Sarah Dugan.
The prosecutor said that whether you followed the suspected motive or the path the assassins took to drive away in a Prius from the scene of the murder, "Both of these two paths led directly to this defendant," 46-year-old Charlie Adelson, the brother of Markel's ex Wendi Adelson and the son of Donna Adelson, whose emails with Wendi showed she "hated" the victim and was "desperate to find a way" for her grandkids to relocate from Tallahassee to Miami.
After years of suspicion and a secret recording, Charlie Adelson was indicted in April 2022 on charges of first-degree murder, conspiracy to commit murder, and solicitation to commit murder by hiring a hitman to carry out the slaying.
DOLCE VITA RECORDING – Charlie: "If they had any evidence, we would have already gone to the airport." This recording is considered the smoking gun against #CharlieAdelson. Adelson met Katherine Magbanua at the Dolce Vita restaurant. Agents were at a table nearby, recording.… pic.twitter.com/JOVoD1bTYk

— Cathy Russon (@cathyrusson) October 26, 2023
"This murder was set into motion because, back in 2014, the defendant's family — the Adelson family — had a big problem. And that big problem was Dan Markel. And the solution to that problem was this defendant," Dugan said of Charlie Adelson. "This defendant was the solution to that problem because he had a girlfriend with connections to the type of people who were willing and capable of pointing a gun at at a complete stranger and pulling the trigger."
The Adelson girlfriend Dugan was referring to was Katherine "Katie" Magbanua, who was found guilty of murder, conspiracy, and solicitation to commit murder in May 2022 at her retrial (her first trial in 2019 ended with a hung jury).
Magbanua's connections were convicted triggerman Sigfredo Garcia, the father of her children, and Luis Rivera, a Latin Kings gang leader in North Miami who pleaded guilty to second-degree murder in 2016.
Garcia and Rivera traveled from Miami to Tallahassee and tailed Dan Markel while he dropped off his sons at preschool, went to the gym, and then pulled into his driveway and garage for the last time. Markel was fatally shot in the forehead and cheek.
Dugan said that Markel was "adamantly opposed" to his children being moved to Miami. Though his and Wendi's divorce was finalized a year before the murder, "highly emotionally charged" litigation continued in the courts.
"In looking at who might have a motive to kill Dan Markel, law enforcement learned that Markel was entangled in a very nasty divorce with his ex-wife, who is the defendant's sister, and her name is Wendi Adelson," the prosecutor said.
Wendi Adelson, a lawyer by trade and a Florida State University law professor like Markel, had asked a judge to allow her to move the children to Miami to be near her parents. Markel was "adamantly opposed," and his insistence on keeping the children where they were raised and went to school was what led to the murder-for-hire, Dugan said.
More Law&Crime coverage: Hitman controversy trial — Florida dentist accused of hiring trio to kill ex-brother-in-law, an FSU professor
Markel had asked the court to enter an order preventing Donna Adelson from having unsupervised contact with her grandkids, and this motion was still pending at the time of the murder. His death solved the Adelsons' "problem," Dugan said, emphasizing just how quickly Wendi Adelson moved the victim's sons to Miami.
"Just about 48 hours after the shooting, Wendi Adelson and the little boys relocated to Miami. Shortly thereafter, moved into a home within walking distance of the Adelson's Miami home," Dugan said.
Within a year, the prosecutor continued, Wendi Adelson legally changed her sons' last name from Markel to Adelson.
"Just like that, their father was effectively erased from their lives, at 3 and 4," Dugan said. "And the Adelson's family, their big problem had been solved."
Wendi Adelson has never been charged in connection with her ex-husband's murder, but she did testify at the initial Garcia-Magbanua trial and Magbanua's retrial.
Dugan described the Adelsons as "tight-knit" and said they worked together at the family's dental practice, where Magbanua also worked alongside periodontist Charlie Adelson.
Wendi Adelson admitted that Charlie Adelson had made a comment about looking into hiring a hitman to kill Dan Markel as a divorce present, but he bought a TV instead because it was cheaper, the prosecutor said.
"And I was talking to him about whether it made sense to pay to fix it or I should get a new one," Wendi Adelson said. "And it was always his joke that, like, he knew that Danny treated me badly, and it was always his joke, he said, I looked into hiring a hit man but it was cheaper to get you this TV."
That broken-down TV so happened to be Wendi Adelson's alibi on the morning of the murder, Dugan continued.
"A lot of people don't like their in-laws, but the difference here is the defendant's comment stopped being just a little bit of trash talk when Dan Markel was actually killed by a hitman," the prosecutor said of the defendant.
During the defense's opening statements, attorney Daniel Rashbaum began by stating "the obvious."
"The murder of professor Markel was a tragedy. The world lost a brilliant legal mind. His family lost a son and a brother. His community lost its sense of security and lost a good citizen," he said. "And his two boys, the nephews of Charlie Adelson, lost a loving father."
The murder was "despicable," "inexplicable," and "evil," Rashbaum said, but the defense lawyer asserted that the evidence would show that Charlie Adelson "had nothing to do with the murder of professor Markel."
"You will see that the state cannot come close to meeting its burden. Why? Because Charlie Adelson is innocent," Rashbaum told the jury. "Now, I don't have to prove innocence. What I'm telling you I very rarely say in a courtroom as a defense lawyer. Charlie Adelson is innocent."
"But the next thing I'm going to tell you, I also rarely say in a courtroom, " the defense lawyer continued. "I have great respect for the prosecutors and law enforcement on this case. I have admiration for their efforts after the murder of professor Markel in trying to find out how did it."
But Markel's killers are already behind bars, Rashbaum said.
"They convicted them. Sigfredo Garcia convicted for life. Luis Rivera. Katherine Magbanua, convicted for life," he said. "The problem is, as you just heard, the state saw no connection between these people and professor Markel."
So from the very beginning, investigators developed tunnel vision on the Adelson family. Rashbaum suggested Charlie Adelson was collateral damage of that tunnel vision, filled with assumptions and guesses as to his involvement.
Rashbaum said that one thing the defense would admit is that Charlie Adelson likes to talk — a lot — and that he had a history of telling bad jokes, such as the comment about buying a TV for his sister Wendi instead of hiring a hitman as a divorce present.
Defense opening: You're going to hear a lot about TVs in this case. #CharlieAdelson has a really bad history of telling bad jokes. When Wendi left the house, his mom told him that she didn't have a TV. He asked what he could do to help Wendi after she left #DanMarkel. Adelson…

— Cathy Russon (@cathyrusson) October 26, 2023
"They heard things, they saw things, but there were problems. They couldn't fit all of the pieces together," Charlie Adelson's lawyer said of investigators. "Respectfully, the state does not know what happened on July 18th, 2014."
Witness testimony followed and continued into the afternoon on Thursday — and, once again, Wendi Adelson was among those called to testify.
IMMUNITY – Wendi Adelson has been granted immunity – I believe it's a Use Immunity which means her testimony today cannot be used against her but other evidence outside of her testimony could be used a future date. #CharlieAdelson #DanMarkel

— Cathy Russon (@cathyrusson) October 26, 2023
Wendi swore to tell the truth, identified herself an attorney by training, and confirmed that she has use immunity.
"That doesn't mean you have full immunity from prosecution but nothing you say here and nothing derived from it could be used in that prosecution. Is that your understanding?" Wendi Adelson was asked.
"That is my understanding," she answered.
Ruth Markel recently sat for an interview with the Law&Crime Network's Angenette Levy on the Sidebar podcast, saying that she saw Wendi Adelson for two years after her only Canadian-born only son was murdered.
"Well, after Dan was murdered, it took two years before there is any arrests. So I did see Wendy for two years. And the boys, the first thing I wanted to do when they had the memorial was get to the boys in Tallahassee at the synagogue, because that was Dan's legacy — those two children," Ruth said. "He was an amazing father."
Ruth Markel also said that Wendi Adelson "occasionally" floated "alternate theories" about Dan Markel's murder.
"Occasionally she tried to influence me to alternate theories," she said. "And, you know, I listened. I didn't have, you know, a firm yet opinion 100% of anything. And so I would listen to the thoughts about it."
Editor's note: this story was corrected to say that Sarah Dugan delivered opening statements for the state.
Have a tip we should know? [email protected]