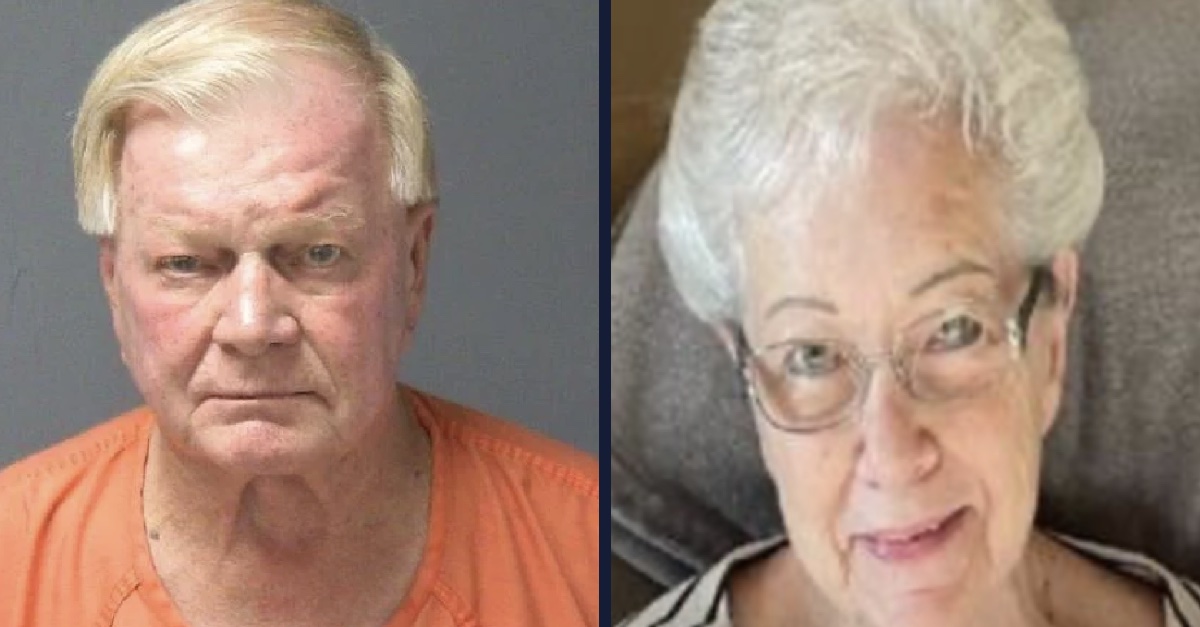 Larry Manthe (Columbia County Sheriff's Office), Alice Langer (obit)
A 79-year-old Wisconsin man faces a murder case nearly a year after his 76-year-old girlfriend was found shot in the head in the shower with a firearm in her lap at home in what was initially suspected to be a suicide.
Authorities in Columbia County now allege that the Oct. 6, 2022, shooting was carried out by Pardeeville-area resident Larry Lynn Manthe, and that the elderly suspect sloppily staged the scene to make it look like Alice Langer took her own life at her Wyocena home after she tried to end their longtime relationship.
According to the Columbia County Sheriff's Office, the investigation into the Oct. 2022 death began with a request for a welfare check by Langer's family members, who were worried after they didn't hear from their loved one for more than 15 hours.
"During the investigation, detectives determined that the circumstances surrounding the woman's death were suspicious based on evidence recovered," the sheriff's office said. "Larry and Alice were living together and in a long-term relationship at the time of Alice's death. It was also learned that Alice intended to end the relationship and move out of the home."
Local ABC affiliate WKOW reported that next-door neighbors were shocked by Langer's death, calling it "just out of the blue like nobody saw it coming." The report said that the medical examiner determined that the stippling evidence was not consistent with suicide.
One additional key piece of evidence that played a role in the charges was where on her body the victim was shot: the right-handed Langer was shot in the left side of her head.
According to a criminal complaint obtained by Law&Crime, a witness 3, described as a female real estate agent, told investigators that Langer mentioned Manthe was an "unhappy person" and alcoholic who was "very difficult to be around." Weeks before she died, Langer said she was "starting fresh" and planning to leave Manthe after being with him for 31 years, the complaint continued.
Manthe, who had "24 or 25 firearms at the residence, including hunting rifles, shotguns, and pistols," allegedly reeked of "intoxicants" and had "bloodshot and slightly glossy" eyes when he spoke with detectives on Oct. 6, 2022.
"Manthe said that when VICTIM1 told him that she wanted to leave, he was 'very disgusted' and could not sleep at night. Manthe said that he and VICTIM1 had been together 31 years and their relationship ending was 'devastating,'" the complaint said.
The suspect allegedly made a comment doubting that Langer had the physical strength to pull the trigger.
"Manthe did not know if VICTIM1 had the strength to manipulate the firearm. Manthe then said that VICTIM1 did have the strength but he never showed her how to load it. Manthe said that VICTIM1 watched him load it and she was a 'very sharp lady,'" the complaint went on.
The suspect himself confirmed that Langer was right-handed, authorities claimed.
Two days after the shooting, Manthe allegedly spoke with investigators again and revealed more.
"Manthe did not know why VICTIM1 was unhappy with their relationship. Manthe did not want VICTIM1 to leave. Manthe once told VICTIM1, 'if you ever leave, you're walking out of my life.' Manthe acknowledged that without VICTIM1, he probably wouldn't be here because she was his support. After VICTIM1 told Manthe that she wanted to move out, she was like a different person," the complaint said. "She was much happier and her mood was "really good." Manthe was aware of the October 10, 2022 deadline for giving VICTIM1 the money so she could close on her new condo."
Investigators said that they found Manthe's DNA on the ammunition and firearm.
Wisconsin court records reviewed by Law&Crime show that Manthe is charged with committing first-degree intentional homicide while using a dangerous weapon in the course of domestic abuse.
After a warrant was issued for Manthe's arrest last Friday, Sept. 15, he was booked into the Columbia County Jail at 2:30 p.m. the same day.
Court records show that Manthe appeared in court Monday from jail in a video appearance, flanked by his defense lawyer Corey Chirafisi, one of the attorneys who successfully defended Kyle Rittenhouse against homicide charges.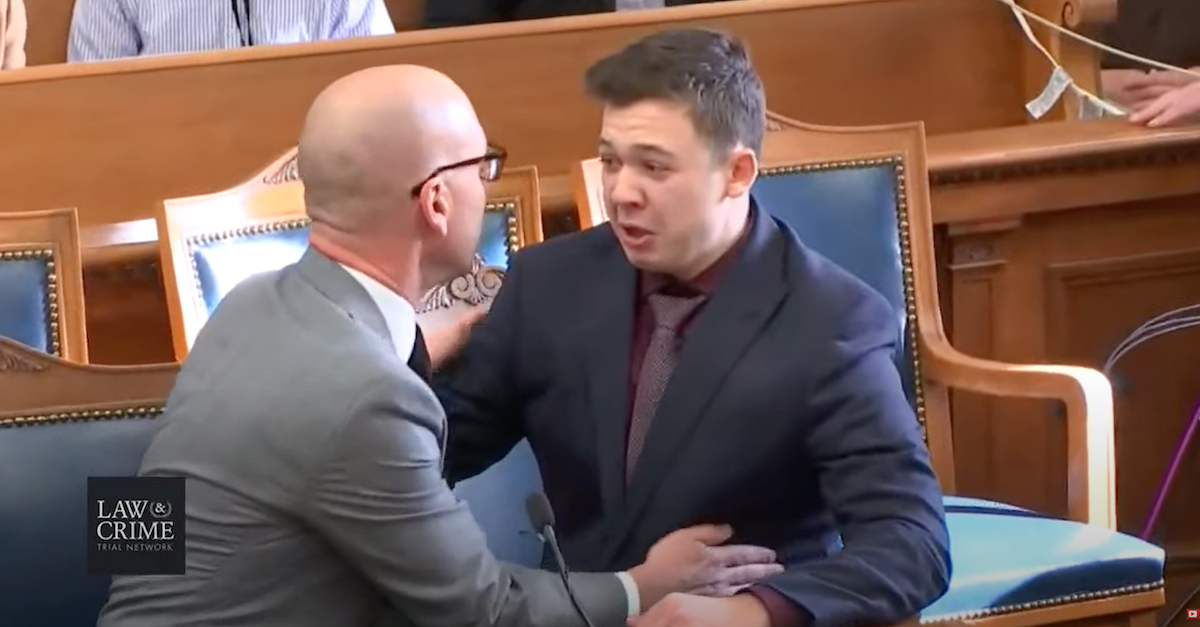 Attorney Corey Chirafisi (left) comforts Kyle Rittenhouse on Friday, Nov. 19, 2021, in Kenosha, Wis. courtroom. Rittenhouse collapsed as his not guilty verdicts were read. (Image via the Law&Crime Network.)
Court notes indicate that members of Langer's family made a statement as Chirafisi and Columbia County District Attorney Brenda L. Yaskal sparred over Manthe's bond.
Columbia County Circuit Court Judge Troy D. Cross, who presided over the initial appearance, did not set Manthe's bond as high as $5 million, as sought by the prosecution, and did not set it as low as $75,000, which Chirafisi had asserted was appropriate for a "circumstantial" case like this one.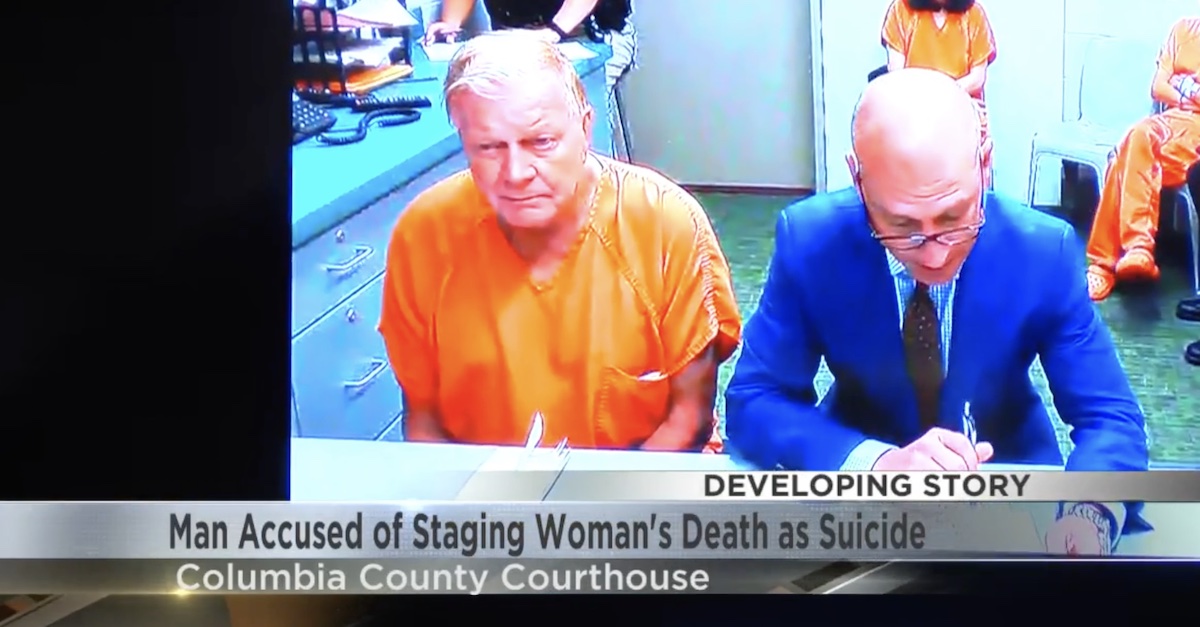 Larry Manthe appears in court alongside defense lawyer Corey Chirafisi on Sept. 18, 2023 (WKOW/screengrab)
Records show the judge settled on a $1,000,000 cash bond with "standard felony conditions": Manthe is not permitted to leave the state unless he gets written permission from the court; he shall not contact Langer's children and grandchildren and is barred from contacting them at their homes, places of work, cars, or schools; he cannot possess or drink alcohol; and he was ordered to hand over "any firearms or ammunition that have not already been collected" to the Columbia County Sheriff's Office within 24 hours.
Wisconsin bail laws permit the release of felony defendants so long as bond conditions like these are in place to ensure that the charged individuals appear in court (i.e., that they won't flee) and won't pose a threat to the community should they post their bail — hence the order that Manthe turn in his numerous firearms or ammunition and the prohibition against contacting Langer's family members.
After she "unexpectedly passed away," Alice Langer's family said that she was a retiree who "had a smile for everyone she met" and enjoyed spending time with "her ladies' group, playing cards, attending concerts, Friday night fish fries and was always up for a good breakfast or lunch date."
The obituary said that Langer, a mother, grandmother, and great grandmother, had been looking forward to a family trip and her "next chapter" living in a new condo in the weeks and months after her death.
"Mom, you left us way too soon. We love you and will miss you beyond measure. Always in our hearts," the obit said.
The family encouraged donations to Domestic Abuse Intervention Services in their love one's name.
The next scheduled court appearance for Manthe is currently set for 9 a.m. on Oct. 25, the docket says.
Law&Crime reached out to Chirafisi for comment.
Have a tip we should know? [email protected]