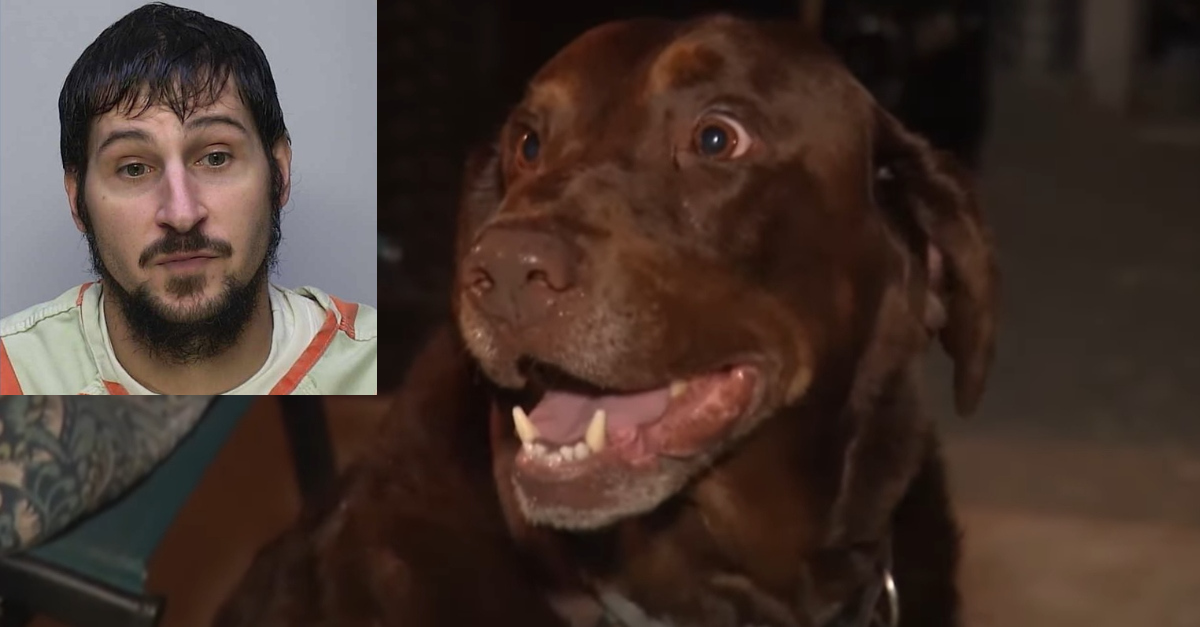 Rape and murder suspect Michael Charles Burham was on the lam, but a dog, Tucker, spotted him. (Mugshot of Burham: Warren County; screenshot of Tucker: WIVB)
Months after a dog foiled his life on the lam, a murder suspect pleaded guilty to kidnapping an elderly couple, and after the ensuing arrest, escaping a Pennsylvania prison. That leaves the defendant, Michael Burham, 35, to face the New York state case in which he allegedly shot and killed a woman. Other active charges there include rape, arson, and false imprisonment.
Today, Michael Burham pleaded guilty to escaping from Warren County Prison in July. Burham was incarcerated for kidnapping an older couple in PA and driving them to South Carolina, as he attempted to evade a murder investigation in New York:https://t.co/Ion3309WTl pic.twitter.com/seQscNF28p

— Michelle Henry (@PAAttorneyGen) November 9, 2023
The chaotic story dates back to March 13, when he allegedly murdered Kala Hodgkin, 34, in her home in Jamestown, New York. He later set fire to another woman's car, authorities said.
After investigators obtained an arrest warrant in the shooting, he tried to evade authorities by kidnapping an elderly couple from Warren County, Pennsylvania, at gunpoint and drove their car to Charleston, South Carolina, authorities said. Law enforcement said they found the couple unharmed, and took Burham into custody several days after a homeowner spotted him prowling in their backyard.
These charges landed the defendant in Pennsylvania's Warren County Prison. He did not stay put for long. Law enforcement said he escaped jail using a bed sheets and rope. They warned he was a a "self-taught survivalist" with military reserve experience whom authorities said had previously prepared to "conceal himself in the woods."
Once again, however, authorities caught him after homeowners spotted him on their property.
A couple, Ron and Cindy Ecklund,  told WIVB they were sitting on their porch just after 4 p.m. on July 15. Their chocolate Labrador, Tucker, ran to the creek along their backyard. He did not return, so the Ecklunds checked it out. They spotted a man.
Ron said that Cindy joked if he wanted to get his gun. Ron dismissed it at the time. The couple initially believed this to be a fisherman and drove out on their golf cart. Instead, it was Burham.
Ron Ecklund said he questioned the stranger.
"I'm camping," Burham allegedly said.
"Well, no one camps in my backyard," Ron told the outlet.
The couple started returning home.
"We started back, and I said, 'dial 911,'" Ron told the outlet. "I've seen his pictures."
Burham returned to the woods, the couple said. Footage shows law enforcement escorting him handcuffed.
Jerry Lambe contributed to this report.
Have a tip we should know? [email protected]