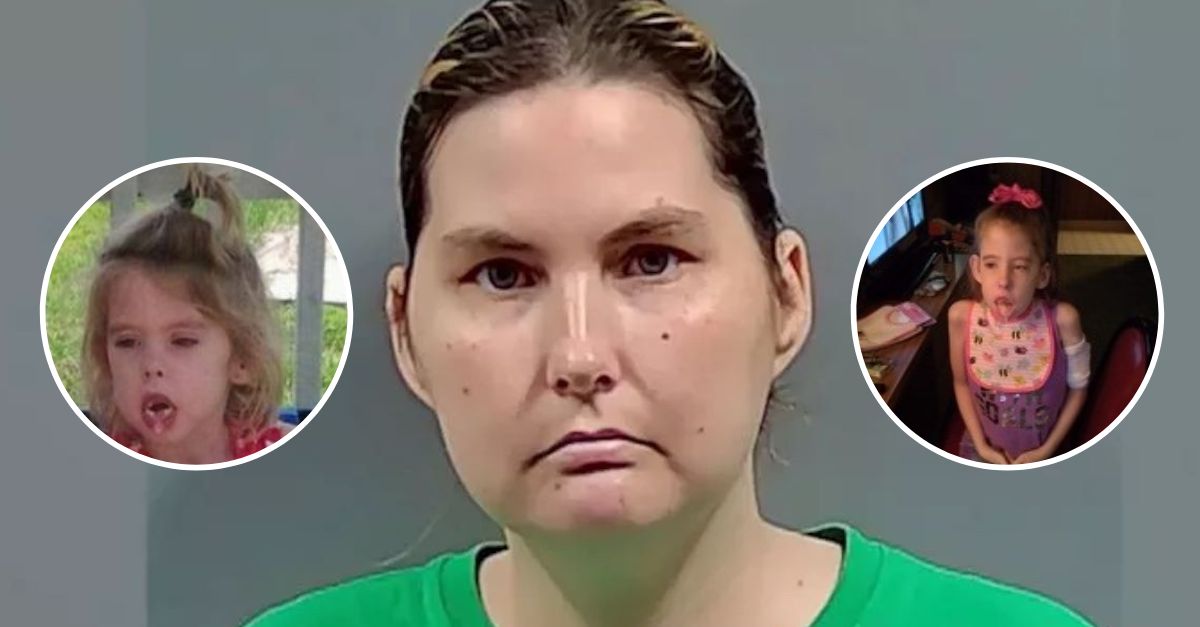 Jessica Bortle (Pensacola Police Department) and Jasmine Singletary (WSYX screenshots)
A 36-year-old mother in Alabama will spend just over a year behind bars for her role in the death of her 14-year-old special-needs daughter, who died of blunt force trauma to the torso in 2021.
Escambia County Circuit Court Judge ordered Jessica Bortle on Wednesday to serve a sentence of one year and one day for abuse inflicted on Jasmine Singletary, court records reviewed by Law&Crime show. The court credited Bortle with 212 days already served.
Bortle had initially been charged with one count of negligent manslaughter and one count of aggravated child abuse after prosecutors said she became angry at her daughter for acting out and responded by slamming a table into the girl's abdomen while the child was confined to a hospital bed. But in July, a jury found Bortle guilty of battery, a lesser charge than manslaughter, and child abuse, a lesser charge than aggravated child abuse.
Following the verdict, Nobles vacated Bortle's battery conviction, saying the charge was "subsumed in the child abuse charge," meaning the two offenses were merged into one.
Nobles also ordered Bortle to serve three years of probation following her release.
As previously reported by Law&Crime, officers with the Pensacola Police Department responded to a call on July 21, 2021, from the District One Medical Examiner's Office regarding a homicide at Sacred Heart Hospital involving a 14-year-old girl with a neuromuscular disorder.
According to the probable cause affidavit, the medical examiner told police that the victim had been admitted to the hospital on July 8, suffering from a "closed head injury of suspicious origins."
She died in her hospital room five days after mysteriously suffering "massive injuries similar to those found on traffic crash victims."
An autopsy performed by the medical examiner showed that Jasmine suffered two fractured ribs and that her liver had been "ripped open due to blunt force trauma."
"[The doctor] described the liver as obliterated and that the trauma caused [Jasmine] to die within minutes of receiving the injury," police wrote in the affidavit.
At the time of the injury, Jasmine was confined to the bed in her hospital room and was accompanied by only her mother, Bortle, and her grandmother, Rose Mathis. Surveillance footage in the hospital hallway showed Bortle leaving her daughter's room and "shaking and flexing her hand as if in pain" moments before hospital staff discovered her daughter was unconscious.
Police said Bortle initially lied to investigators, claiming she had no idea what could have caused her daughter's injuries. She eventually admitted to striking the girl with a hospital table in a rage.
"Bortle told me that while in the hospital room, Jasmine began to cuss at her because she was mad about color Crayons. Bortle became angry with Jasmine because she was cussing and the door to the room was opened," the affidavit states. "Bortle slammed the hospital table into Jasmine's abdomen and then leaned onto the table with her weight."
Bortle said she continued to lean into the table even after her daughter said she was in pain and "acknowledged the responsibility for causing the injury that killed Jasmine."
The victim's grandmother told investigators a similar story that "s— hit the fan" just before the incident. The grandmother said Bortles initially moved the hospital table to Jasmine so she could color, but the girl was soon "cussing" and "throwing and breaking Crayons," leading to Bortle's violent outburst.
Investigators ultimately determined that Bortle leaned on the table with all of her weight for so long that she "ground the table into Jasmine's liver, which caused the 'obliteration'" the doctor described.
In testifying in her defense, Bortle told jurors it was an accident. She did not intend to harm her daughter, the Pensacola News Journal reported.
In her instructions to jurors, Judge Noble wrote that if the evidence did not convince them Bortle had committed manslaughter, they could consider whether there was evidence of a lesser crime, such as battery. To convict her of manslaughter, the jury would have had to find true that "Bortle intentionally committed an act or acts that caused the death of Jasmine Singletary."
But to find her guilty of battery, jurors needed only to decide that "Bortle actually and intentionally touched or struck Jasmine Singletary against her will."
On the child abuse charge, jurors needed to find that Bortle "willfully abused" her daughter "by committing an intentional act that could reasonably be expected to result in physical injury."
The aggravated abuse charge would have required the jury to find that the abuse "caused great bodily harm, permanent disability, or permanent disfigurement" to Jasmine.
Have a tip we should know? [email protected]