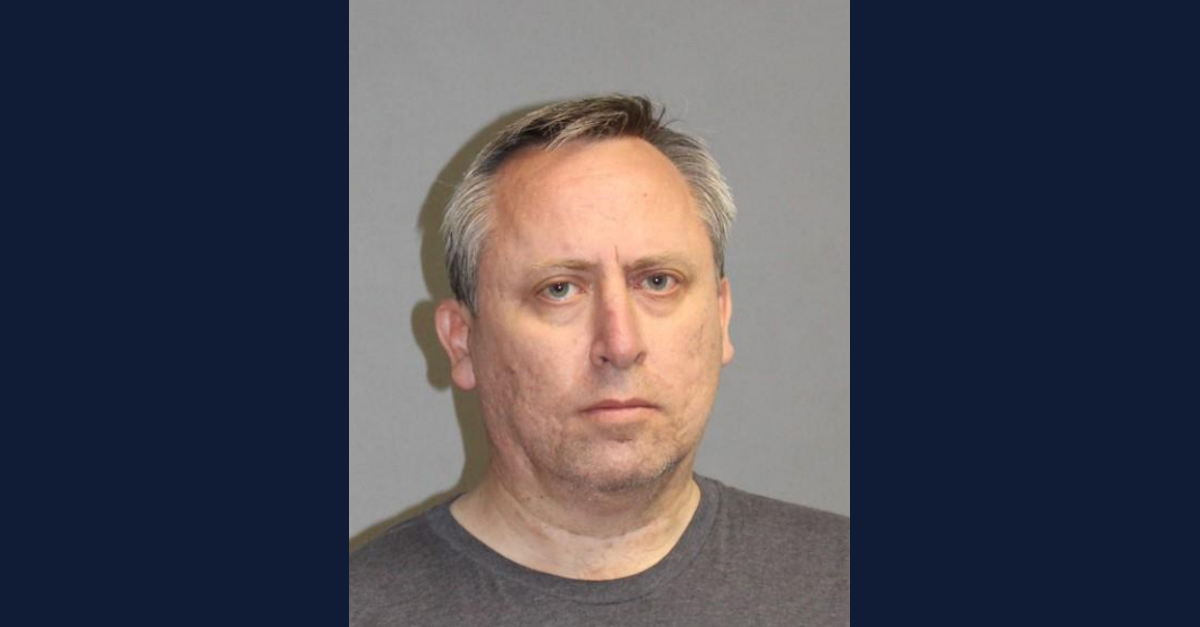 Stephen Bates appears in a booking photo in March 2022. (Nashua Police Department)
A now-former Baptist pastor was sentenced to well over a decade in a New Hampshire prison on Thursday after pleading guilty to charges related to child sexual abuse materials.
Stephen Bates, 48, pleaded guilty to one count of the manufacture of child sexual abuse images and 10 counts of possession of child sexual abuse images. He was arrested in March 2022 on one count of possession of such images. Over time, he was indicted on 12 separate counts and faced a combined 240 years in prison.
In exchange for his plea, Bates was sentenced to 10 to 23 years behind bars for the manufacturing charge. He received a sentence of seven-and-a-half to 15 years behind bars for the possession charges.
New Hampshire Superior Court Judge Jacalyn Colburn said her first inclination was to reject the agreement, according to a courtroom report by Manchester-based ABC affiliate WMUR.
Instead, the court begrudgingly accepted the deal – and turned the defendant's professed words of contrition against him.
"You used the word 'horrified,' and that's an excellent word because these were horrific crimes, and you should be horrified," the judge said. "You should be horrified. You're a very intelligent man. You have the support of a family and a lot of people in your community, and you abused that trust and support."
The investigation began in August 2016 after the National Center for Missing and Exploited Children sent the Nashua Police Department a tip that child pornography had been accessed and uploaded via Skype on an electronic device using an IP address associated with the Bible Baptist Church – the same place where Bates worked and tended to his flock.
When first confronted with allegations by NPD detectives, Bates lied about his criminal habits.
Additional NCMEC tips were received again in 2017. Police say they investigated each of those tips but could not gather enough evidence to support criminal charges – at least for a while. Then, another year passed with little progress being made.
Slowly, law enforcement's luck began to change.
In 2019, Homeland Security Investigations in Denver, Colorado, targeted a producer and distributor of child pornography. The suspect at the center of that investigation had shared child sexual abuse materials via social media with an unidentified person whose IP address was, yet again, associated with the Bible Baptist Church in Nashua.
In 2020, The Tallahassee Police Department in Florida launched its investigation of internet-based child pornography publishers. During their investigation, they found a publisher of child sexual abuse images using an IP address associated with Bates' church.
In 2021, HSI agents in Washington state were investigating the sexual exploitation of a child. In that case, the suspect had communicated with someone on social media about their shared interest in having sex with children. Once again, that unknown individual's IP address was associated with the church where Bates preached.
In a press release, police said the defendant was always a "person of interest" in each of their earlier investigations but said there just "wasn't sufficient evidence to charge him with any crimes."
During the hearing, prosecutors said Bates was finally found out when a detective posed as a young girl and targeted him directly. A search warrant later determined that the defendant had pretended to be a minor girl to trick a young boy into taking and sending him pictures.
According to the NPD, the defendant had over 40,000 such images in his possession, WMUR reported.
"I am deeply sorry to the other individual and to all those I may have harmed," Bates said at his sentencing hearing.
Have a tip we should know? [email protected]