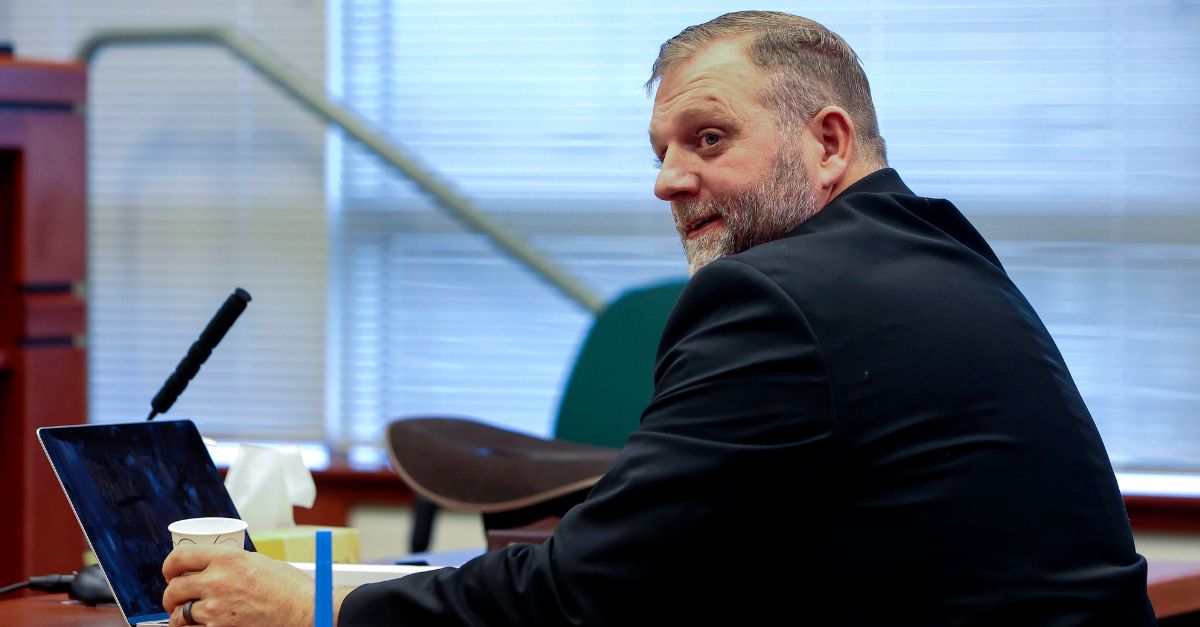 Ammon Bundy glances toward the prosecution table during a pause in his trial to clarify a line of questioning with the jury dismissed in Ada County Magistrate Judge Kim Dale's courtroom on March 15, 2022, in Boise, Idaho. (Darin Oswald/Idaho Statesman via AP, File)
The militant, anti-government, right-wing provocateur Ammon Bundy was arrested — again — this time on an outstanding warrant for contempt charges he faced after failing to attend trial proceedings for a defamation lawsuit filed against him by St. Luke's Health System.
Bundy was arrested by the Gem County Sheriff's Office on Friday night while attending his son's football fundraiser at Emmett High School. A warrant had been outstanding since April when a judge in Ada County, Idaho found him in contempt of court for boycotting the civil trial.
Idaho jurors sided with St. Luke's in the civil case and awarded the state's largest health network provider $52.5 million for damages they said Bundy inflicted on the hospital, staff, patients and even taxpayers after he organized angry protests stemming from the false claim that the hospital had "medically kidnapped" the 10-month-old grandchild of his friend and associate, Diego Rodriguez. Rodriguez was also named in the complaint and found liable for damages because he also falsely suggested children were stolen from the hospital and passed off to international child sex traffickers.
In truth, the child known as "Baby Cyrus" was determined to be malnourished and returned to his family within a week.
On Bundy's order, armed protests were mobilized among adherents of his far-right group, the People's Rights Network, and the situation at the hospital quickly spiraled into conspiracy theory-fueled disorder. The hospital was even forced to go into lockdown. Bundy was eventually arrested for trespassing while at the Idaho hospital in March 2022, but not before he and the protests he inspired there caused emergency services to be diverted and patients to be turned away. Hospital staff members were accused of participating in a global child sex trafficking ring and had their personal information revealed online.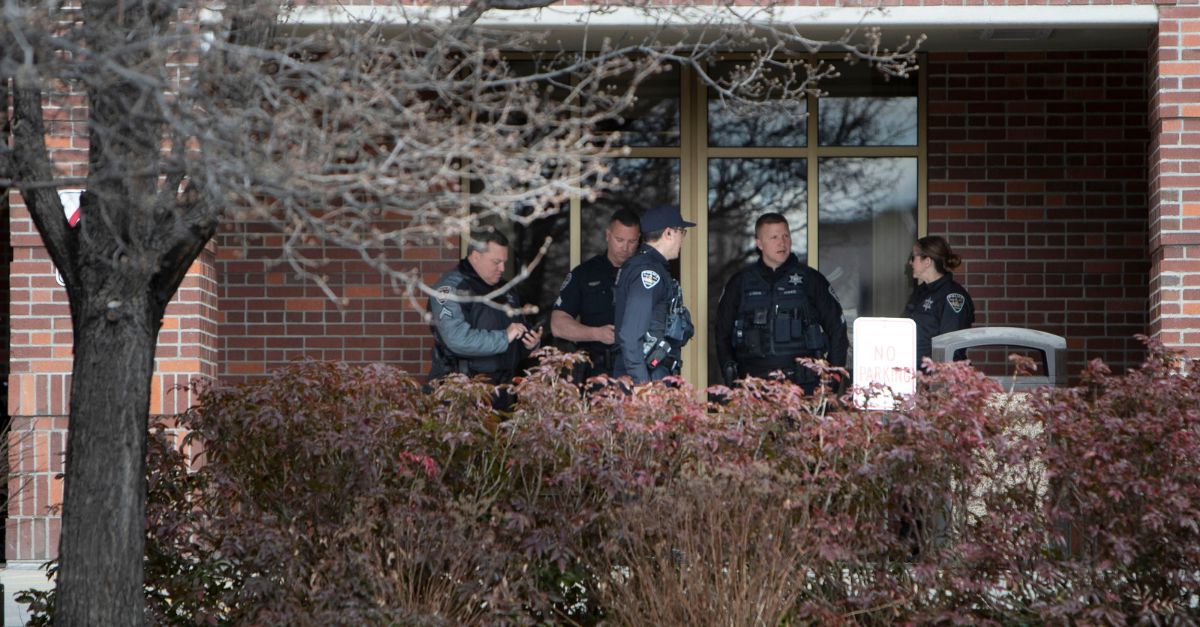 Boise police stand between the doors leading into St. Luke's Boise Medical Center and protesters outside, Tuesday, March 15, 2022, in Boise, Idaho. The hospital went on lockdown for about an hour Tuesday after far-right activist Ammon Bundy urged supporters to go the facility in protest of a child protection case involving one of his family friends. (Darin Oswald/Idaho Statesman via AP)
The Gem County Sheriff's Office told Law&Crime Monday morning that a booking photo was not able to be taken immediately upon Bundy's arrest. It is unclear if one was taken later since he was held over most of the weekend.
"The Gem County's Sheriff's Office does not have information matching this request," Tanya Vaughn, the records custodian, told Law&Crime on Monday.
The Idaho Statesman reported Monday that Bundy was released from jail on Sunday at 1:30 a.m. after posting $10,000 bond.
Notably, Erik Stidham, a lawyer who represented St. Luke's Health System in the defamation case issued a statement on Saturday saying, in effect, the only thing keeping Bundy in jail through the weekend was Bundy himself.
"Mr. Bundy could easily get out of jail now by paying an extremely low bond," Stidham told The Daily Beast. "He is not paying the bond because he wants to use his arrest and time in jail to further a false narrative that he is some kind of martyr."
In a call with Law&Crime on Monday, Stidham said that Bundy "is just continuing his grift, he's sending out propaganda regarding the underlying trial which was resolved by a jury two weeks ago."
"Mr. Bundy is continuing to make these false statements, we think, to continue to gain support for what he's represented will be some kind of standoff to inhibit or hinder collections" of the injury award, Stidham added.
Bundy is expected to be arraigned in Ada County within the next two weeks, though a date has not yet been set.
"We think Mr. Bundy is continuing to put out false information despite the judgment and St. Luke's is committed to collecting the judgment against him. He should be accountable for the harassment and intimidation of witnesses. That can't be allowed in our system and Mr. Bundy is not above the law," Stidham said.
As Stidham noted, Bundy has boasted of his exploits since his arrest warrant was issued.
"I just want to stomp out a rumor going around that because of the arrest warrant I've been holed up in my house," Bundy said. "Several media said that… Eric Stidham said to the jury that I was afraid and that I was hiding in my house. Anyway, I just wanted to point out since I had the arrest warrant, I've been in Mexico, the U.S., Idaho, of course, all over Idaho, I'll talk about that in a sec, Washington, Oregon, California, Nevada and Utah. Of course, I did mention down in Mexico. And Idaho in fact, I've been all over Idaho. I haven't' been up north as much, but I've been all over Idaho including on vacation out in eastern Idaho for nearly a week. So, this whole idea that I'm just holed up in my house hiding behind the window sill with an AK-47 is just another great lie from our wonderful media. I just wanted to dispel that," he said in an Aug. 10 video post on Twitter.
Bundy was arrested the next day and removed from the high school fundraiser in handcuffs to much booing, a video posted on Bundy's social media account shows.
Supporters rallied quickly after someone using his Twitter account urged followers to appear at the jail to support Bundy — a "wonderful man" —and complain about his "harassment" by local police.
Ammon was arrested this evening at his son's football banquet.
Gather at Gem County Sheriff's office in Emmett if you can!
We believe he is at the Gem County Jail. Please, if you can't make it, start making calls complaining about this continued harassment of such a wonderful… pic.twitter.com/opJMrNh6MY

— Ammon Bundy (@RealABundy) August 12, 2023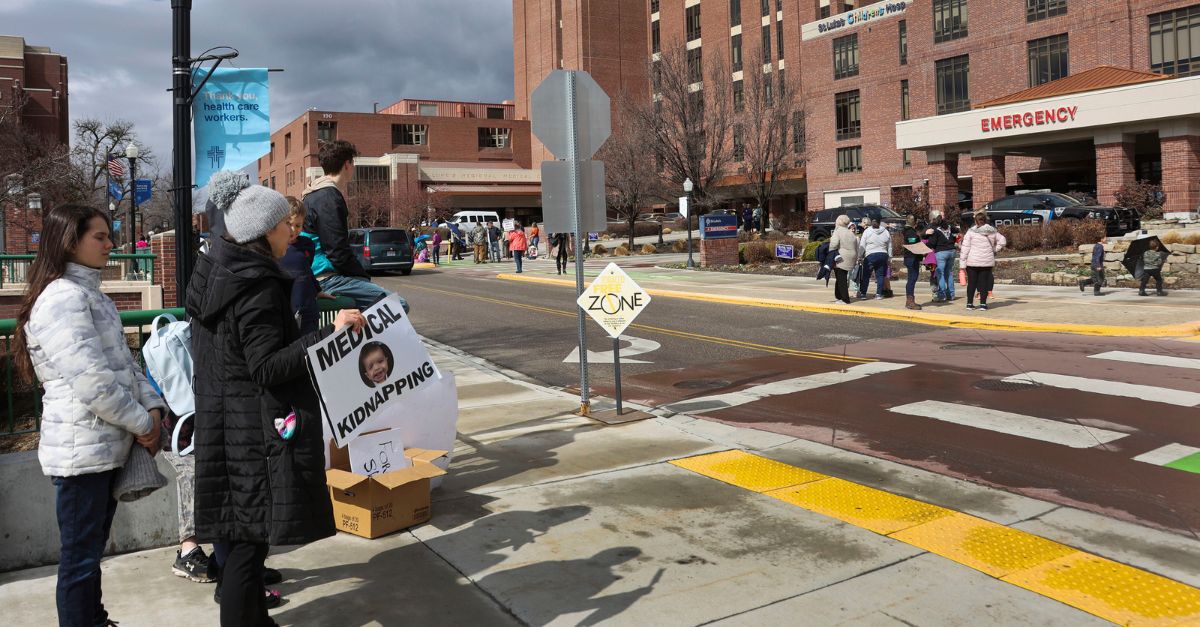 Protesters gather outside of St. Luke's Boise Medical Center in downtown Boise, Idaho, Tuesday, March 15, 2022, holding signs and shouting at Boise police who responded as the medical facility went into a security lockdown. The hospital went on lockdown for about an hour Tuesday after far-right activist Ammon Bundy urged supporters to go the facility in protest of a child protection case involving one of his family friends. (Darin Oswald/Idaho Statesman via AP)
Chris Roth, the CEO of St. Luke's Health System told NPR that Bundy "uses other people to carry out his message and when he needs to be held to account or defend himself, he retreats."
Bundy's penchant for arms and his anti-law-enforcement attitude appear to be what prompted Gem County Sheriff's to go about arresting the 47-year-old at the fundraiser instead of at a private residence.
One Gem County sheriff, Donnie Wunder, told Boise State Public Radio last week that law enforcement were apprehensive about sending officers to Bundy's house to service legal notices because they "didn't want to risk harm" to deputies "over a civil issue."
VICE reported that Wunder was reportedly harassed this weekend.
Just moments ago, Idaho PRN leader Garth Gaylord filmed himself harassing Gem Co. Sheriff Wunder at his home at night over the arrest of PRN founder Ammon Bundy.#IDpol pic.twitter.com/SY4elI0NKt

— Devin Burghart (@dburghart) August 13, 2023
Bundy's father, Cliven Bundy, scored a win against the Justice Department in 2020 after a federal appeals court denied an attempt by Justice Department prosecutors to retry Cliven for his role in an armed stand off with federal agents in 2014. That case ended in mistrial after prosecutors failed to disclose evidence about surveillance cameras installed near Bundy's home. The Justice Department said those mistakes were unintentional but the appeals court ruling barred prosecutors from refiling criminal charges in the case.
A new complaint against Ammon Bundy was also filed on Friday by St. Luke's as they attempt to secure the damages awarded at trial earlier this year. St. Luke's claims Bundy has been transferring his wealth and other assets to avoid paying the award, Boise NBC affiliate KTVB reported.
Have a tip we should know? [email protected]