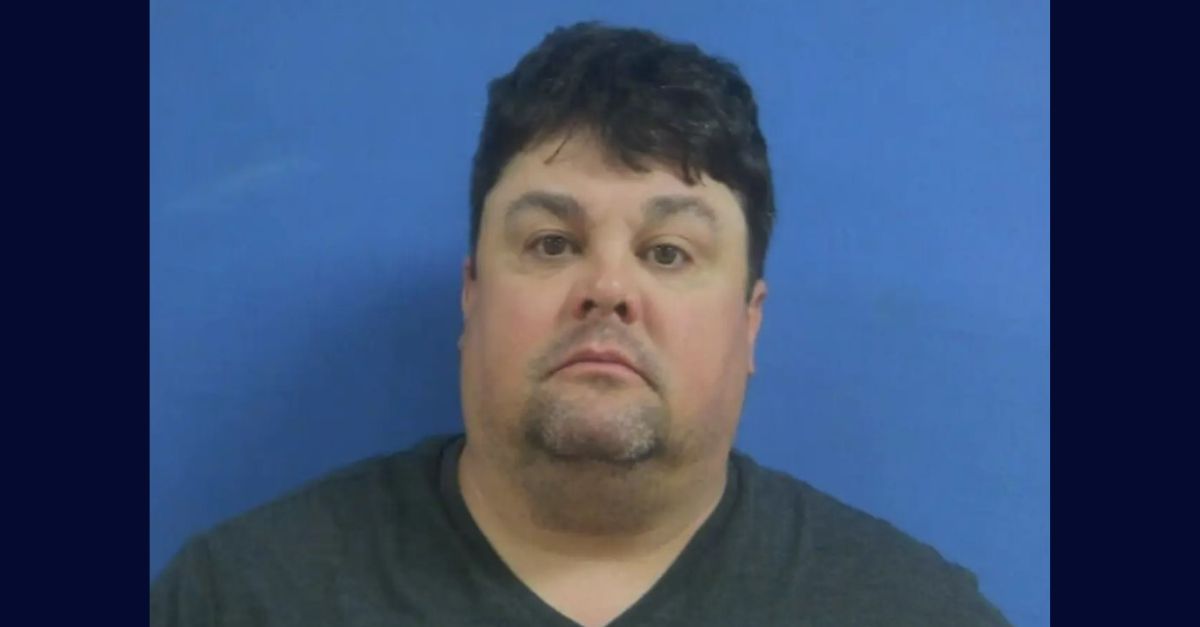 Landon Mathis booking photo Dickson County Jail
Burns, Tennessee, mayor Landon Mathis, once hailed for saving the life of his predecessor with CPR after the man suffered a near-fatal heart attack, is now facing charges of domestic assault after police say he body-slammed his girlfriend's son in a violent spat over $40 of yard work.
Mathis, 45, was first arrested by the Dickson County Sheriff's Office on Sept. 24 after complaints were made of a domestic disturbance at a residence in Tennessee, according to local NBC affiliate WSMV.
According to an arrest affidavit obtained by Law&Crime, the unidentified boy told law enforcement when they arrived that Sunday afternoon that the altercation began when he asked Mathis to pay him after weed-eating the yard. He said Mathis agreed to pay him $40 for the work.
But when the work was done and Mathis wouldn't pony up, the victim alleged Mathis lunged at him while he was talking to his mother — Mathis' girlfriend —about the ordeal. Standing in the living room, the Burns mayor stalked across to his girlfriend's son who stood by a sofa and allegedly grabbed him by the shirt collar, the affidavit states.
Pushing him down onto the couch, records show the victim told police that Mathis "left marks on the right side of his neck" and that when he had tried to get away from the 5'11, 250-pound man, he couldn't.
"KP [the victim] stated Landon stepped on his feet, so KP pushed him away. KP stated Landon grabbed him and body slammed him, getting on top of him in some kind of neck hold and began to twist and push on his nose causing pain," Dickson County police records state.
The victim said his mother attempted to "break up" the fight without success.
Police did not provide information on the victim's age.
It is unclear if Mathis had retained counsel and he could not be reached by Law&Crime for comment.
According to The Tennessean, Mathis saved the life of Burns' prior mayor Jeff Bishop after Bishop suffered a massive heart attack in August 2016.
The men, both with professional flooring experience prior to getting into local politics, were working a flooring job together when Bishop had the crisis.
Out of office and assisting Mathis on a flooring job when another worker didn't show up to the job site, Bishop told the local news outlet he had some prior health issues he had ignored leading up to that day.
Bishop ended up falling "face first on the driveway" during the heart attack. Mathis found him in a "little puddle of blood" and performed CPR as a house cleaner emerged from the site to help with chest compressions.
Have a tip we should know? [email protected]