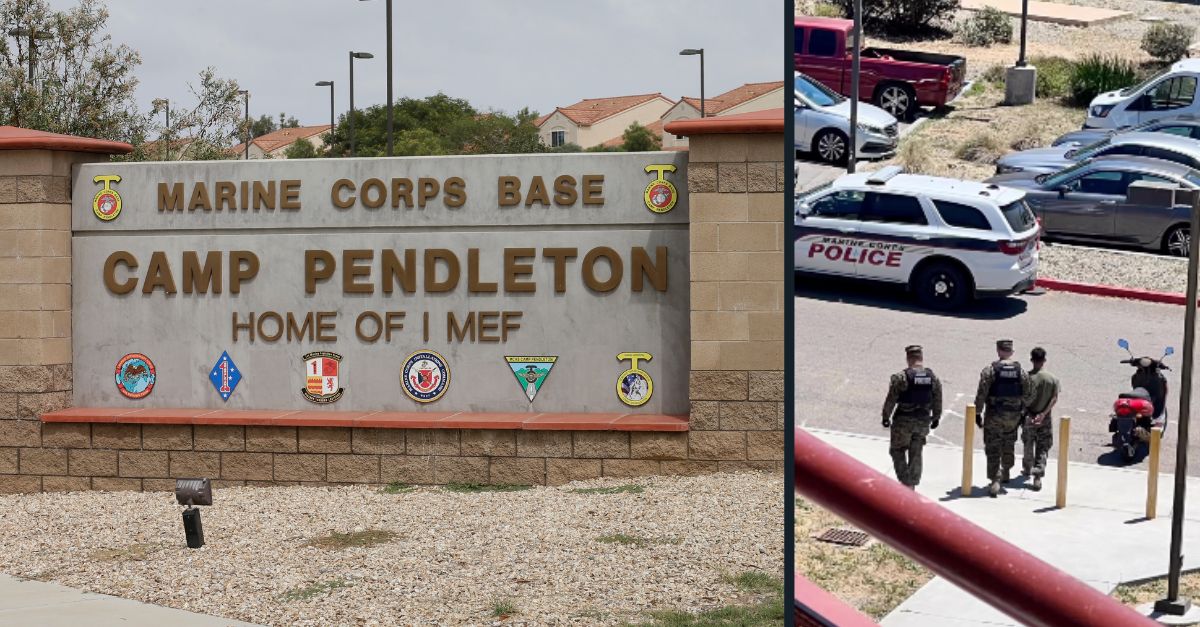 Left: FILE – The entrance to Marine Corps base Camp Pendleton is seen on Sept. 22, 2015, in Oceanside, Calif. A Camp Pendleton Marine was detained for questioning after military police found a 14-year-old girl on base June 28, 2023. The girl's grandmother in San Diego reported her missing June 13. (AP Photo/Gregory Bull, File)
Right: screengrab via Instagram (@notinregz)
A marine at Camp Pendleton has reportedly been charged with sexual assault of a minor months after a 14-year-old girl was found in his barracks.
As Law&Crime previously reported, a teenage girl who allegedly has learning disabilities was found on June 28 in the living quarters of the southern California military base. The girl's grandmother had reported her missing 15 days earlier. A Marine was taken into custody at the time the girl was found.
Now, according to a report from The Associated Press, the Marine has been charged with sexual assault of a minor. The Marine has also reportedly been charged with violating liberty restriction from an earlier, unrelated case.
A preliminary hearing has been scheduled for Aug. 17, when authorities are expected to decide whether the Marine will face a court-martial, the AP reported, citing a statement from a Marine spokesperson.
Neither the girl nor the Marine have been publicly identified.
More from Law&Crime: Former Marine who sexually abused and 'advertised' child, 3, will spend decades behind bars for 'horrific and depraved' crimes
A video posted to Instagram by an account that purportedly posts content from military personnel appeared to show a man being led in handcuffs to a police car.
The girl's grandmother told the San Diego Sheriff's Department that her granddaughter had run away from home on Friday, June 9. The girl had previously run away from home but returned quickly, the grandmother told sheriffs at the time.
Casaundra Perez, who says she is the girl's aunt, spoke to reporters on Aug. 7, demanding to know why no arrests had been made, local NBC affiliate KNSD reported.
"She was raped by a Marine at Camp Pendleton," Perez said. She also said that her niece is the victim of sex trafficking and that she refuses to allow the matter to be "swept under the rug."
Perez had previously posted multiple videos on TikTok about the alleged incident.
"She had been sold to a soldier for sex," Perez says in one video posted in July. "The military is trying to cover it up."
In one video, Perez thanked the service member who released logbook pages that appear to indicate the girl's presence in the barracks and noted that the teen is Native American. Perez asked for referrals to lawyers who have experience representing indigenous clients. She said the military is trying to "cover up" the details, but did not provide any specifics.
A spokesperson for the U.S. Marines did not immediately respond to Law&Crime's request for information.
Have a tip we should know? [email protected]