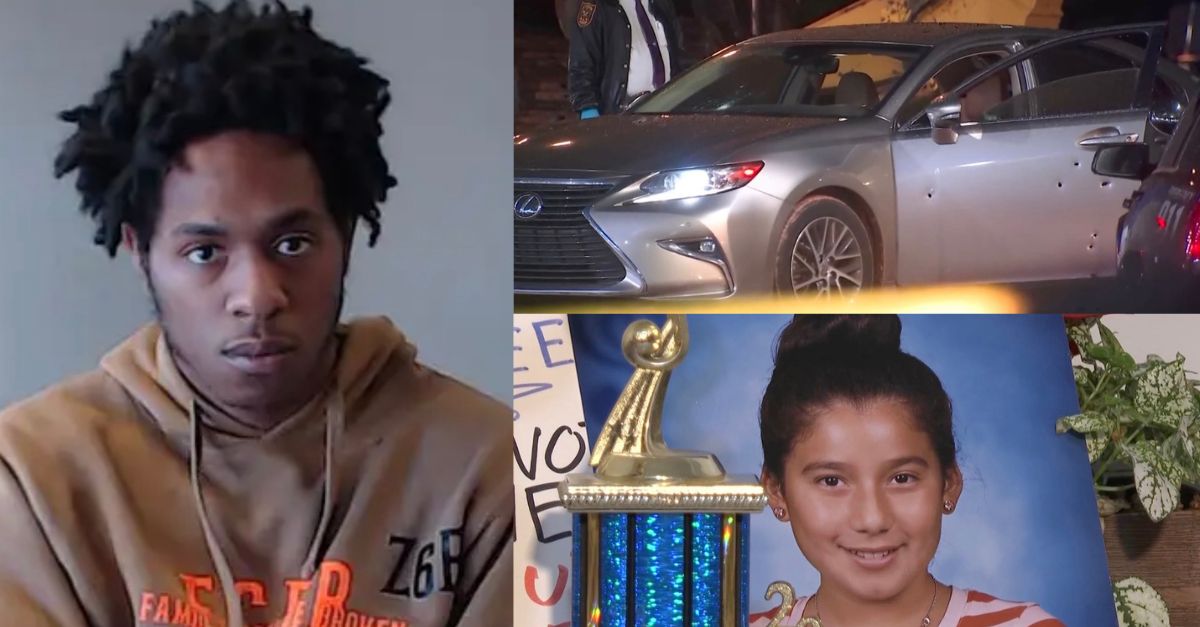 Nakia Dorsey (DeKalb County Sheriff's Office) Jayne Salazar-Chavez and the car she and Brandon Wilson were in at the time of the shooting (11Alive screenshots)
A 24-year-old man in Georgia will spend the rest of his life behind bars for shooting and killing a 17-year-old high school student with whom he was romantically involved and wounding her 24-yer-old boyfriend, a member of the U.S. Army who surprised his girlfriend by coming home over Veterans Day weekend last year.
A DeKalb County jury on Monday found Nakia Dorsey guilty on one count each of felony murder and possession of a firearm in the commission of a felony, and two counts of aggravated assault, in the slaying of Jayne Salazar-Chavez and wounding of Brandon Wilson, authorities announced. Following the verdict, Superior Court Judge LaTisha Dear Jackson, who presided over the trial, sentenced Dorsey to a life sentence plus 25 years, with the sentences to run consecutively.
Salazar-Chavez was a student and homecoming queen at Towers High School in Decatur, which is located about 10 miles east of Atlanta, while Wilson was a soldier in the U.S. Army who was back in town for Veterans Day weekend when the tragic shooting took place.
According to a press release from the DeKalb County District Attorney's Office, Wilson on Nov. 10, 2022, went to Salazar-Chavez's home to surprise her. However, when she got into the car with him, she was "withdrawn," causing Wilson to become suspicious, prosecutors said. He then asked if she was seeing someone else and "demanded" that she hand over her cellphone.
Going through Salazar-Chavez's phone, Wilson confronted her about a "suggestive text" on the phone sent from an unidentified number. Wilson then called the number and a person on the other end picked up the call, but hung up quickly without saying anything, per the release.
"A short time later, a call came in on Salazar-Chavez's phone from the same number and Wilson answered," prosecutors wrote. "The caller, later identified as Defendant Dorsey, argued with Wilson about which of them was Salazer-Chavez's boyfriend."
Following the contentious call, Dorsey "demanded" that Salazar-Chavez give his personal possessions back to him.
Salazar-Chavez and Wilson then left the house together in Wilson's car, but Salazar-Chavez would never make it back into her home.
"When they returned around 11:00 p.m., Wilson noticed a red laser shining onto his face," the release states. "He saw a man in black clothing walk up to the car pointing a handgun with a laser and open fire. Wilson turned the car around to leave and the shooter continued to unload into the vehicle. In all, 20 bullets pierced the body of the car. Wilson drove to a gas station on Glenwood Road and called 911."
When the melee ended, Wilson had suffered a single non-fatal gunshot wound to the leg, but Salazar-Chavez was struck in her torso and her arm and died from her injuries shortly after.
An anonymous tip provided to authorities in the days after the shooting led to Dorsey becoming the main suspect in the shooting. Messages from his social media accounts confirmed that he was the person with whom Salazar-Chavez had been texting. Cellphone location data also showed that Dorsey was at Salazar-Chavez's home just prior to the shooting.
A few days later, Dorsey was located at an apartment complex near the location of the shooting and taken into custody.
Have a tip we should know? [email protected]