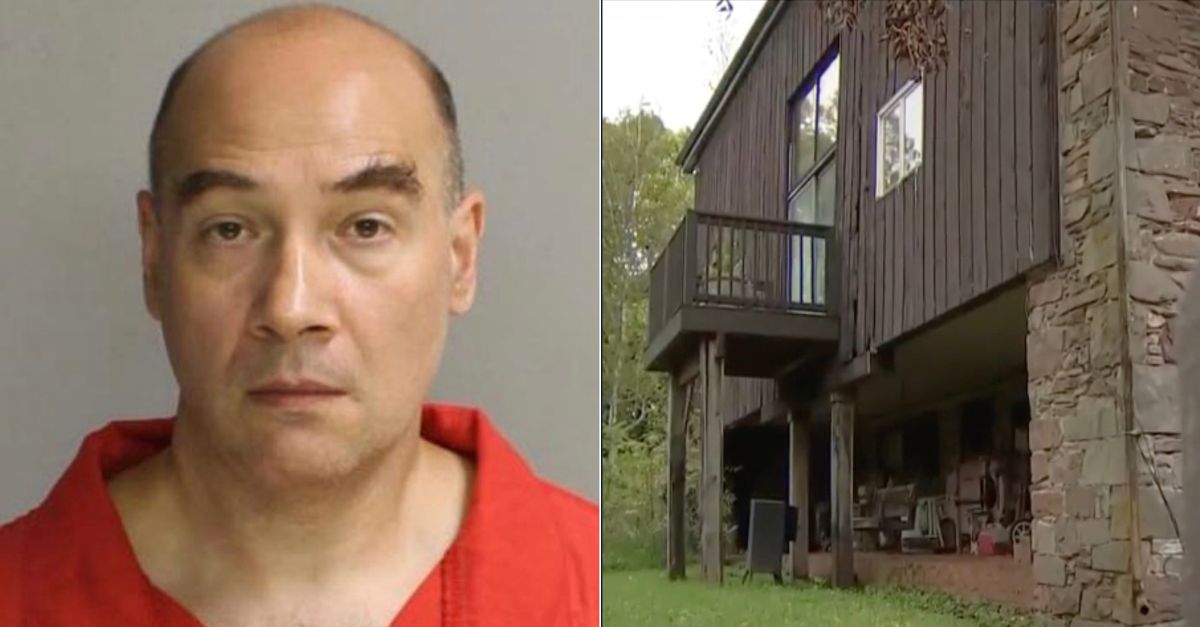 Aaron Deshong (MCDA) and the home where he allegedly killed his mother and brother (YouTube/WCAU screenshot)
A 49-year-old man in Pennsylvania is facing a possible lifetime behind bars for allegedly killing his 53-year-old brother and 74-year-old mother, fatally shooting them inside of the home he shared with the latter victim. Aaron Deshong was taken into custody on Sunday and charged with one count of first-degree murder, one count of third-degree murder, and one count of possessing an instrument of a crime in the slayings of Adam Deshong and Wanda Deshong, authorities announced.
According to a press release from the Montgomery County District Attorney's Office, troopers with the Pennsylvania State Police in Sippack at about 5:02 p.m. on Sept. 24 responded to an emergency call at a home located in the 700 block of Gravel Pike in Perkiomen Township, which is about 27 miles northwest of Philadelphia. Authorities said that an adult male — later identified as Deshong — had placed a call to an FBI Threat Assessment Center and "indicated that he may have hurt his family members."
Upon arriving at the scene, first responders found Deshong still on the phone with the FBI. He was immediately detained by troopers.
The remaining troopers made entry into the household where they found Aaron Deshong's mother and brother lying on the floor in the kitchen. Both had suffered what appeared to be fatal gunshot wounds and were pronounced dead on the scene. Investigators recovered a .38-caliber Smith & Wesson revolver from the home that was registered to Aaron Deshong in a downstairs basement bedroom closet. Police said the revolver had four spent shell casings in the cylinder as well as two live rounds.
Subsequent autopsies conducted by the Montgomery County Coroner's Office determined that Wanda Deshong's cause of death was a single gunshot wound to the head while Adam Deshong's cause of death was "multiple gunshot wounds." The manner of death in both cases was homicide.
Additional details about the incident were revealed in court documents obtained by local newspaper The Mercury.
According to the report, while Aaron Deshong was on the phone with the FBI, he told the agent that his mother and brother could not come to the phone at that time.
"Deshong related he has two shotguns, two rifles and a pistol. The pistol is on him, and the other guns are locked away. Deshong related his brother and mother are there and alluded to the fact that he hurt them. Deshong related that his family members are in the kitchen and cannot come to the phone," the criminal complaint reportedly states. "Additionally, troopers were advised that Deshong's brother and mother were present and may be injured."
When asked if the two were unharmed, Aaron Deshong reportedly responded by repeatedly saying, "That's a good question." He also reportedly told the intake agent that "he has been living on the edge since his father's death, is not suicidal, and does not trust the local law enforcement officers."
The documents also reportedly state that the troopers found both victims lying in "large pools of blood which were found surrounding their heads."
Authorities have not revealed any information regarding a possible motive for the slayings.
Aaron Deshong is currently being held in the Montgomery County Correctional Facility without bond.
Have a tip we should know? [email protected]