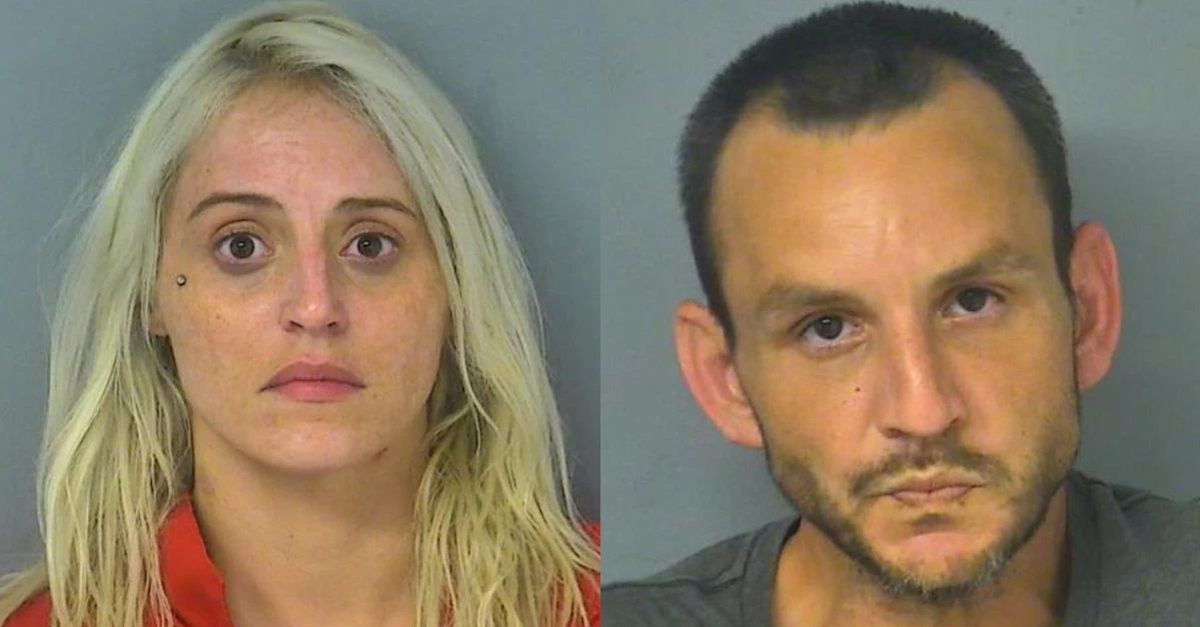 Anna E. Raines and Jesse A. Gunn
The parents of a 2-year-old girl in Virginia who died after ingesting a litany of drugs, including fentanyl and a veterinary tranquilizer, will spend more than a decade behind bars over the toddler's 2022 death. A York County Circuit Court Judge ordered Anna E. Raines and Jesse A. Gunn to each serve sentences of 11 years in a state correctional facility for their roles in the little girl's untimely death, court records reviewed by Law&Crime show.
Raines, 30, and Gunn, 38, both pleaded guilty last month to one count of voluntary manslaughter and child abuse — disregard for life. The court subsequently sentenced the parents to 10 years each on the manslaughter charge and five years each on the child abuse charge, with four of the five years suspended. The sentences are to be served consecutively, meaning one after the other, for a total of 11 years.
The duo had been facing felony homicide charges before they reached deals with prosecutors in the York County Commonwealth Attorney's Office.
In addition to prison, Raines and Gunn will also be required to serve 10 years of post-release supervision.
As previously reported by Law&Crime, deputies with the York-Poquoson Sheriff's Office at approximately 9:54 a.m. on July 7, 2022, responded to a residence located in the 100 block of Aberfeldy Way in Kiln Creek regarding an infant not breathing. After first responders arrived, Emergency Medical Services (EMS) personnel reached the residence and found the little girl unresponsive, authorities said. Despite life-saving measures, she was pronounced dead by medics on the scene at approximately 10 a.m.
Deputies initially took Raines and Gunn into custody based on the conditions in which the child was living, with first responders describing the home as being in "disarray." The parents and the victim lived in a room in the home of Raines' father, Timothy Lee Raines, a family medicine physician.
A medic on the scene told investigators that the toddler appeared to have been dead for some time as lividity, the settling of blood post-mortem, had already set in on the child's body. Additionally, one of the victim's arms was colder than the rest of the body and she had "crease lines" on her face. Authorities also noted there were piles of clothing, trash and unclean dishes as well as an uncleaned litter box that was overflowing with feces. Additionally, the victim's crib was littered with cigarette butts, loose change, and a pile of urine-soaked blankets.
Authorities later revealed that they recovered "multiple used syringes as well as a plastic bin with new syringes" from inside the bedroom, as well as capsules containing heroin, all of which were within the toddler's reach.
"It was particularly the area where the mother, the father and the baby were staying — in that one room," Maj. Ron Montgomery said following the arrests last year. "That was where the living conditions were really bad."
The couple was initially charged with felony child neglect, but those charges were upgraded following the receipt of an autopsy report that concluded the toddler died from drug and nicotine exposure, authorities said. The Office of the Chief Medical Examiner determined that the victim's cause of death was "acute combined fentanyl and Xylazine overdose in addition to nicotine exposure."
Xylazine is a veterinary tranquilizer that has increasingly been used as a cutting agent in heroin.
While authorities initially said there was "absolutely no reason to believe" that Timothy Lee Raines was culpable in his granddaughter's death, he was arrested a few weeks later and also charged with child abuse — disregard for life, records show. He is scheduled to appear in court for a status hearing on Dec. 5.
Have a tip we should know? [email protected]