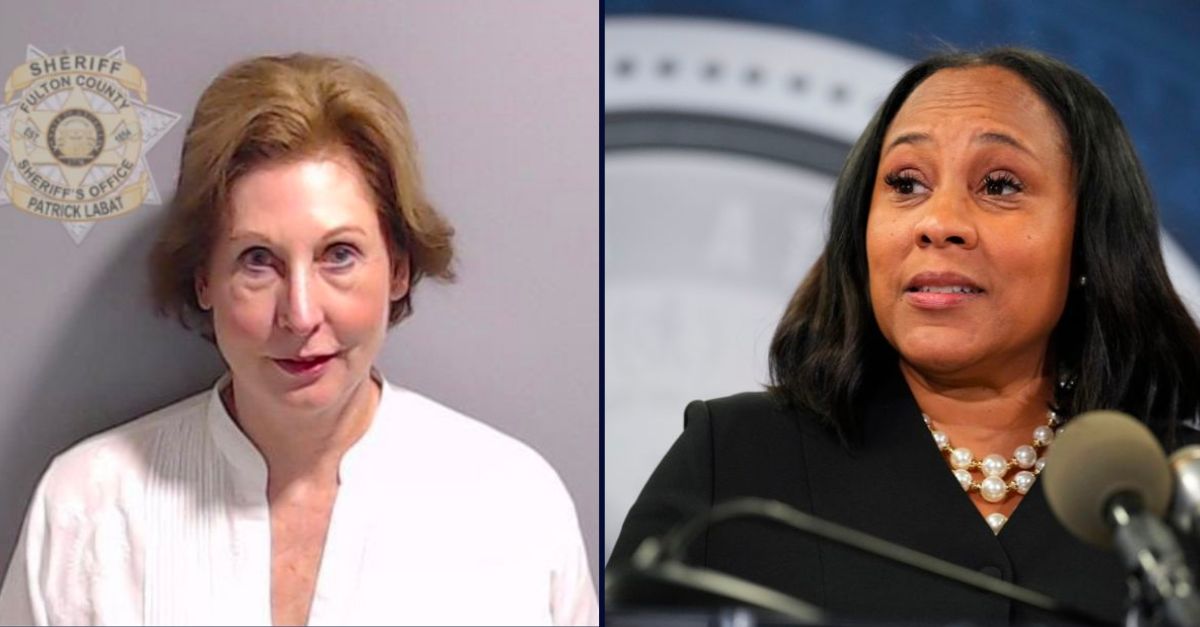 Left: Sidney Powell appears in a booking photo. (Fulton County Sheriff's Office) Right: Fulton County District Attorney Fani Willis speaks in the Fulton County Government Center during a news conference on Aug. 14, 2023, in Atlanta. (AP Photo/John Bazemore)
So-called "Kraken" lawyer Sidney Powell on Friday filed a pre-trial motion intended to short-circuit a major aspect of the wide-ranging Georgia racketeering (RICO) case against her in Fulton County.
In the four-page motion in limine, defense attorney Brian Rafferty asked Fulton County Superior Court Judge Scott McAfee to rule on the latest argument as "a pure question of law" and to stop certain allegations from ever reaching the jury in Powell's upcoming trial.
The upshot of such a ruling, if granted in the defense's favor, would effectively negate the state's case against the conservative lawyer.
Powell and "coup memo" co-author Kenneth Chesebro are slated to go on trial beginning Oct. 23. They both face charges over their efforts to overturn the results of the 2020 election. The two attorneys previously exercised their speedy trial right and will be tried separately from the other high-profile, pro-Donald Trump defendants.
Powell faces seven counts related to her alleged dealings with SullivanStrickler LLC, her alleged role in a conspiracy to commit election fraud by tampering with voting machines in Coffee County, and for allegedly violating Georgia's homegrown version of the Racketeer Influenced and Corrupt Organizations Act.
The basis of Friday's motion is the idea that elections officials in Coffee County gave authorization for their voting machines to be forensically imaged by parties affiliated with the Trump legal team "on January 7, 2021, and to conduct the follow-up testing of them later."
Powell's objections to the Coffee County issue have been lodged repeatedly in motions filed with, and hearings before, McAfee.
The defense denies Powell was involved in the Coffee County efforts at all, however, a motion to dismiss premised on that argument was denied by the court as a matter of procedure earlier this month.
In Coffee County, before and after the 2020 vote, officials there "expressed concerns to the state about the election equipment" and claimed they "had multiple problems with Dominion Voting Systems equipment in its election and wrote multiple letters to the Secretary of State seeking assistance," the previously-denied motion says.
Friday's motion references, without naming, authorizations made by former Coffee County elections supervisor Misty Hampton. In one letter discovered by the defense during the discovery process, Hampton purports to authorize the Coffee County election inspection process that formed the basis for multiple defendants' charges in the sprawling, 98-page, 41-count criminal indictment.
Hampton herself was also charged along with 18 co-defendants by Fulton County prosecutors.
"Coffee County officials' authority is plain on the face of multiple Georgia statutes and regulations," the motion in limine reads. "Coffee County had possession and control over the machines. Their authority is a question of law."
In a footnote, the defense says that if Coffee County officials legally could not authorize such access, the question of whether or not the defendants had actual knowledge of that deficiency should be left up to a jury.
But, the motion argues, the state has not cited any legal authority to dispute that Coffee County elections officials could give access to their own voting machines if they thought they were defective.
"County superintendents have the responsibility to make sure that voting devices are 'properly recording votes.' Election superintendents are authorized to adjust voting machines so that they are in good working order," the motion continues. "Where voting systems are inoperable or not working correctly, the custodian or superintendent is required to repair the voting system or replace the voting system."
The question of whether or not Coffee County elections officials legally had such authority over their voting machines is a "crucial" aspect of all six counts against Powell, the motion says.
More Law&Crime coverage: Georgia RICO judge signs off on DA's subpoena request for GOP Chair Ronna McDaniel and conspiracy theorist Alex Jones to testify in upcoming trial for 'Kraken' lawyer Sidney Powell and 'coup memo' attorney Kenneth Chesebro
She has pleaded not guilty to all the charges.
Have a tip we should know? [email protected]