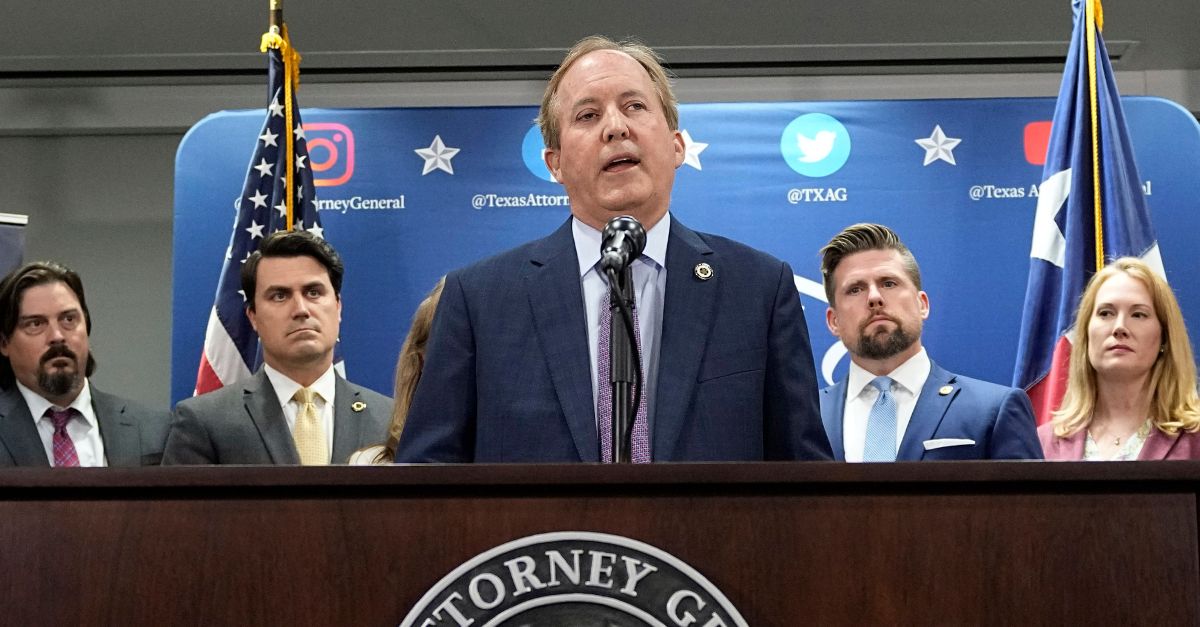 Texas state Attorney General Ken Paxton, center, makes a statement at his office in Austin, Texas, Friday, May 26, 2023. (AP Photo/Eric Gay)
The beleaguered attorney general of Texas says that the impeachment case against him should be dropped because his alleged wrongdoing took place before he was reelected last year.
Ken Paxton is currently facing impeachment by the Texas House of Representatives after years of alleged wrongdoing, including taking bribes, obstructing justice in a criminal case pending against him, issuing improper grand jury subpoenas, and violating state whistleblower laws by firing employees who reported his misconduct. He is also accused of colluding with a real estate investor to employ a woman with whom Paxton had an extramarital affair in exchange for Paxton allegedly providing the investor with an FBI file related to an investigation of him. That investor, wealthy Paxton donor Nate Paul, was indicted in June for federal financial crimes.
The articles of impeachment were filed in May. Paxton has been suspended pending trial.
In a filing Monday, Paxton said all but one of the articles should be dropped because the impeachment itself contravenes what the Lone Star State voters want.
"Impeachment invokes the Legislature's awesome power to override the will of the people," his motion begins, before drawing on a 135-year-old treatise from an 1891 Supreme Court justice describing impeachment as "the heaviest piece of artillery in the Congressional arsenal."
Paxton, a Republican who was reelected in November to a third term as the top lawyer in the most gun-heavy state in the nation, continued with the comparisons to weaponry, likening impeachment to "a hundred-ton gun, which needs complex machinery to bring it into position, an enormous charge of powder to fire it, and a large mark to aim at."
That "large mark," Paxton says, is him.
"Unfortunately, in the impeachment of Attorney General Paxton, 'the great State of Texas is pointing her heaviest artillery at something that does not even reach the magnitude of a snowbird,'" the filing says.
Paxton's argument focused on the state's so-called "prior-term doctrine," which, according to the motion, prohibits impeachment "based solely on House allegations that occurred before an elected official's most recent election when they were publicly known at that time."
In this case, the filing says, the people of the Lone Star State knew about the allegations against Paxton — and voted for him anyway.
"[T]hroughout the 2022 election season, both in the primary and general election, voters were subject to tens of millions of dollars in broadcast advertisements, dozens of newspaper articles, and countless speeches or appearances accusing Attorney General Paxton of the alleged misconduct underlying the Articles of Impeachment," the motion to dismiss says. "In November 2022, Texas voters rendered their judgment by reelecting Attorney General Paxton to serve a third consecutive term. As a matter of both common sense and Texas law, that should be the end of the matter."
The motion to dismiss frames the impeachment effort by the Republican-majority state House of Representatives as an act of revenge and political gamesmanship.
"Every single Article has been the subject of a news story or political hit piece that AG Paxton's opponents have spent years circulating for their own gain," the motion says.
Paxton argues that the prior-term doctrine is "firmly rooted in Texas law, Texas Supreme Court decisions, and Texas impeachment precedents," and that Texas voters — who voted for Paxton despite the public allegations — should "have the last word."
The prior-term doctrine, he argues, "bars the Attorney General's removal," while dismissing the articles of impeachment "preserves the people's will and prevents political abuse of the legislation's impeachment power."
According to Paxton, counts one through seven and nine through 20 should be dismissed under the prior-term doctrine. As for the eighth count, Paxton acknowledged that it is "the only Article anchored in post-election facts," but that "it fails for separate reasons to be addressed elsewhere."
Paxton's 46-page motion includes a 33-page exhibit described as "a chronological list of the published articles and news stories reflecting the highly publicized nature of the allegations underlying each" of the House's articles of impeachment. The list cites news articles and opinion pieces dating back to January 2015 and includes titles such as "Questions loom in Paxton ethics case," "Paxton dragging down state," and "Paxton has no shame."
"This list is not meant to be exhaustive," the filing notes.
Paxton's filing is the latest move in what has already been a contentious impeachment process. In July, Lt. Gov. Dan Patrick issued a gag order to everyone involved in the matter, warning participants to stop making inflammatory statements in public.
In June, state senators — who will ultimately decide Paxton's fate — ruled that Paxton's wife, state Sen. Angela Paxton, must be present for the impeachment proceedings but will be barred from deliberating and voting due to her conflict of interest.
Read Paxton's filing, below.
Have a tip we should know? [email protected]