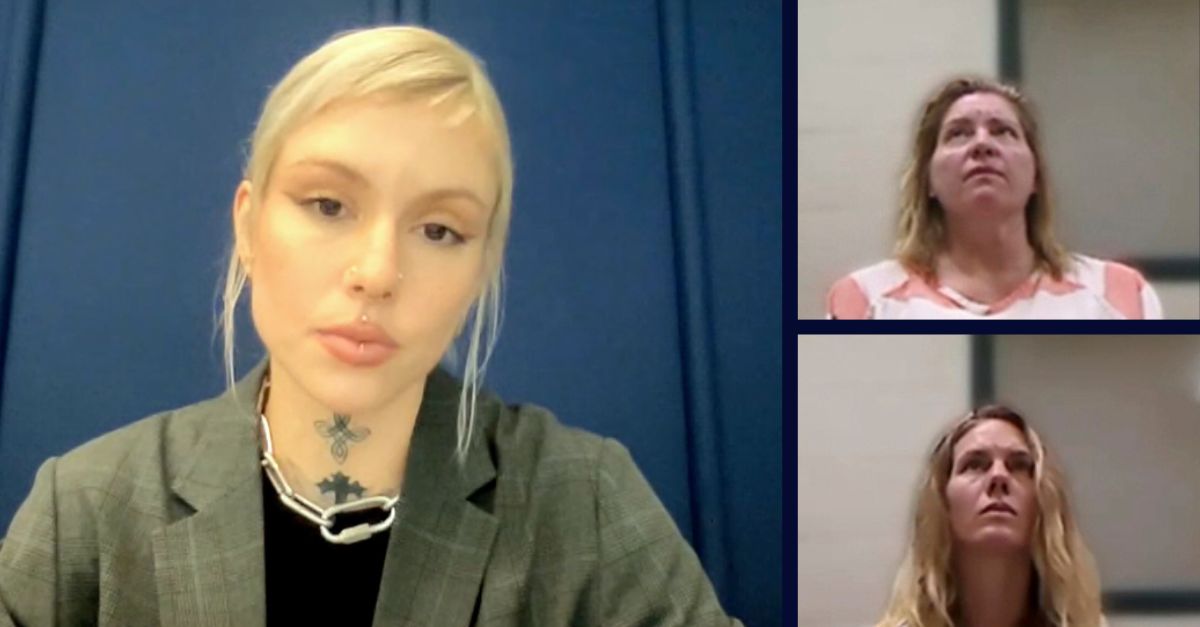 Left: Jessi Hildebrandt, niece of Jodi Hildebrandt, speaks with Law&Crime about abuse allegations from their childhood (via Law&Crime Network). Upper right: Jodi Hildebrandt is seen during a virtual court appearance, Sept. 8, 2023, in St. George, Utah. (Utah State Courts via AP). Lower right: This image shows Ruby Franke, during a virtual court appearance, Friday, Sept. 8, 2023 in St. George, Utah. (Utah State Courts via AP)
An estranged relative of Jodi Hildebrandt is speaking out about multiple child abuse allegations, as the former therapist sits behind bars in Utah.
Jessi Hildebrandt, Jodi Hildebrandt's niece who uses they/them pronouns, says their aunt knew exactly what she was doing when she allegedly used extreme therapy techniques on them when they were a teenager. Jessi Hildebrandt says the alleged abuse dates back to around 2010, before Ruby Franke was a part of Jodi Hildebrandt's counseling services.
Ruby Franke, 41, started the YouTube channel "8 Passengers" in 2015 with her husband. In her videos, she featured the everyday lives of her six children, while giving advice about parenting, homeschooling, and marriage. At its height, the channel amassed more than 2.2 million subscribers.
Uploads to the channel stopped in 2022 and YouTube terminated the account earlier this year. While YouTube did not provide a specific reason for the removal, multiple fellow YouTubers have made videos calling out Ruby Franke for her strict parenting style and punishment tactics.
After she stopped uploading to "8 Passengers," Ruby Franke began appearing in videos for ConneXions Classroom, a therapy company created by her business partner Jodi Hildebrandt.
According to the Santa Clara-Irvine Public Safety Department, police got a call just before 11 a.m. on Wednesday, Aug. 30, about a 12-year-old boy who showed up to a man's home asking for food and water. The man told dispatchers that the child "appeared to be emaciated and malnourished, with open wounds and duct tape around the extremities," police wrote in the release.
Investigators discovered the boy had left neighbor Hildebrandt's home through a window. When police searched the home, they found the boy's younger sister with similar wounds. Both were treated at a hospital. Ruby Franke's other minor-aged children were taken into the care of child protective services.
Both Franke and Hildebrandt are currently jailed and awaiting a bond hearing. Each faces six charges of felony child abuse.
Kevin Franke, Ruby Franke's husband, blames Jodi Hildebrandt for his children's suspected abuse. His attorney told Law&Crime that Kevin Franke believes Hildebrandt's influence led to severe parenting tactics.
Jessi Hildebrandt detailed some of their childhood experiences in an interview with Jesse Weber for Law&Crime's Sidebar podcast.
"I was 16 years old when I was left in her care. I was a typical angry, angsty teenager [from a] very strict family," Jessi Hildebrandt told Weber. "And I was kind of a wrecking ball, I think, to my family, or at least to my parents, because I questioned things."
Jessi Hildebrandt recalled the moment they learned they were left in Jodi Hildebrandt's care.
"I was living in Corona, California," they said. "We go to Utah for my grandparents' 50th wedding anniversary. We had a big party and I got into a fight with my mom. I went downstairs and fell asleep and woke up to a knock on the door that my parents had left and that I wasn't going with them. And that my life as I knew it was about to change.
"It started off with me at my grandparents' and at Jodi's on the weekend," they continued. "And then it quite quickly became me living with her full time. I'm a teenager dealing with my teenager life in California and my aunt is just, like, this really kind of aggressive, abrasive woman that I don't really know."
Jodi Hildebrandt didn't have her ConneXions business yet, but was working as an independent therapist. Jessi Hildebrandt says their aunt's techniques quickly took a dark turn.
"Jodi is very smart in how she approaches her therapeutic modalities because they are so extreme. If she were just to start out with those things, everyone would recognize it and they would be shocked and be like, 'absolutely not,'" Jessi Hildebrandt said in the interview. "She's very subtle and she's very calculated. It's like a frog being boiled in water. You start off with the cold water and slowly turn up the temperature."
According to Jessi Hildebrandt, the abuse started with psychological techniques.
"She would give me a piece of paper and she would have me write out my sins," they explained. "So then she could read them back to me, have me get on my hands and knees and beg for forgiveness as she read them to me."
Jessi Hildebrandt says they dealt with a campaign of isolation, manipulation, and self-doubt.
"Her belief is that if you find identity in something, if you feel good about something externally of yourself, that is a distraction from the core issue at hand. In her mind, that means sin," Jessi Hildebrandt told Weber. "So she strips you of identity, she strips you of credibility, and she isolates you. She's saying that everything you say is a lie. Everything that you say is a manipulation. You're manipulating everyone around you. You're lying and destroying everyone's life. So for the sake of everyone else's safety, we're duct taping you."
Jessi Hildebrandt also claims that their aunt punched them in the back so hard, they fell to the ground. They also claim they were forced to sleep outside in the snow.
"My own perception of what was happening was so messed up and skewed," they recalled. "I didn't even understand, again, what was going on. There was a part of me that knew that [this] was wrong, that what Jodi was doing was wrong. People saw the abuse happening and did nothing. And when you are a passive observer of abuse, you are unintentionally saying this is okay. That is what you're telling the victim."
They say they are concerned about the long-term repercussions Ruby Franke's children may deal with for the rest of their lives.
"Once they turn 18, once they're no longer children, it doesn't stop. This nearly killed me," Jessi Hildebrandt said. "This affected every aspect of my life. Every single part. My ability to have friends, my ability to have partners. I have complex PTSD from this."
Weber asked Jessi Hildebrandt what their hopes are for the future.
"I want her to never have access to vulnerable people ever again," they said. "And more than that, what I want for the community, for the culture, is to recognize [this]. Trust your instincts. Build up that muscle of intuition. Because the things that you're feeling are true."
Have a tip we should know? [email protected]