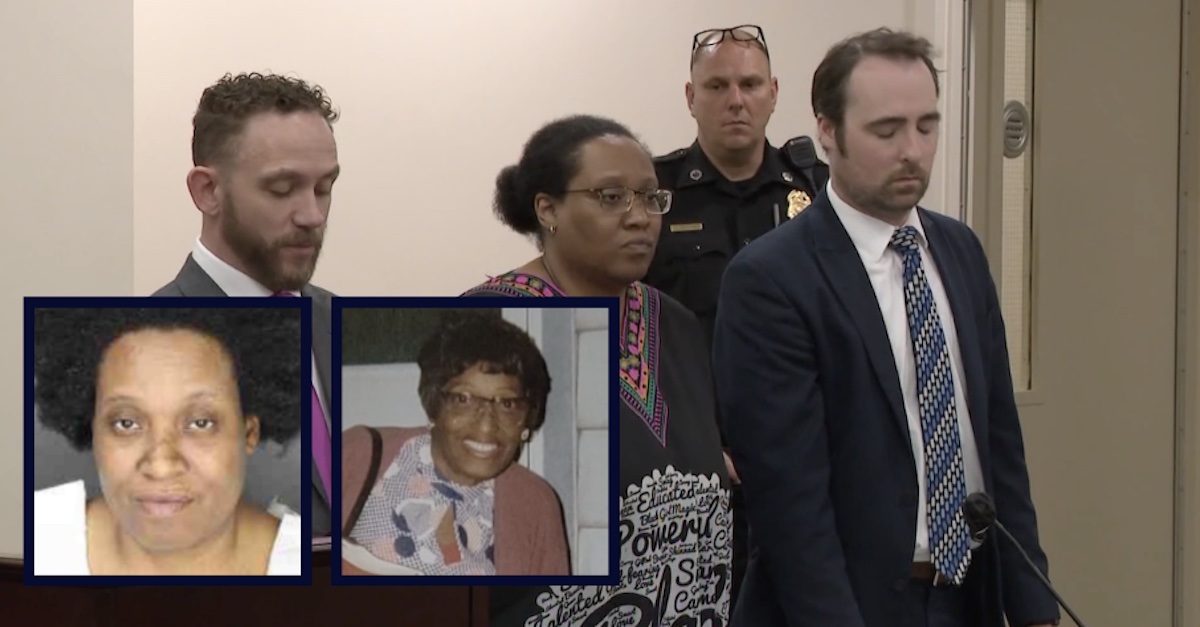 Jamien Harris (pictured in court via WGRZ/screengrab and inset left in Erie County DA mug shot), Catherine Jones (inset right via WGRZ/screengrab)
A woman who was found naked and smashing windows at a Buffalo, New York, home after her 90-year-old grandmother with dementia was shot to death on a couch in 2021 is no longer facing a murder charge — and a double jeopardy issue is to blame.
Prosecutors in the Erie County District Attorney's Office announced a second-degree murder indictment in the death of Catherine Jones against Jamien Harris, now 41, back in May. At the time, District Attorney John J. Flynn's office noted that the defendant in November 2022 pleaded guilty to two felonies for criminal possession of a firearm and was sentenced months later to five years of probation.
Harris was accused of murdering Catherine Jones by shooting the elderly woman in the chest on a Sunday morning at home.
"It is alleged that on Sunday, November 21, 2021, at approximately 11:08 a.m., Buffalo Police responded to a residence on Highgate Avenue after receiving a 911 call for a reported domestic disturbance," prosecutors said. "When the officers arrived at the home, they encountered the defendant at the front door and saw a deceased elderly woman in the living room."
More Law&Crime coverage: 'Beautiful' 71-year-old grandma just trying to cross the street shot dead by gang member who was targeting a rival, cops allege
Though prosecutors' press release did not say that the same criminal possession of a firearm charge was filed a second time against Harris, local reports said that it was.
While a conviction for second-degree murder could have put Harris behind bars for quarter-century to life, the case didn't survive dismissal because the judge agreed with the double jeopardy concerns raised by the defense. As the Fifth Amendment says, no person shall be "subject for the same offense to be twice put in jeopardy of life or limb."
Unfortunately for the rest of Catherine Jones' family members, the judge's conclusion meant that the murder case had to be dismissed and won't be revived unless an appellate court finds the dismissal erroneous.
Roosevelt Jones, Catherine Jones' son, told NBC local affiliate WGRZ that the dismissal of the murder charge felt like a betrayal, saying that Jamien Harris is "not being held accountable and she's walking around free as a bird."
"If she has any conscience, it will eat her alive," the uncle said of his of his niece.
Law&Crime reached out to the Erie County DA's Office for comment on the sudden dismissal, but no details were shared beyond the fact that an appeal is on the horizon.
"Our office will be appealing the decision," a spokesperson for the DA's office said in response.
Have a tip we should know? [email protected]