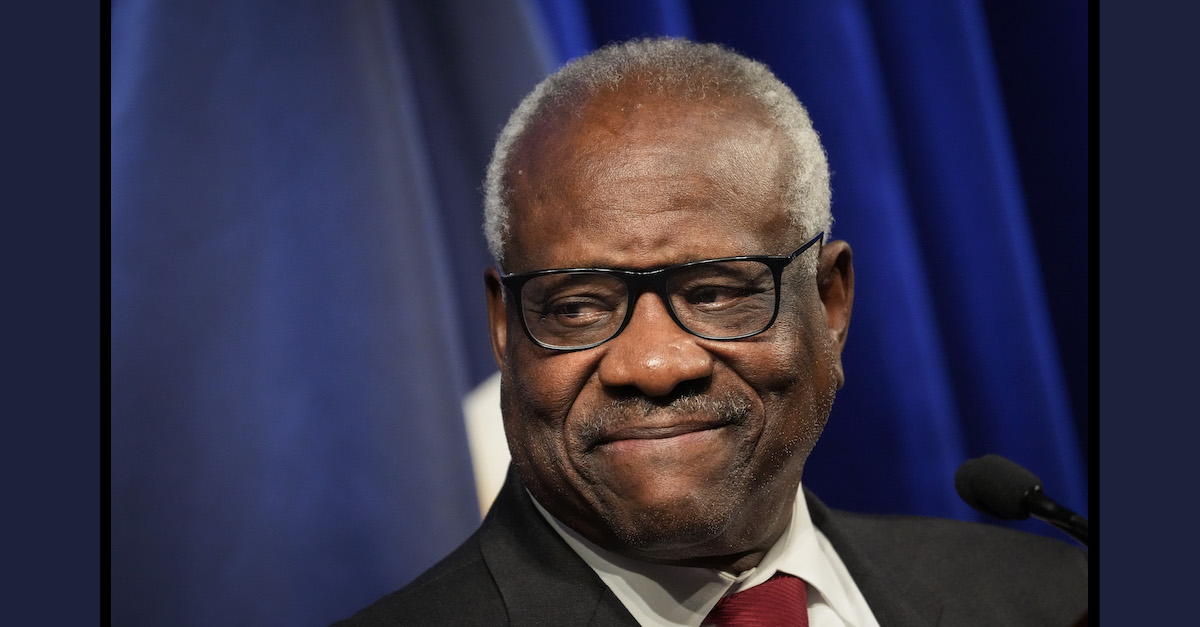 Associate Supreme Court Justice Clarence Thomas speaks at the Heritage Foundation on October 21, 2021 in Washington, D.C. (Photo by Drew Angerer/Getty Images.)
Led by Justice Clarence Thomas, the U.S. Supreme Court on Thursday ruled 6-3 — and along typical ideological lines — that New York State's "licensing regime" for handguns was unconstitutional.
Thomas was joined by Chief Justice John Roberts and Justices Samuel Alito, Neil Gorsuch, Brett Kavanaugh, and Amy Coney Barrett. Justice Stephen Breyer filed a dissent joined by Sonia Sotomayor and Elena Kagan.
The opinion extends the logic and reach of District of Columbia v. Heller (2008) and McDonald v. Chicago (2010), two prior gun rights cases.
"[W]e recognized that the Second and Fourteenth Amendments protect the right of an ordinary, law-abiding citizen to possess a handgun in the home for self-defense," Thomas wrote. "In this case, petitioners and respondents agree that ordinary, law-abiding citizens have a similar right to carry handguns publicly for their self-defense."
The issue involved something more nuanced, however. The issue was whether New York could deny a handgun license to an individual citizen if the citizen did not show a "special need for self-defense." That legal requirement in the Empire State, which the Court said was shared by six other states, went beyond the usual "objective criteria" that most other states use when determining whether a handgun license would be issued.
The Court concluded that the "special need for self-defense" requirement violated the Second Amendment.
"We too agree, and now hold, consistent with Heller and McDonald, that the Second and Fourteenth Amendments protect an individual's right to carry a handgun for self-defense outside the…