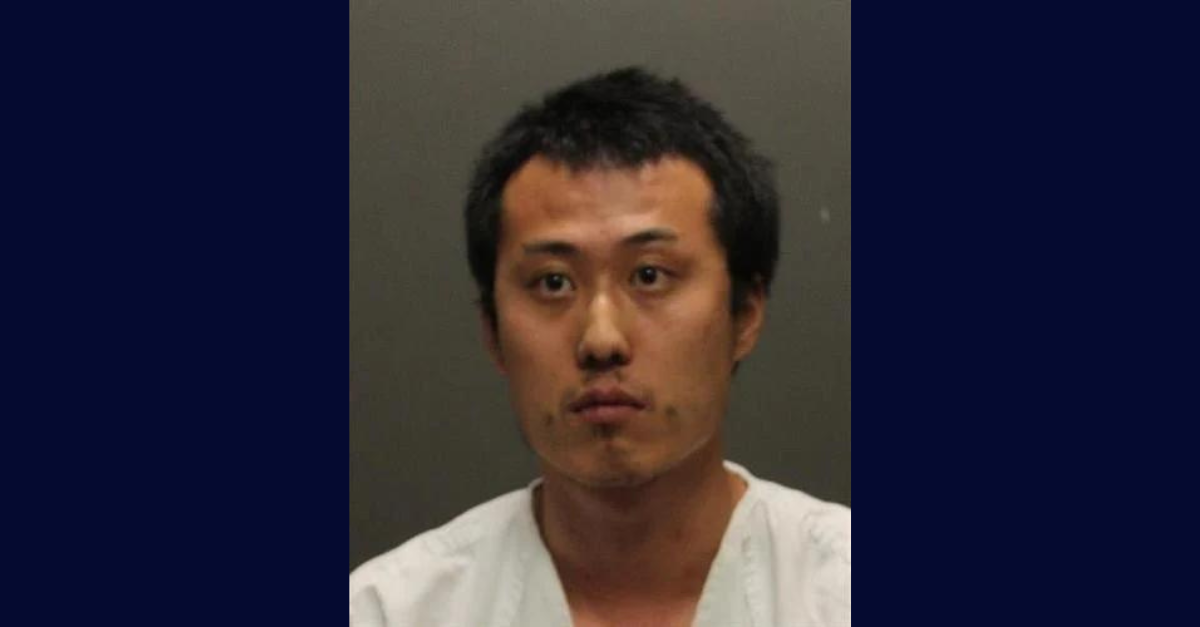 Michael Lee threatened to commit a mass shooting at the University of Arizona, authorities said. (Mug shot: University of Arizona Police Department)
A self-proclaimed former incel's plans in a Snapchat group chat to commit a mass shooting at the University of Arizona were thwarted this week when he was taken into custody on charges of making terroristic threats, authorities said.
Michael Lee, 27, faces charges related to making interstate threats through Snapchat on an iPhone in Pima County, Arizona, authorities said.
Lee wrote the typo-laden messages on a Snapchat group chat about the threat on Sunday, the FBI said.
In the messages, when asked how he would do it, he allegedly said with an AR-15.
"It is Arizona," he wrote, according to documents. "You can just buy one."
Another member of the chat asked him when he was going to make the purchase.
"I'm not sure," he allegedly said. "Probably right before, so my mom doesn't find it."
Someone asked when he would carry out the mass shooting.
"Damn, I haven't decided yet," he allegedly said.
"The day of Retribution is upon us, I shall get revenge on all the chads and stacies," he allegedly wrote. "Chads and stacies" are possible references to fraternities and sororities, authorities said.
In another message, he allegedly said, "also the 10th anniversary of the day of retribution is may 23, 2024 btw, but isn't the UofA gonna be out of session by then?"
On his Instagram page, Lee identifies as a former incel, authorities said. His reference to "chads" and "stacies" are common terms used by incels, they added.
Officials said the "day of retribution" refers to the 2014 mass shooting by misogynist mass murderer Elliot Rodger. He went on a shooting, stabbing, and vehicle ramming spree near the University of California, Santa Barbara, that killed six people and injured 14 others before he killed himself.
When females in the group chat took screenshots of his posts, he responded, "f— you stacies I was gonna give u a warning but now im not," according to the FBI.
"My alleged crimes? Im gonna commit a much worse crime…. [You'll] hear about it on the news."
"It's a solo mission," he allegedly said. "I'm not normal. I never have been. I'm severely autistic and mentally ill and was never accepted by society. I have no place in the world."
"Im gonna do it guys," he allegedly wrote at the end of the conversation. "My mind is made up and there's nothing u can do or say to stop me."
A license plate reader at the University of Arizona allegedly showed Lee's vehicle in the area of "University Greek Row" between 9 p.m. and 1 a.m. on Oct. 11 – 14 and 17- 21.
Lee allegedly admitted to authorities to writing the Snapchat threats. Describing himself as frustrated with his home life, he chose to "vent" to his friends on the group chat, authorities said.
He allegedly described himself as a former member of the incel community and decided against purchasing a gun two months earlier.
"Lee admitted he was aware the threats to commit a mass shooting were wrong and concerning," authorities wrote.
Authorities noted he was arrested in September for possessing controlled substances and a firearm in a rented storage facility.
In a letter to the school community, Steve Patterson, the interim vice president and chief safety officer of the University of Arizona's Office of Public Safety, said Lee has no affiliation with the university. School officials reminded members of the university community to report concerning or threatening behavior to TAMT and, in an emergency, call 911 or contact UAPD at 520-621-8273.
Have a tip we should know? [email protected]