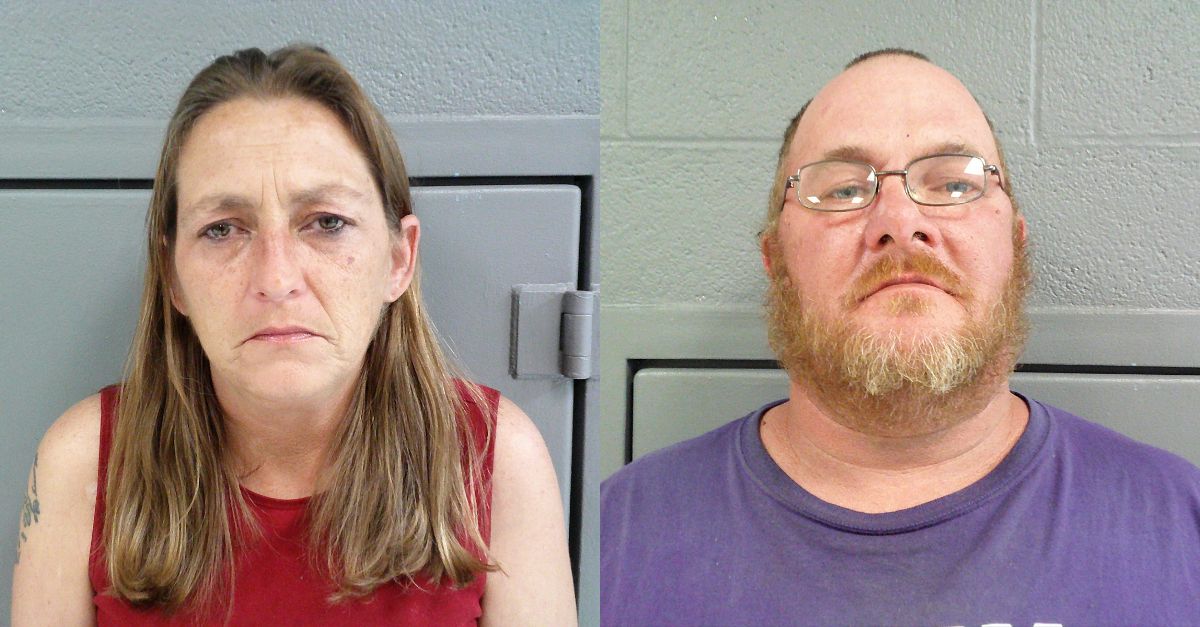 Katrina Lynn Hall and William Jason Butcher (West Virginia Division of Corrections and Rehabilitation)
A 44-year-old man and a 38-year-old woman in West Virginia were arrested over the weekend after police said the home they were living in — along with a girl — was virtually uninhabitable due to unsanitary conditions, including at least one bucket spotted out "in the open" that was filled with "human waste and a dog caged-in with a "large pile of feces."
Katrina Lynn Hall and William Jason Butcher were taken into custody on Sunday and charged with one count each of gross child neglect and animal cruelty, authorities confirmed to Law&Crime.
Hall and Butcher were also charged with violating West Virginia's open dump law.
According to a report from Clarksburg, West Virginia NBC and ABC affiliate WBOY, officers with the Buckhannon Police Department went to the home on South Kanawha Street for a home confinement check on Hall on Sunday afternoon. It was not immediately clear why Hall had been ordered to be in home confinement.
Once there, police said they could see trash and discarded food scattered outside the home and on the front porch. Things were reportedly even worse inside the home.
When they entered the residence, it became "immediately apparent" that the home was in "no condition" for the child to be living there, police reportedly wrote in a criminal complaint.
The complaint reportedly states the floors were covered with "food and trash."
One of the most disturbing discoveries came when police checked the inside of Butcher and Hall's bedroom, where they reportedly found "a full bucket of human waste in the open," according to a report from Weston, West Virginia, CBS affiliate WDTV. Also left out "in the open" inside were multiple opened 40-ounce bottles of beer, cigarettes, drug paraphernalia, and a "CO2 pistol that looked very realistic," the station reported.
Police said Hall and Butcher had a dog locked inside a cage that had "obviously not been cleaned in numerous days," per WBOY. While the dog's cage was said to have had "no food or water," police reportedly found "a large pile of feces" in the cage where the dog was being held.
The home allegedly also had "no heat" and bathrooms that were described as "unsanitary" and posing numerous health risks, including the possibility of "serious injury," WDTV reported.
Butcher and Hall were taken into custody and booked into the Tygart Valley Regional Jail. They remained in detention without bond as of Wednesday afternoon, online jail records show.
Have a tip we should know? [email protected]