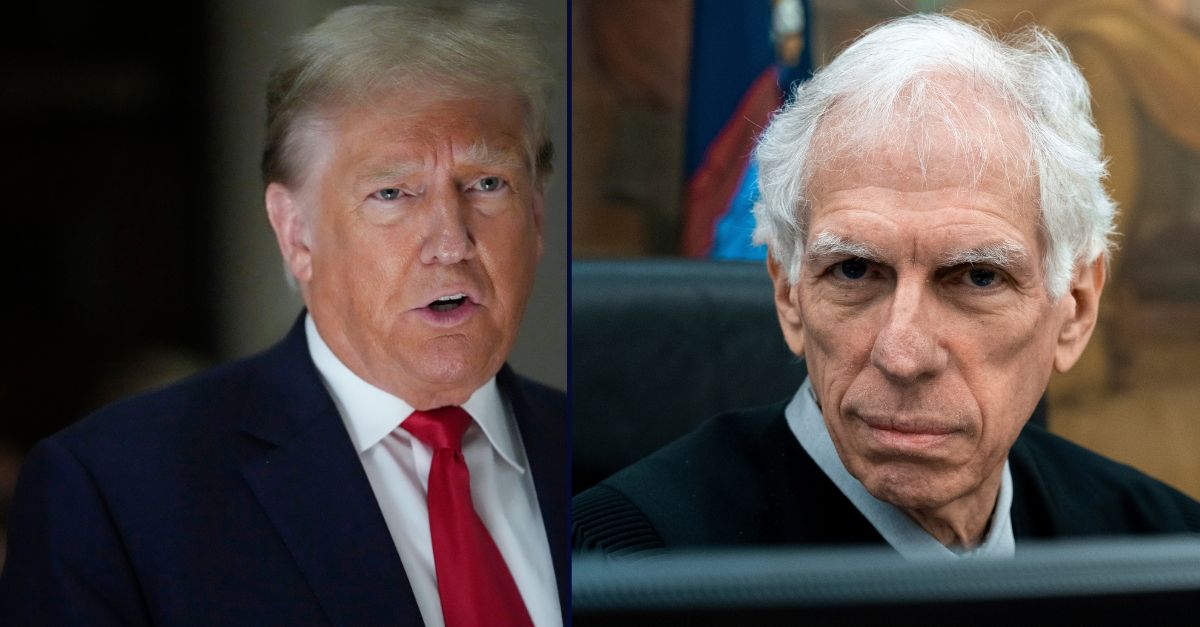 Left: Former President Donald Trump, speaks to reporters as he leaves the courtroom during a lunch break in his civil business fraud trial, Oct. 4, 2023, in New York. (AP Photo/Mary Altaffer, File) Right: Judge Arthur F. Engoron poses for a photo in the courtroom for the 4th day of Trump's civic fraud trial at the New York State Supreme Court on Oct. 5, 2023. (Photo by Meir Chaimowitz/NurPhoto via AP)/
A judge has fined Donald Trump $5,000 for violating the terms of a gag order placed on him in his civil fraud trial in New York while also warning him twice about potentially being thrown in jail should he continue to violate the order.
In the 2-page order from New York State Supreme Court Justice Arthur Engoron, the court reminded the former president that he "specifically acknowledged" that he understood and agreed to abide by terms of a limited gag order imposed on Oct. 3.
The partial gag order prohibited Trump, as well as all other parties to the case, from talking about details of his indictment or trial. The impetus for the order came after Trump attacked members of Engoron's staff, including a court clerk, on his social media platform Truth Social.
The post falsely claimed that the clerk was Senate Majority Leader Chuck Schumer's "girlfriend" and appeared in Trump's posts online as well as on his campaign's website.
CNN reported Friday that Justice Engoron told Trump's defense lawyer Chris Kise that he learned the post was removed from Truth Social but never taken down from the campaign site. Kise said it was "inadvertent" and that it was on a "back page" of the 2024 presidential hopeful's site.
Engoron reportedly had little patience for Kise's reasoning that the post was "wrapped up" in other campaign messaging and was merely overlooked in the greater campaigning machine.
Saying he would take that under advisement, the state justice still noted to Kise: "I want to make clear that Donald Trump is still responsible for the large machine, even if it is a large machine."
Meanwhile, in Washington, D.C., where he faces another case involving four felony counts for attempting to subvert the 2020 election, Trump's attorneys filed a motion demanding U.S. District Judge Tanya Chutkan stay a gag order she recently imposed on him in that venue.
Have a tip we should know? [email protected]