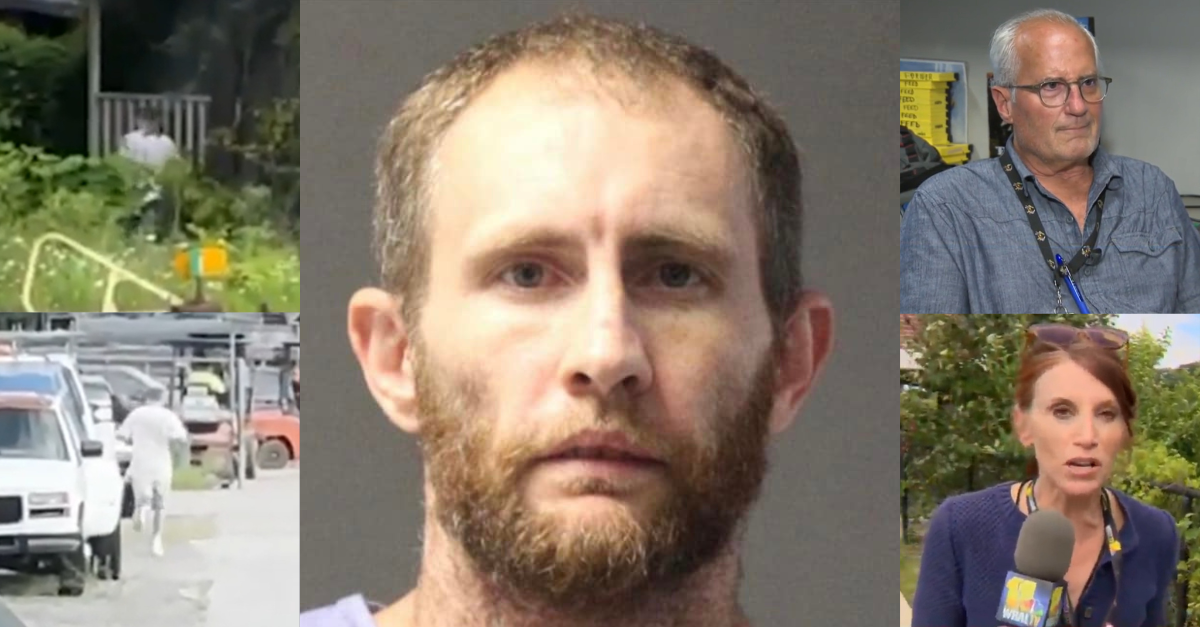 Randy Morris (center) fled from a prison transport van, authorities said. That's him in the two lefthand images, outlet WBAL said. Photographer Mac Finney (top right) and reporter Kate Amara (bottom right) had spotted him. (Mugshot of Morris: Howard County Police Department; screenshots via WBAL)
Maryland authorities arrested a man they say escaped from a prison transport van, and a local news crew says they spotted him while doing a story on him.
"This has never happened to me in 40-some years of covering thousands of news stories," WBAL photographer Mac Finney told the outlet.
Officers were searching for Randy Morris, 38, who had been serving a 10-year prison sentence for burglary. He reportedly had broken into his next-door neighbor's home, stole electronics, and tried to sell the ill-gotten goods online. His criminal record includes domestic violence and resisting arrest.
The Howard County Police Department said Wednesday that he fled a transport van with four other inmates in the area of Dorsey Run Road and Maryland Route 32. Unhandcuffed or otherwise shackled, he fled out of a transport van when it stopped in traffic on Route 52, authorities said.
"For whatever reason, when the van stopped, the inmate decided to unlock the door and escape," Maryland State Police spokesman Ron Snyder said.
Randy Morris, 38, is described as a white male, five feet nine inches tall, 130-140 pounds, bald, with a beard. He was last seen wearing a white shirt and blue shorts and is no longer wearing handcuffs or shackles.

Anyone who sees Morris should call 911. 2/2

— Howard County Police Department (@HCPDNews) August 16, 2023
The question now: Where was Morris?
The answer: Nearby!
Finney and WBAL reporter Kate Amara were doing a story on his escape. According to the outlet, police had just left the area. Finney said he was editing the outlet's story for the 5 p.m. news.
"And I just happened to look up from my laptop, and I saw Mr. Morris," Finney said. "He gave me his name, and at the time, I was calling 911. I got 911 on the horn, and when he realized I was talking to 911, he started running a little bit through this parking garage."
Amara took out a cell phone and recorded a man, who they identified as Morris, running across train tracks and into brush.
Cops caught Morris about an hour later near Market Place and Baltimore Street in Anne Arundel County.
Authorities are still looking into how Morris managed to escape.
Have a tip we should know? [email protected]